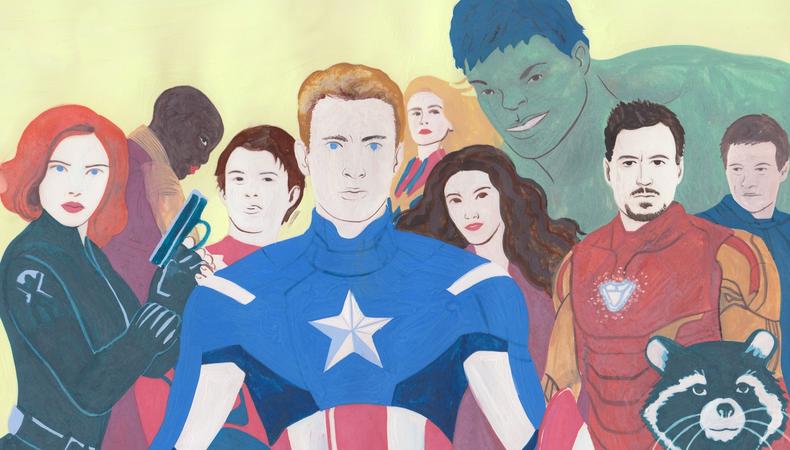 It's hard to overstate the cultural influence casting director Sarah Halley Finn has had on the last decade as the Marvel Cinematic Universe's go-to casting director. Beginning with the first "Iron Man" film in 2008, she has been responsible for assembling the Avengers, getting established actors like Robert Downey Jr. into comic book action films, and making stars out of at-the-time newcomers like Chris Hemsworth. And she's not finished—Finn is still busy in the MCU, as well as with franchise extensions for Disney+. And, miraculously, the MCU isn't her only focus; she still casts indies like "Three Billboards Outside Ebbing, Missouri" and other blockbusters under the Disney umbrella, including the star-studded "The Lion King."
READ: A MCU Insider Explains How to Get Cast
How does casting for the Marvel Cinematic Universe films compare to casting for indies?
On my end, it's always the best actor for the part and to bring the director's vision to life. When we have a huge budget, we might have more resources. For example, I'm able to collaborate with regional casting directors in different parts of the world when we're looking for a certain role. When we were trying to cast "Black Panther," it was really important to Ryan [Coogler] and us to have as much authenticity as we could, and we engaged with a South African casting director. Similarly, we're looking extensively for "Shang-Chi," right now. That's one of the biggest differences.
What differences are there between casting a Marvel ensemble and a story that focuses on one character?
There's no small part; they're all really important. Every moment is important. If there's a moment where something's not right, it can pull you out of the movie, so we really try to make it seamless. We put a lot of thought into the ensemble. With a cast like "Guardians of the Galaxy" or "Black Panther," we ask, "How do these characters interact? How do they relate to each other?" Even having the opportunity to think beyond one film [and] casting someone like Letitia Wright… [We knew] that as Shuri, she may interact with Tony Stark, so what qualities and abilities does the actor need to have to potentially interact with anyone in this universe? Even the established actors, I think you see that with the delightful interactions, like when Black Widow meets up with Ant-Man.
What can an actor expect from auditioning for you and for a Marvel property?
I hope they can expect to have a good experience. A question we ask a lot is, "Did you accomplish what you came in here wanting to do today? Do you feel like you did the work that you prepared?" Hopefully, we can honor that. I understand and have an amazing amount of compassion for what actors go through and how hard they work—what it means to them every time they come in for an audition. We want to honor that and let people know that when you're doing your best work, you never know where that's going to land you. In the Marvel world, there were many actors who auditioned for one part in a Marvel film or another project and got cast years later in something else. When you do good work and show up every day, we take note. We remember that, and hopefully it turns into something down the line.
READ: Why 'Avengers: Endgame' Has One of the Best Acting Ensembles of 2019
Can you talk about what the casting process for "Endgame" was like?
It is a pretty historic event in movies and a remarkable achievement to have all these actors onscreen together. Multiple Oscar winners and nominees. Multiple talented newcomers. Just being able to understand the scope of what was happening in the movie and, for me, to understand the story, and then having to fill in every additional part, trying to make sure that it was going to be seamless [was key]. For example, we had to work on Thanos' Black Order, all of the people who were going to play these roles, which on the screen were motion capture creations. But for our part, we wanted to find actors who could fully inhabit the characters and bring them to life in a really compelling way for the audience. So, we found actors like Tom Vaughan-Lawlor, Terry Notary, Michael James Shaw, and other incredible actors to fill out that group. We had to find Ant-Man's daughter all grown up. There were still many other details—[Yvette] Nicole Brown in that wonderful piece when Captain America goes back, and then finding and making sure that the other actors could be available and collaborating with them as the story came together, to make sure we had all the perfect elements so that you could see the beautiful moments. Like finding Tony Stark's daughter, of course, that's a very important piece of casting, and to see his whole evolution come full-circle from where he started to be this really vulnerable father to her.
How faithful do you have to stay to the source material, and what other factors come into play when casting?
We start with the source material, but we have a really wide range of where we can look, and we're very influenced by the director's vision for the characters. For example, with Valkyrie, the character in comics is different from Tessa [Thompson], and there's no one better than Tessa who can play that part. I think the kind of humor and bravado and depth that she brings to that character, and again, the level of talent and the well of talent that she has to take the character forward, was really exciting and a compelling choice for Valkyrie, and a departure. Same with when we did "Spider-Man," Zendaya, Jacob Batalon, Tony Revolori—those were all departures. I think they were faithful to the spirit of the character, but in terms of the embodiment, it was really a fresh take on it.
Many of these roles have various physical requirements. How much does that factor in?
I think it's a willingness on the part of the actors that's key. Brie [Larson] hadn't done a role as physical as Captain Marvel, and she threw herself into it wholeheartedly. She really embraced it and threw herself into it physically the same way she mentally and creatively prepares for her parts. A lot of actors didn't have a background in action films before they came to the MCU, but they take on the challenge and run with it.
Now that a big phase of the MCU is over, what is different about casting for upcoming projects than when you started?
It's helpful because so much of the process is secretive, and actors are not able to read scripts until they start shooting. When you're asking people to take a leap of faith, they can see the track record, which is helpful. I think the caliber of actor that we're constantly looking at—that's at least going to be an ongoing process and challenge. I think the other exciting aspect of what we're doing now is there are so many possibilities and different opportunities for storytelling, and I think that we're seeing a much more diverse group of people behind the scenes and in front of the scenes coming forward, and we're able to continually expand the kinds of stories and storytellers that we're working on.
READ: Voiceover Has Types, too—Here's How to Find Yours
You have cast both well-known actors as well as newcomers. Do you make a conscious decision to go after a certain profile of actor?
I think it's always the best person for the role, but I think every film is different. Ryan Coogler has had a long relationship with Michael B. Jordan, [and] he really wanted him to play that part. And recently, Brie Larson had won an Oscar; we approached her for "Captain Marvel." Benedict Cumberbatch, obviously; Chadwick Boseman; Cate Blanchett. I could go on and on. We were so lucky to have Robert Redford, Michael Douglas, and Michelle Pfeiffer; so many incredible, legendary actors joined these films. But there were also times when we engaged in a huge search, sometimes lasting a year or more, sometimes covering thousands of actors, to find the perfect person.
What are the similarities between casting someone who is physically onscreen versus someone in a voiceover or motion capture role?
I approach voice performance and motion capture the same way I approach any other role. I'm looking for an actor who's going to create a three-dimensional character and breathe life into it. There's a lot of thought that goes into these characters, even voiceovers.
Who do you collaborate with when casting?
It stems from the director's vision, but also Kevin Feige, Louis D'Esposito, and Victoria Alonso I've been working with since Day 1. They're very closely involved. Kevin's involved in every aspect of the filmmaking and works incredibly closely and collaboratively with the directors. I've been lucky to work with them for all these years.
This world has expanded to TV and streaming services. Do you notice a difference in casting for one medium versus another?
The ones that we're currently involved with are limited, and they really do feel like mini feature films to me. I think the same sensibility that is guiding the feature film world is guiding the streaming world, and I do think we're approaching them as really the same kind of storytelling. But the landscape has changed, for sure. I think that with the proliferation of all these outlets, there's so many opportunities for people. Referencing scheduling and stuff, it's an interesting time and a really fertile creative time, but I think that there are just a lot more opportunities for us to really develop, and I think the concepts we're working with are ambitious, and that's exciting.
This story originally appeared in the Dec. 3 issue of Backstage Magazine. Subscribe here.