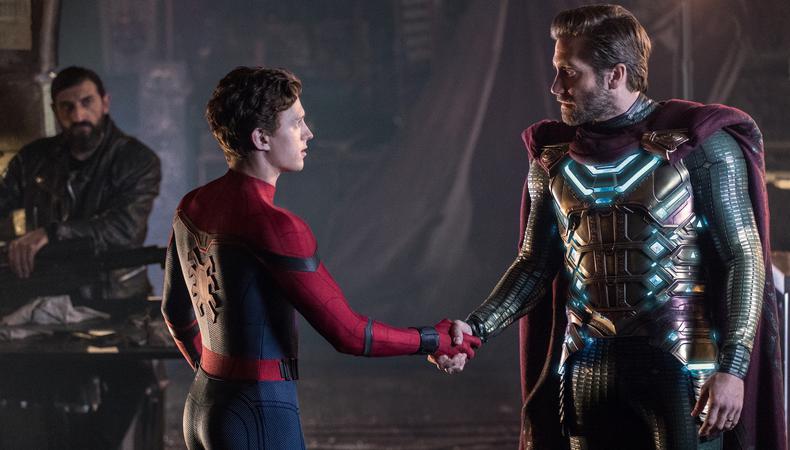 When Jake Gyllenhaal stepped onto the set of "Spider-Man: Far From Home," the actor found himself in a rare instance of being completely overwhelmed. Gyllenhaal, who portrays Mysterio in the second installation of the superhero trilogy, admitted to Howard Stern in a recent interview that he was deeply intimidated by the sheer scale of the Marvel production.
He also described the prospect of joining a sequel as hopping on "a train that was already moving." So when he arrived on the job, no one can blame him for what he said was his mind going blank—which in turn, only unsettled the actor further.
"I was the wooden board," Gyllenhaal admitted. Clearly struggling, the Oscar nominee then found himself promising an unnamed crew member that he had it all under control. " 'Look man,' " he remembers saying. "I just came [from] Broadway, doing a one-man show for an hour and a half onstage, so I got this. Please, believe me."
Though the actor has spent nearly 20 years in front of the camera, in the end it was Gyllenhaal's younger co-star Tom Holland, who plays the titular web-slinger, who helped quell his Marvel-induced nerves.
"I went up to Tom Holland and was like, 'Dude, help me out,' " Gylenhaal recalled. Holland, like the true leading man he is, talked Gylenhaal off the proverbial ledge. "He's like, 'It's all good, man. Just relax,' " he said.
Gyllenhaal, grateful for Holland's reassurance, managed to get the lines out, and it wasn't long before he ultimately fell in love with the world. "It's really creative," he enthuses, speaking about the Marvel approach. "If you bring a better idea, they will shift an entire day around that idea."
Looking for remote work? Backstage has got you covered! Click here for auditions you can do from home!