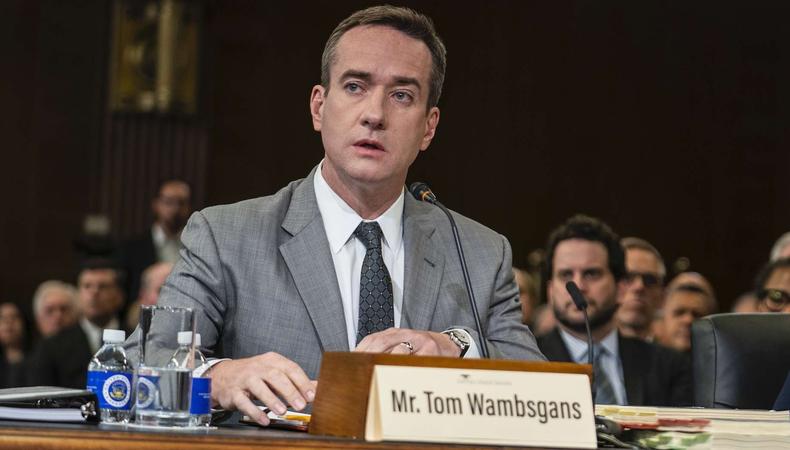 If you're one of the many people currently obsessed with "Succession," HBO's sardonic rich-people-behaving-badly series, you probably love to hate Tom (or hate to love, depending on the episode). And heading into the Oct. 13 Season 2 finale, Tom has found himself in quite the pickle, due in part to his character's, well, frequently moronic impulses.
The at-times lovable, at-times despicable doof has carved out a niche for himself on the series as both adoring husband to Shiv and one-half of the dream team that is him and Greg. To play that sort of ambiguity—so dumb he must be smart—requires particular tact, just ask Matthew Macfayden, the actor who plays Tom.
"I heard Nick [Braun, who plays Greg], say that it's very funny seeing Tom with Shiv: He was saying it was very extraordinary seeing [Tom] Wambsgans be tender, quite straight and sweet with his wife, while he sees this unpredictable asshole, where you never know where you are with him, at work," Macfayden tells THR. "He's both, Tom: He's managing a huge, multibillion-dollar news corporation, so he's a moron, but he's not stupid. He has insight and he has understanding, and I think when you're scared all the time, you behave in strange ways.
READ: Kieran Culkin Explains Why Actors Shouldn't Think so Much
"I wonder about the people working in the White House, say, in this current [environment]," he continues. "People might look back and go, 'What was I doing?' You might examine your behavior years later and go, 'I was behaving in that way because we were in a certain culture,' or in a very high-powered company. It's interesting how that impacts the way people are with each other and the decisions they make."
Despite his cunning portrayal, Macfayden doesn't actually prepare scrupulously prior to shooting—in fact, he hardly prepares at all. That's even true for that particular moment in the Season 2 penultimate episode, where the stakes for his character have never been higher.
"I don't really prepare for anything, because the script is so brilliant, I don't need to—maybe I ought to—but it's all there for you," he says of the Jesse Armstrong–created drama. "I honestly feel like very often with 'Succession,' I don't learn the lines, they just go into my head because I just want to say them. But I had watched [Trump lawyer] Michael Cohen and [Rep.] Elijah Cummings a little bit, and I'd seen a bunch of those Senate hearings on C-SPAN and stuff, but not to prepare for Tom, just [on my own]. They'd also they built this extraordinary set: It looked like Washington and they built it at the studio in Queens. So once it was full of people and press and all the rest of it, it was quite nerve-wracking going in there, with the 100 background artists, so my heart was banging away anyway; it wasn't a great leap of the imagination at all."
Macfayden distills it down to the arguable ideal for every actor. "When the world is so brilliantly created in such a detailed way by the designers, it's just there for you," he says. "You don't need to bring anything to it, you just need to react and say the lines."