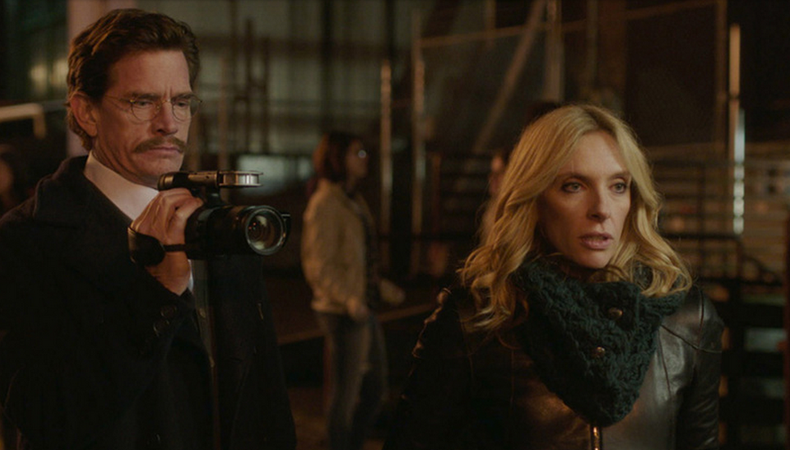 One of the beauties of being an actor is that you can get drunk, go to music shows and call it research; it's what Toni Collette did—"I am joking, but I'm not," she says to Backstage—to prepare for her role in the Tribeca Film Festival select "Lucky Them."
Co-starring Thomas Haden Church, Ryan Eggold ("The Blacklist"), and featuring a special cameo from a very well-known actor at the end of the film , "Lucky Them" looks at a music journalist who's forced to confront a part of her past she's long been trying to forget.
Assigned to track down her ex-boyfriend, who mysteriously disappeared without a trace years prior, Collette's character Ellie enlists Charlie, a rich man turned novice documentarian on the side (Church) to accompany her. The film, through the lens of this search examines what life can look like for someone who hasn't let go of their past, and the issues they face as a result.
Eggold plays the lovesick musician who realizes the emotionally damaged Ellie is unwilling to take on another relationship, but it's the audience who knows why.
"I thought that he had a really lovely naivety and innocence and a sort of puppish quality, at least in the writing, and was a sort of foil for Toni's character who's been through it all, has lost things, is cynical, is jaded, is bitter," says Eggold about his role. The real-life musician was excited to take on Lucas, and wrote original songs for the film. "I was excited to play a musician because I was exploring that part of myself, the whole music thing for the first time," he says.
Church is hilarious as Ellie's sidekick of sorts, growing to genuinely want to help her in her search. "I just try to make it as real as I can," he says about playing Charlie. "Going back 25 years to when I started, I came into it, I was just not a trained dude. I was funny in some auditions and shit, and started getting parts and it was then learning how to really become authentic in my performance and then on the site training for years and years and years."
For Collette, her authenticity in playing Ellie stemmed from her ability to be in the moment, the emotional realness of the character's experience and aligning herself with the sentiment. One of the most impressive things about her performance, according to director Megan Griffiths ("Eden"), was the range of sentiments she was able to convey on camera.
"That character's very challenging because she's this sort of non-traditional female role, and we found out in feedback screenings it was hard for people to attach to that character," says Griffiths. "I don't know if it's because she's a female or because she's not particularly warm as a character, but when we went back in and we were trying to resolve that issue without going against what that character stands for, everything we ever needed was there.
"In the course of three or four takes for the set up, all the options were there, and it wasn't something I really felt as much on set as I did in the editing room. I was like, We really need to find a moment where she does this look, or something like that, and we were always able to find it. So my respect grew pretty high and then it was just off the charts."