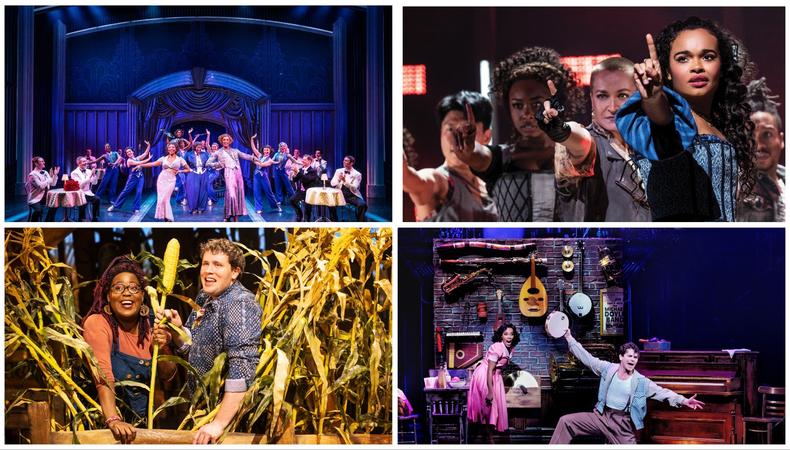 It looks like more than some Tony voters liked "Some Like It Hot"—the new musical, based on the 1959 Billy Wilder comedy, is nominated for 13 Tony awards this year, enough to lead the list of nominees. Featuring a book by Matthew López and Amber Ruffin, music by Marc Shaiman, and lyrics by Scott Wittman and Shaiman—all nominated in their respective categories—"Some Like It Hot" has a ton of momentum for the top prize, best musical.
Also competing in the category are "& Juliet," "New York, New York," and "Shucked," all three of which are tied for second-most nominations at nine apiece. The fifth nominee, "Kimberly Akimbo," which the New York Times dubbed the "season's most moving new musical," is right behind with eight nominations.
RELATED: How to Break Into Musical Theater
Over in the play categories, "Ain't No Mo'," an incendiary comedy about race in America, garnered six nominations, as did fellow best play nominee "Leopoldstadt," the generation-spanning story of a Jewish family. "Between Riverside and Crazy," "Fat Ham," and "Cost of Living" round out the best play category.
As usual, the individual acting categories are toplined by notable names, including Yahya Abdul-Mateen II and Corey Hawkins both earning nods in best performance by an actor in a leading role in a play for the two-hander "Topdog/Underdog," as well as Jessica Chastain ("A Doll's House") and Jodie Comer ("Prima Facie") competing with Jessica Hecht ("Summer, 1976") and Audra McDonald ("Ohio State Murders") in best performance by an actress in a leading role in a play.
Presented by The Broadway League and the American Theatre Wing, the 76th Tony Awards ceremony—hosted by Tony and Oscar winner Ariana Debose—will air on Sunday, June 11th from United Palace in Washington Heights. Tony winner Myles Frost and "Funny Girl" star Lea Michele announced the nominees.
Below is the full list of nominations.
Best Book of a Musical
"& Juliet," David West Read
"Kimberly Akimbo," David Lindsay-Abaire
"New York, New York," David Thompson & Sharon Washington
"Shucked," Robert Horn
"Some Like It Hot," Matthew López & Amber Ruffin
Best Original Score (Music and/or Lyrics) Written for the Theatre
"Almost Famous," Music: Tom Kitt, Lyrics: Cameron Crowe & Tom Kitt
"Kimberly Akimbo," Music: Jeanine Tesori, Lyrics: David Lindsay-Abaire
"KPOP," Music & Lyrics: Helen Park & Max Vernon
"Shucked", Music and Lyrics: Brandy Clark & Shane McAnally
"Some Like It Hot," Music: Marc Shaiman, Lyrics: Scott Wittman & Marc Shaiman

Best Performance by an Actor in a Leading Role in a Play
Yahya Abdul-Mateen II, "Suzan-Lori Parks' Topdog/Underdog"
Corey Hawkins, "Suzan-Lori Parks' Topdog/Underdog"
Sean Hayes, "Good Night, Oscar"
Stephen McKinley Henderson, "Between Riverside and Crazy"
Wendell Pierce, "Arthur Miller's Death of a Salesman"

Best Performance by an Actress in a Leading Role in a Play
Jessica Chastain, "A Doll's House"
Jodie Comer, "Prima Facie"
Jessica Hecht, "Summer, 1976"
Audra McDonald, "Ohio State Murders"
Best Performance by an Actor in a Leading Role in a Musical
Christian Borle, "Some Like It Hot"
J. Harrison Ghee, "Some Like It Hot"
Josh Groban, "Sweeney Todd: The Demon Barber of Fleet Street"
Brian d'Arcy James, "Into the Woods"
Ben Platt, "Parade"
Colton Ryan, "New York, New York"

Best Performance by an Actress in a Leading Role in a Musical
Annaleigh Ashford, "Sweeney Todd: The Demon Barber of Fleet Street"
Sara Bareilles, "Into the Woods"
Victoria Clark, "Kimberly Akimbo"
Lorna Courtney, "& Juliet"
Micaela Diamond, "Parade"
Best Performance by an Actor in a Featured Role in a Play
Jordan E. Cooper, "Ain't No Mo'"
Samuel L. Jackson, "August Wilson's The Piano Lesson"
Arian Moayed, "A Doll's House"
Brandon Uranowitz, "Leopoldstadt"
David Zayas, "Cost of Living"

Best Performance by an Actress in a Featured Role in a Play
Nikki Crawford, "Fat Ham"
Crystal Lucas-Perry, "Ain't No Mo'"
Miriam Silverman, "The Sign in Sidney Brustein's Window"
Katy Sullivan, "Cost of Living"
Kara Young, "Cost of Living"
Best Performance by an Actor in a Featured Role in a Musical
Kevin Cahoon, "Shucked"
Justin Cooley, "Kimberly Akimbo"
Kevin Del Aguila, "Some Like It Hot"
Jordan Donica, "Lerner & Loewe's Camelot"
Alex Newell, "Shucked"
Best Performance by an Actress in a Featured Role in a Musical
Julia Lester, "Into the Woods"
Ruthie Ann Miles, "Sweeney Todd: The Demon Barber of Fleet Street"
Bonnie Milligan, "Kimberly Akimbo"
NaTasha Yvette Williams, "Some Like It Hot"
Betsy Wolfe, "& Juliet"
Best Scenic Design of a Play
Miriam Buether, "Prima Facie"
Tim Hatley & Andrzej Goulding, "Life of Pi"
Rachel Hauck, "Good Night, Oscar"
Richard Hudson, "Leopoldstadt"
Dane Laffrey & Lucy Mackinnon, "A Christmas Carol"
Best Scenic Design of a Musical
Beowulf Boritt, "New York, New York"
Mimi Lien, "Sweeney Todd: The Demon Barber of Fleet Street"
Michael Yeargan & 59 Productions, "Lerner & Loewe's Camelot"
Scott Pask, "Shucked"
Scott Pask, "Some Like It Hot"

Best Costume Design of a Play
Tim Hatley, Nick Barnes & Finn Caldwell, "Life of Pi"
Dominique Fawn Hill, "Fat Ham"
Brigitte Reiffenstuel, "Leopoldstadt"
Emilio Sosa, "Ain't No Mo'"
Emilio Sosa, "Good Night, Oscar"
Best Costume Design of a Musical
Gregg Barnes, "Some Like It Hot"
Susan Hilferty, "Parade"
Jennifer Moeller, "Lerner & Loewe's Camelot"
Clint Ramos & Sophia Choi, "KPOP"
Paloma Young, "& Juliet"
Donna Zakowska, "New York, New York"
Best Lighting Design of a Play
Neil Austin, "Leopoldstadt"
Natasha Chivers, "Prima Facie"
Jon Clark, "A Doll's House"
Bradley King, "Fat Ham"
Tim Lutkin, "Life of Pi"
Jen Schriever, "Arthur Miller's Death of a Salesman"
Ben Stanton, "A Christmas Carol"
Best Lighting Design of a Musical
Ken Billington, "New York, New York"
Lap Chi Chu, "Lerner & Loewe's Camelot"
Heather Gilbert, "Parade"
Howard Hudson, "& Juliet"
Natasha Katz, "Some Like It Hot"
Natasha Katz, "Sweeney Todd: The Demon Barber of Fleet Street"

Best Sound Design of a Play
Jonathan Deans & Taylor Williams, "Ain't No Mo'"
Carolyn Downing, "Life of Pi"
Joshua D. Reid, "A Christmas Carol"
Ben & Max Ringham, "A Doll's House"
Ben & Max Ringham, "Prima Facie"
Best Sound Design of a Musical
Kai Harada, "New York, New York"
John Shivers, "Shucked"
Scott Lehrer & Alex Neumann, "Into the Woods"
Gareth Owen, "& Juliet"
Nevin Steinberg, "Sweeney Todd: The Demon Barber of Fleet Street"
Best Direction of a Play
Saheem Ali, "Fat Ham"
Jo Bonney, "Cost of Living"
Jamie Lloyd, "A Doll's House"
Patrick Marber, "Leopoldstadt"
Stevie Walker-Webb, "Ain't No Mo'"
Max Webster, "Life of Pi"
Best Direction of a Musical
Michael Arden, "Parade"
Lear deBessonet, "Into the Woods"
Casey Nicholaw, "Some Like It Hot"
Jack O'Brien, "Shucked"
Jessica Stone, "Kimberly Akimbo"
Best Choreography
Steven Hoggett, "Sweeney Todd: The Demon Barber of Fleet Street"
Casey Nicholaw, "Some Like It Hot"
Susan Stroman, "New York, New York"
Jennifer Weber, "& Juliet"
Jennifer Weber, "KPOP"

Best Orchestrations
Bill Sherman and Dominic Fallacaro, "& Juliet"
John Clancy, "Kimberly Akimbo"
Jason Howland, "Shucked"
Charlie Rosen & Bryan Carter, "Some Like It Hot"
Daryl Waters & Sam Davis, "New York, New York"
Best Play
"Ain't No Mo'"
Author: Jordan E. Cooper
Producers: Lee Daniels, BET: Black Entertainment Television, Len Blavatnik, Ron Burkle, Aryeh B. Bourkoff, 59th & Prairie Entertainment, RuPaul Charles, I'll Have Another Productions, Jeremy O. Harris, Lena Waithe, Tucker Tooley Entertainment, CJ Uzomah, Ann Cox, Gina Purlia, Bob Yari, Marvin Peart, Colleen Camp, Marvet Britto, Jeremy Green, Sue Wagner, John Johnson, Jillian Robbins, The Public Theater, Oskar Eustis, Patrick Willingham, Mandy Hackett
"Between Riverside and Crazy"
Author: Stephen Adly Guirgis
Producers: Second Stage Theater, Carole Rothman, Khady Kamara, Atlantic Theater Company
"Cost of Living"
Author: Martyna Majok
Producers: Manhattan Theatre Club, Lynne Meadow, Barry Grove, Williamstown Theatre Festival
"Fat Ham"
Author: James Ijames
Producers: No Guarantees, Public Theater Productions, Rashad V. Chambers, National Black Theatre, Tim Levy, Bards on Broadway, Bob Boyett, Ghostbuster Productions, James Ijames, Cynthia Stroum, Audible, Adam Cohen, Blake Devillier, Firemused Productions/JamRock Productions, The Forstalls, Iconic Vizion/Corey Brunish, John Gore Organization, Midnight Theatricals, David Miner, Robin Gorman Newman/PickleStar Theatricals, Marc Platt, Play on Shakespeare, The Wilma Theater, Colman Domingo, Cynthia Erivo, Andy Jones, Dylan Pager, Roundabout Theatre Company, Oskar Eustis, Patrick Willingham, Mandy Hackett, Sade Lythcott, Jonathan McCrory
"Leopoldstadt"
Author: Tom Stoppard
Producers: Sonia Friedman Productions, Roy Furman, Lorne Michaels, Stephanie P. McClelland, Gavin Kalin, Delman Sloan, Eilene Davidson, Brad Edgerton, Patrick Gracey, Hunter Arnold, Burnt Umber Productions, Cue to Cue Productions, The Factor Gavin Partnership, Harris Rubin Productions, Robert Nederlander, Jr., No Guarantees, Sandy Robertson, Iris Smith, Jamie deRoy/Catherine Adler, Dodge Hall Productions/Waverly Productions, Richardo Hornos/Robert Tichio, Heni Koenigsberg/Wendy Federman, Thomas S. Perakos/Stephanie Kramer, Brian Spector/Judith Seinfeld, Richard Winkler/Alan Shorr
Best Musical
"& Juliet"
Producers: Max Martin & Tim Headington, Theresa Steele Page, Jenny Petersson, Martin Dodd, Eva Price, Lukasz Gottwald, 42nd.club, Independent Presenters Network, Jack Lane, Library Company, Shellback, Shivhans Pictures, Sing Out, Louise!, Kim Szarzynski, Taylor/Riegler, Tenenbaum/Keyes, Barry Weiss, John Gore Organization
"Kimberly Akimbo"
Producers: David Stone, Atlantic Theater Company, James L. Nederlander, LaChanze, John Gore, Patrick Catullo, Aaron Glick
"New York, New York"
Producers: Sonia Friedman Productions, Tom Kirdahy, Wendy Federman & Heni Koenigsberg, Crossroads Live, Playing Field, Stephanie P. McClelland, Ambassador Theatre Group, Waiting in the Wings Productions, Colin Callender, Gilbert and DeeDee Garcia/Sue Vaccaro, Peter May, Rileyfan, Silverhopkins+/Hunter Johnson, Jay Alix & Una Jackman, Eric Passmore, Thomas Swayne, Elliott Cornelious/SunnySpot Productions, Santino DeAngelo/Cynthia Tong, Craig Balsam, Richard Batchelder, Concord Theatricals, Creative Partners Productions, Marguerite Hoffman, Jessica R. Jenen, John Gore Organization, MGM on Stage, James L. Nederlander, Linda B. Rubin, Seriff Productions, Shivhans Pictures, 42nd.club/Beards on Broadway, AGL Productions/Brad Blume, Hunter Arnold/Red Mountain Theatre, Cue to Cue Productions/Roy Putrino, Jamie deRoy/Janet and Marvin Rosen, Edgewood/Silva Theatrical Group, Dale Franzen/Henry R. Muñoz, III, Deborah Green/Chris Mattsson, Branden Grimmett/DMQR Productions, Christen James/Gregory Carroll, NETworks Presentations/Lamar Richardson, Ron Simons/Adam Zell, Chartoff-Winkler
"Shucked"
Producers: Mike Bosner, Jason Owen, AEG Presents/Jay Marciano/Gary Gersh, Jeffrey A. Sine, Richard Smith, Silvia Schmid, Bob Boyett, Jeremiah J. Harris, James L. Nederlander, EST/Emily Tisch, Sony Music Entertaiment, DudaAllen, David W. Busch, Karen Fairchild, HoriPro Inc., Gordon-Helfner, John Gore Organization, Madison Wells Live, S&Co., Terry Schnuck, Jimi Westbrook, ZKM Media
"Some Like It Hot"
Producers: The Shubert Organization, Neil Meron, MGM on Stage, Roy Furman, Robert Greenblatt, James L. Nederlander, Kenny Leon, Hunter Arnold, John Gore Organization, The Dalgleish Library Company Group, Sheboygan Conservatory Partners, Ambassador Theatre Group Productions, Bob Boyett, Cue to Cue Productions, Janet and Marvin Rosen, The Araca Group, Concord Theatricals, Marc Howard, Independent Presenters Network, Juanita Jordan, Jujamcyn Theaters, Henry R. Muñoz, III, Ostar, Mariah Carey, D.S. Moynihan
Best Revival of a Play
"August Wilson's The Piano Lesson"
Producers: Brian Anthony Moreland, Sonia Friedman, Tom Kirdahy, Kandi Burruss & Todd Tucker, Hunter Arnold, Playing Field, The Factor Gavin Partnership, FBK Productions/42nd.club, Jay Alix & Una Jackman, Creative Partners Productions, Harris Rubin Productions, Marguerite Steed Hoffman, Alia Jones-Harvey, Mark Gordon Pictures, Stephanie McClelland, Moore Delman, James L. Nederlander, Seriff Productions, The Shubert Organization, Salman Al-Rashid/Jamie deRoy, Brad Blume/Cliff Hopkins, Jean Doumanian /Fakston Productions, Edgewood/DMQR Productions, Jay & Cindy Gutterman/Caiola Productions, Van Kaplan/Lu-Shawn Thompson, Erik A. King/Finewomen Productions, Marc David Levine/William Frisbie, Syrinda Paige/Kevin Ryan & Diane Scott Carter, Silva Theatrical Group/Tilted, Thomas Swayne/Cynthia J. Tong, Constanza Romero-Wilson
"A Doll's House"
New Version by: Amy Herzog
Producers: Ambassador Theatre Group Productions, Gavin Kalin Productions, Wessex Grove, Julie Boardman, Kate Cannova, Bob Boyett, Hunter Arnold, Creative Partners Productions, Eilene Davidson Productions, GGRS, Kater Gordon, Louise L. Gund, Los Angeles Media Fund, Stephanie P. McClelland, Tilted, Jessica Chastain, Caitlin Clements/Francesca Moody Productions, Caiola Productions/Amanda Lee, Ted & Richard Liebowitz/Joeyen-Waldorf Squeri, Richard & Cecilia Attias/Thomas S. Barnes, OHenry Theatre Nerd Productions/Runyonland MMP, The Jamie Lloyd Company
"The Sign in Sidney Brustein's Window"
Producers: Seaview, Sue Wagner, John Johnson, Phil Kenny, Audible, Sony Music Masterworks, Jillian Robbins, Jeremy O. Harris, Larry Hirschhorn and Ricardo Hornos, Shields Smedes Stern Ltd., Kevin Ryan, The Shubert Organization, Willette and Manny Klausner, Marco Santarelli, Be Forward Productions, Concord Theatricals, Creative Partners Productions, Invisible Wall Productions, Salman and Moudhy Al-Rashid, TodayTix Group, Ido Gal, HarrisDonnelly, Sally Cade Holmes, Stella LaRue, LAMF Protozoa, Kati Meister and John Sorkin, Meredith Lynsey Schade, Catherine Schreiber, Dennis Trunfio, MCM Studios, 42nd.club, BAMM Productions, CarterMackTaylorWilliam, HB2M Productions, HK-Undivided Productions, MAJIKK Theatricals, Tanker Kollev Productions, Douglas Denoff, OHenry Productions, Plate Spinner Productions, Runyonland Productions, Mad Gene Media, Scrap Paper Pictures, Joi Gresham, BAM, Gina Duncan, David Binder, Elizabeth Moreau
"Suzan-Lori Parks' Topdog/Underdog"
Producers: David Stone, LaChanze, Rashad V. Chambers, Marc Platt, Debra Martin Chase, The Shubert Organization
Best Revival of a Musical
"Into the Woods"
Producers: Jujamcyn Theaters, Jordan Roth, New York City Center, Daryl Roth, Hunter Arnold, Concord Theatricals, Nicole Eisenberg, Jessica R. Jenen, Michael Cassel Group, Kevin Ryan, ShowTown Productions, Armstrong, Gold & Ross, Nicole Kastrinos
"Lerner & Loewe's Camelot"
Producers: Lincoln Center Theater, André Bishop, Adam Siegel, Naomi Grabel
"Parade"
Producers: Seaview, Ambassador Theatre Group Productions, Alex Levy, Kevin Ryan, Eric & Marsi Gardiner, Interscope & Immersive Records, Erica Lynn Schwartz, Creative Partners Productions, Marcia Goldberg, John Gore Organization, Cynthia Stroum, Tom Tuft, Benjamin Simpson, Nathan Vernon, Brian & Nick Ginsberg, Ruth & Stephen Hendel, Roth-Manella Productions, Chutzpah Productions, 42nd.club, Ahava 72 Productions, The Andryc Brothers, The Array, At Rise Creative, Caiola Jenen Productions, Coles Achilles, deRoy Brunish Productions, Fakston Productions, Federman Batchelder, Level Forward, Pencil Factory Productions, Renard Lynch, Robin Merrie, Rubin Stuckelman, Runyonland Sussman, Kristin Caskey, Mike Isaacson, Bee Carrozzini, New York City Center
"Sweeney Todd: The Demon Barber of Fleet Street"
Producers: Jeffrey Seller, Bob Boyett, Diana DiMenna & Plate Spinner Productions/Aaron Glick, Eastern Standard Time, Roy Furman, Thomas Kail, Jim Kierstead/Benjamin Leon IV, TourDForce Theatrical, Maggie Brohn, Andy Jones