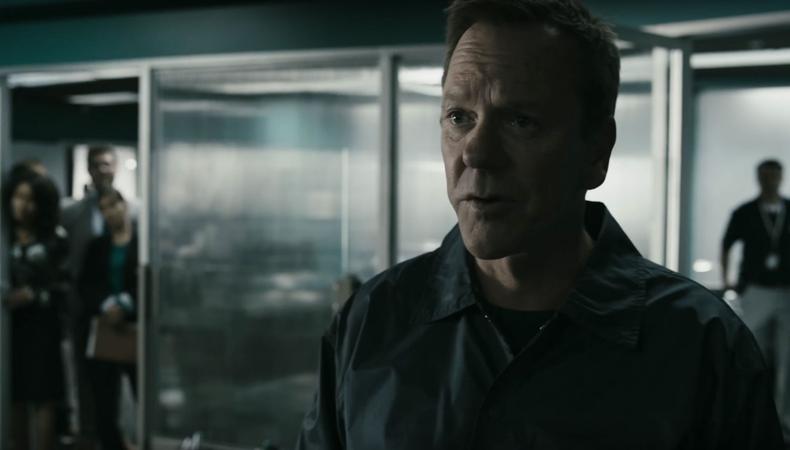 Television doesn't sleep. The sheer amount of content—almost 500 scripted programs aired in the year 2019!—can prove overwhelming for even the most dedicated TV buffs. Television Academy voters make Emmy selections in August, and SAG-AFTRA members vote on SAG Awards in January, but their job requires tuning in all year long. Backstage is breaking down, month by month, the buzzy shows and performances that merit awards attention in the ever-growing landscape of the small screen. Mark your calendar and become a couch potato along with us!
With TV production slowed down since March due to the coronavirus pandemic, premieres are beginning to become limited—but still mighty. The Academy of Television Arts & Sciences announced their nominations for the 72nd Emmy Awards July 28, and Netflix is riding high with its 160 nominations. The game-changing streaming service seems to be celebrating its achievements this month with a four-episode special; sitcoms "Family Reunion," "The Big Show Show," "Mr. Iglesias" and "Ashley Garcia: Genius in Love" will enter each other's TV universes in an unprecedented major crossover event.
Hoping to ride the success of streaming services, AppleTV+ dishes up its latest comedy, the Jason Sudeikis vehicle "Ted Lasso." HBO, celebrating 107 Emmy nominations, launches "Lovecraft Country," from megawatt co-producers Jordan Peele and J.J. Abrams. And Quibi, the short-form streaming service, offers up a bevy of new programming, from rebooted "Reno 911!" to the Steven Soderbergh–produced "Wireless," the newest adaptation of "The Fugitive" starring Boyd Holbrook, television veteran Kiefer Sutherland, Tiya Sircar, and more! Check out the list of August 2020 premieres below.
Acorn TV
On the 3rd, Acorn's own original series, "The Nest," starring Martin Compston and Sophie Rundle, comes to an end; the Scottish thriller centered around a wealthy couple and the mysterious surrogate they recruit to have their baby also stars Mirren Mack, Katie Leung, Shieley Henderson, Kate Dickie, and Samuel Smalls. Making its stateside debut on the 10th, "The Other One" is a comedy starring Siobhan Finneran, Rebecca Front, Ellie White, Lauren Socha, and Amit Shah about a recently discovered secret family of a deceased man. That same night, the sixth and final season of "Mount Pleasant" arrives stateside.
Apple TV+
This month sees a new comedy for Apple's streaming service, with "Saturday Night Live" alum Sudeikis starring as the titular "Ted Lasso," born out of a character the actor-writer has portrayed in NBC sports promotional videos since 2003. Co-created by Sudeikis, the series follows an obscure American football coach to England, where he takes on the world of professional football (a.k.a. soccer), with no previous experience. Tune in starting on the 14th.
BritBox
Kicking off the month with Rob Lowe and Rachael Stirling, Britbox will debut the first season and U.S. premiere of "Wild Bill" on the 4th, followed by all nine seasons of anthology drama "Moving On" on the 7th. On the 18th, David Tennant of "Doctor Who" and "Broadchurch" fame will star in Season 2 of dramedy "There She Goes" alongside Jessica Hynes.
The CW
The CW will premiere two new series this month: "Coroner," launching Aug. 5, and "Dead Pixels" on the 18th. Both shows were slated to debut this fall, but moved up to fill the CW's summer lineup and are both international imports: "Coroner" from Canada and "Dead Pixels" from the U.K.
HBO
HBO debuts its newest, "Lovecraft Country," from co-producers Peele and Abrams on the 16th. Adapted from the novel of the same name by the author Matt Ruff, the horror drama features Jonathan Majors, Jurnee Smollett, Aunjanue Ellis, Jada Harris, Courtney B. Vance, and Michael Kenneth Williams in the story of three black Americans travelling through a Jim Crow era America in search of a missing person—as they battle both racism and supernatural forces.
Netflix
Riding high off of its record-breaking Emmy nominations, Netflix offers up a bevy of imported series this month and several originals as well. Stars from "Family Reunion," "The Big Show Show," "Mr. Iglesias" and "Ashley Garcia: Genius in Love" will all appear on each other's shows Aug. 10. The first half of the fifth season of "Lucifer" will be added on the 21st; this was supposed to be the fantasy series' final season, but it will actually finish up with a sixth season that has been recently announced. On the 25th, the second and final season of drama "Trinkets" debuts, and on the 14th Netflix welcomes new comedy series "Teenage Bounty." Season 3 of Dutch post apocalyptic series "The Rain" comes on the 6th, and on the 7th, Spanish language drama "High Seas."
Peacock
NBC launched its new streaming service last month and comes into August with two new series, both overseas imports. On Aug. 6, beloved "Great British Bake Off" hosts Mel Giedroyc and Sue Perkins will play best friends—and assassins—in the comedy "Hitmen." On the 10th, the Australian dramedy "Five Bedrooms" will join Peacock, featuring an ensemble cast made up of Kat Stewart, Stephen Peacocke, Doris Younane, Katie Robertson, Roy Joseph, and Hugh Sheridan; the series is about a group of strangers who purchase a home together.
PBS
Star Shaun Evans will reprise his starring role on British crime drama "Endeavour," the prequel to classic and much loved "Inspector Morse," which will begin its seventh season Aug. 9.
Quibi
This streaming service only launched back in April, and has already been honored with 10 Emmy nominations this year, so it may be worth checking out what the platform is offering up this month. On the 3rd, the newest adaptation of the "The Fugitive" arrives, starring Boyd Holbrook, Kiefer Sutherland, and Tiya Sircar. On the 10th, a Lorne Michaels– and Seth Meyers–produced comedic whodunit series premieres: "Mapleworth Murders," starring "SNL" alum Paula Pell as Abigail Mapleworth, alongside John Lutz and J.B. Smoove. On the 24th the latest season of rebooted comedy series "Reno 911!" arrives, and on the 31st brand new series "Wireless" debuts, executive produced by Soderbergh and starring Tye Sheridan.
Showtime
Showtime will offer up BBC–produced crime thriller "We Hunt Together" on the 9th. Promised to be "a gripping twist on a classic-cat-and mouse story" by Showtime, the series stars Eve Myles and Babou Ceesay as detectives tracking down a pair of killers.
Sundance TV
Making its stateside debut on Sundance's channel Aug. 6 is "Upright." Critically acclaimed in its home country of Australia, this drama series about an epic road trip stars Tim Minchin.