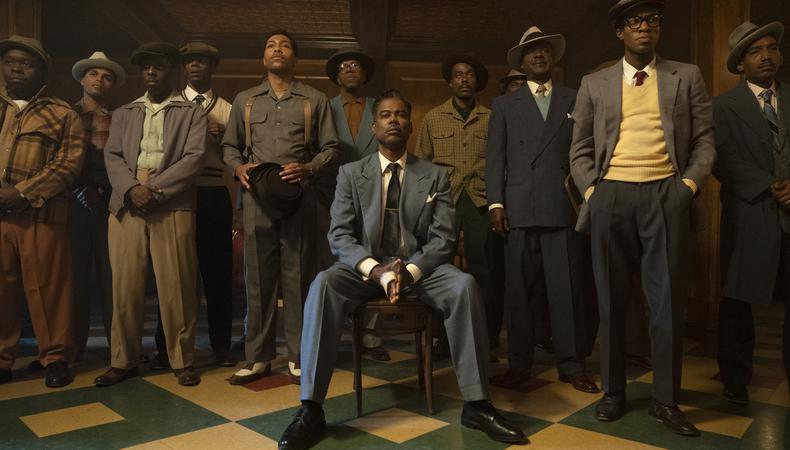 Television doesn't sleep. The sheer amount of content—almost 500 scripted programs aired in the year 2019!—can prove overwhelming for even the most dedicated TV buffs. Television Academy voters make Emmy selections in August, and SAG-AFTRA members vote on SAG Awards in January, but their job requires tuning in all year long. Backstage is breaking down, month by month, the buzzy shows and performances that merit awards attention in the ever-growing landscape of the small screen. Mark your calendar and become a couch potato along with us!
Fall TV begins this month, and the lineup is full of highly anticipated returns and new series alike.
The industry is still suffering the effects of COVID-19's shutdown in production, with a slightly less robust September than we are used to seeing from broadcast networks, but there is still more than enough TV debuting this month to keep viewers busy. This month is full of A-listers joining the small screen, with Jude Law returning to HBO for his new miniseries, "The Third Day." Chris Rock leads the long-awaited fourth season of "Fargo" on FX; over on Netflix, Ryan Murphy will debut his latest creation for the streaming service, "Ratched," featuring his longtime acting collaborator Sarah Paulson as the titular nurse. As if that wasn't enough star-studded programming for you, Showtime offers up miniseries "The Comey Rule" starring Jeff Daniels as former FBI director James Comey alongside Brendan Gleeson, Holly Hunter, and more, while over on Starz, the new spinoff "Power Book II: Ghost" will include stars Mary J. Blige and Method Man. Check out the full list of September debuts below!
Amazon Prime Video
On Sept. 4, superhero series "The Boys" will launch its second season with three episodes available to stream and additional installments made available every Friday through Oct. 9. Amazon will also debut a new after-show: "Prime Rewind: Inside the Boys" is hosted by Aisha Tyler and is set to stream after each episode. On the 25th, new conspiracy thriller "Utopia" premieres, written by "Gone Girl" author Gillian Flynn. John Cusack, Sasha Lane, Rainn Wilson, Dan Byrd, Desmin Borges, and Jessica Rothe star in the series about a group of comic book fans targeted by a government organization after getting their hands on a graphic novel that may be a little more true to life than they anticipated.
Apple TV+
Hit Israeli spy thriller "Tehran" will be available to stream beginning on the 25th, debuting with three episodes available; additional episodes will be added every Friday.
Acorn TV
"The Sounds," a thriller set in the Marlborough region of New Zealand, takes place in a stunning landscape, making its drama of buried secrets and family plots all the more disturbing. The series will make its North American debut on the 3rd.
BET
Tyler Perry is busy as usual, with new comedy "Tyler Perry's Assisted Living" making its TV debut, alongside the launch of Season 9 of "Tyler Perry's House of Payne" on the 2nd.
BritBox
Launching Sept. 1 is Britbox original "McDonald & Dodds." The detective drama takes place in the historic city of Bath and stars BAFTA-winning Jason Watkins and Tala Gouveia. Award-winning actor Toby Jones stars in his co-created "Don't Forget the Driver," a dramedy about a bus driver whose life is suddenly thrown into chaos when he finds a dead body on the beach; the series makes its U.S. debut on the 15th.
FOX
For the beginning of their fall season, FOX will debut their newest series, "Filthy Rich," on the 21st, a primetime soap from writer-director Tate Taylor, best known for "The Help." Kim Cattrall and Gerald McRaney star in the series that revolves around a wealthy Southern family discovering family secrets after the death of the family patriarch. On the 26th, "L.A.'s Finest," a cop drama from the "Bad Boys" franchise that stars Gabrielle Union and Jessica Alba, will air. The series, also available to Spectrum cable subscribers on their streaming wing, was tapped by the network to fill time slots left open due to pandemic-related production delays.
FX
Critical darling "Fargo" will finally return for the long-awaited fourth season, after a three-year wait, on the 27th (and 28th, via FX on Hulu). Rescheduled from its original April debut, this Noah Hawley anthology series will feature a whole new storyline and setting, taking place in Kansas City in 1950 and featuring an all-star cast including Rock, Jason Schwartzman, Ben Whishaw, Uzo Aduba, Timothy Olyphant, Jack Huston, Jessie Buckley, Glynn Turman, Amber Midthunder, and musician Andrew Bird. On the 25th, new five-part miniseries "A Wilderness of Error" debuts, adapted from the true crime book by Errol Morris; this series dives into the case of a possibly wrongly convicted army surgeon serving a sentence for murdering his family.
HBO
Rescheduled from its original May debut, "The Third Day" is a six-part limited series starring Law, Naomie Harris, Emily Watson, Katherine Waterston, and Paddy Considine. Beginning Sept. 14, it's split into two sections: "Summer" and "Winter," each of which tells a separate story about a mysterious island off the British Coast. Coming-of-age miniseries "We Are Who We Are," directed by Luca Guadagnino, best known for directing "Call Me by Your Name" debuts on the same day. The series stars Jack Dylan Grazer as a American teenager living in Italy with his two moms (played by Alice Braga and Chloë Sevigny) where he starts two relationships, with an American girl and an older male soldier.
HBO Max
New sci-fi series "Raised by Wolves" launches on this streaming platform Sept. 3 and marks the TV directorial debut for Ridley Scott, who will direct the first two episodes of the series set on a distant planet with robots raising human children. It stars Travis Fimmel, Amanda Collin, and Abubakar Salim.
Hulu
Two comedies launch on Hulu this month, including on the 9th the new "Woke," starring Lamorne Morris, previously of "New Girl." The series, about a Black cartoonist, will blend animated sequences with live action and centers around an interaction the cartoonist has with cops that changes his life forever. Returning for its second season on the 18th comes the critically acclaimed "PEN15," a series that features adult creator-stars Anna Konkle and Maya Erskine playing teenagers alongside actors who are actually 13.
NBC
Kicking off the month with its first fall series, NBC will offer up the Canadian medical drama "Transplant" on the 1st.
Netflix
A youthful, English language version of Henning Mankell's detective novels, "Young Wallander" will begin streaming Sept. 3, starring Adam Pålsson as a 20-something version of the titular Wallander. New sci-fi drama "Away," starring Hillary Swank, Josh Charles, Jason Katims, Matt Reeves, and Andre Hinderaker, launches on the 4th; the series tells the story of the first manned mission to Mars. A new musical comedy series, "Julie and the Phantoms," from "High School Musical" director Kenny Ortega, will be added on the 10th, while comedian Katherine Ryan's creation "The Dutchess" debuts on the 11th, a series about a single woman on the search for a man to impregnate her.
On the 18th, a new drama already renewed for its second season, Murphy's "Ratched," presents a prequel to the Ken Kesey novel and 1975 Oscar-winning film "One Flew Over the Cuckoo's Nest." The series takes place in the late 1940s and stars Paulson as a young version of the infamous nurse. The star-studded cast also includes Cynthia Nixon, Judy Davis, Sharon Stone, Corey Stoll, Finn Wittrock, and Vincent D'Onofrio. That same night, the new comedy "Sneakerheads" premieres, starring Allen Maldonado as a former sneakerhead, now a stay-at-home dad, whose passion for collecting gets reignited when he runs into an old friend.
PBS
On the 13th, PBS Masterpiece Theater will air "Van der Valk," an adaptation of Nicolas Freeling's crime novel starring Marc Warren as the titular character, with the series moved into the present day from its original 1960s era.
Peacock
The streaming arm of NBC will take on a series canceled on its broadcast channel. Mike O'Brien's "A.P. Bio" will add the new third season, alongside its previous two, Sept. 3. On the 17th, new Canadian thriller miniseries "Departure" will debut, starring Archie Panjabi and Christopher Plummer.
Showtime
A two-part miniseries based on the memoir of FBI director James Comey, "The Comey Rule" debuts Sept. 27 starring Daniels as Comey and Gleeson as Donald Trump. The series also stars Hunter as Sally Yates, Peter Coyote as Robert Mueller, Michael Kelly as Andrew McCabe, William Sadler as Michael Flynn, Jonathan Banks as James Clapper, Joe Lo Truglio as Jeff Sessions, and Scoot McNairy as Rod Rosenstein.
Spectrum
"L.A.'s Finest" has two debuts this month with its broadcast on Fox (see above) and availability for streaming at its original home, Spectrum, with all 13 episodes available on the 9th.
Starz
On the 6th, a new spinoff of the popular series "Power," "Power Book II: Ghost" starring Blige, Method Man, Sherri Saurn, Shane Johnson, Naturi Naughton, and Michael Rainey Jr., starts just where the original series ended.