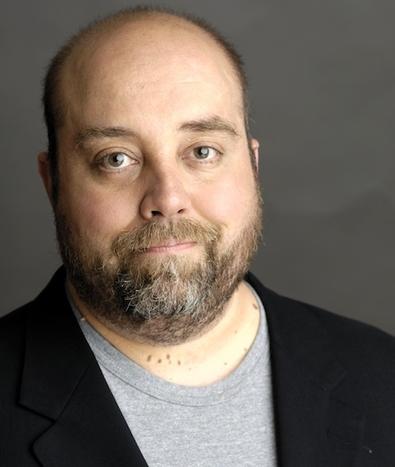 President Abraham Lincoln is believed to have said, "Give me six hours to chop down a tree and I will spend the first four sharpening the ax." It's a philosophy David H. Lawrence XVII embraces and recommends when approaching acting in a city that feeds on business know-how.
"When I first started in L.A., I didn't even try to audition for anything of import until maybe four years in," says the film and voiceover actor. "I volunteered and I interned and I networked and I sat in writing rooms and I watched the sausage being made at agencies and in casting offices. I wanted to see how every moving part actually worked."
Lawrence has built a successful career as an actor, known for his villainous turn on "Heroes" and the award-winning short film "My Name Is Wallace." Students of his online voiceover classes at VO2GoGo.com rave about the site's comprehensive training, and Rehearsal, his revolutionary line-memorization app, has been recommended by everyone from Julianna Margulies to Debra Messing. (He has also amassed several Backstage Readers' Choice awards.)
Too often, Lawrence says, starry-eyed newcomers to L.A. dive headfirst into auditions or hire someone to shoot scenes for a reel before assessing their surroundings and getting to know the intricacies of the biz. In other words, too much clumsy hacking and not enough ax sharpening.
"They rely on the fine arts training they've had as opposed to the business training they absolutely need," says Lawrence, who mentors new actors by taking them out to lunch in addition to his intensives and master classes. "No matter how good a school is outside of L.A., it's not in L.A. They're not going to understand the environment and the zeitgeist of the production center they're dropping themselves into."
How can actors adapt to L.A.'s environment and position themselves for their big break? Lawrence breaks it down into three areas: art, commerce, and science. The technical training students acquire in classes, the craft of performing for the stage or camera, is a given. And understanding the business side of things—self-promotion, networking, the behind-the-scenes process—becomes crucial in a city built on industry connections. But an often overlooked responsibility, according to Lawrence, is paying attention to science and technology. If you can update your reel without paying someone else to do it, for example, and know the difference between a .mov and .mp4 file, you're infinitely more in control.
"It's like adding WD-40 to the hinge on the door," he says. "All of a sudden it stops squeaking and everything starts to flow smoothly and you start to make progress in your career."
For Lawrence, the greatest roadblock to making it big in L.A. is trusting industry information from uninformed sources. Incoming actors must undergo the process of "clearing the cobwebs of whatever you think you should be doing, or whatever you've been told you should do by people outside the market." The City of Angels is a distinctly complex system, and falling into the trap of supposedly conventional wisdom can set actors back.
Instead, he recommends identifying true industry professionals and copying the trajectory of their careers. "Ask as many questions of people who are successful as you can," Lawrence advises. "Find out as much about the business as you get there—before you get there—from people who really know. Not people who are selling you a book or a class."
Or, put more simply: "Look for people who are skilled at what you want to do and steal from them blindly."
Inspired by this post? Check out our Los Angeles audition listings!