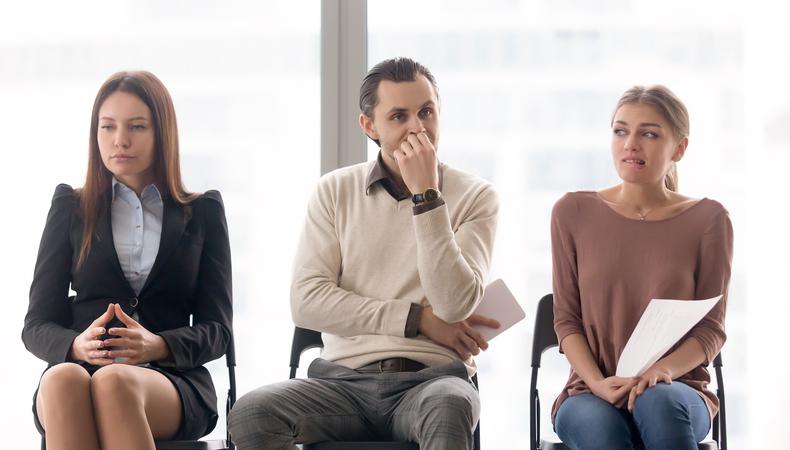 Last month, Oscar-winning actor Viola Davis wrote a Facebook post that said: "The current unemployment rate in the U.S. is 8.4%. The unemployment rate amongst actors at any given time......is close to 95%!! About 1% make 50,000 or more. Only .04% of actors are famous." It was to show that while a lucky few are wealthy, a majority of actors are unemployed and struggling to get by.
That Facebook post has inspired a new series of commercials by the Verizon-owned Visible service. When the service provider was thinking of a concept for a commercial for its low-cost plan, it didn't just want to hire a famous spokesperson. It wanted to hire as many out-of-work actors as possible.
"Normally, you'd be hiring one actor or two actors that are really famous and cost a lot of money," said Jonny Kaufman, head of organic social at Visible. "We didn't want to help out that 1% that does make $50,000 or more. We wanted to help out that 99% that's making less than that."
The first commercial in the campaign, which debuted Oct. 5, was shot over three days at New World Stages, an Off-Broadway theater off of Times Square. It features seven New York–based actors creatively, and hilariously, interpreting real testimonials from Visible customers. The campaign was conceptualized by marketing agency Jelly and cast on Backstage. The commercial is also kicking off a partnership between Visible and the Actors Fund; Visible has donated $50,000.
"Creating an ad concept that organically called for using a lot of principal actors was, frankly, quite challenging," admitted James Percelay, Jelly's creative director. They couldn't do crowd scenes because of COVID-19, but after watching an episode of "Barry" on HBO, which featured Henry Winkler playing an acting coach, Percelay had an idea: "What if we filmed a theater audition in which the script was the real customer testimonials that the client had shared with us in their brief? Actors dramatically reading otherwise unexciting customer feedback on Visible's phone service seemed like the perfect opportunity for humor."
Casting began immediately. Jelly put an ad in Backstage, and received over 1,000 responses. Jelly and Visible paid actors who came in to audition and the final campaign featured 18 performers.
"We offer unlimited service, unlimited data specifically," explained Kaufman. "And with unlimited data, you're really there for content. But if actors are unemployed, they aren't able to make work if they're not able to have a roof over their head and food in their mouth. So that was the direction we wanted to go: How do we support people as much as possible? And at the same time, how can we make something that was compelling?"
READ: How to Become a Commercial Actor
The one-minute spot features a diversity in age, disability, gender, and race. Jeremy Stone is a Deaf actor, and he's thankful for the visibility that the campaign is giving to Deaf people, who face a special struggle during COVID-19.
"I, like many Deaf people, rely on facial expressions as part of the grammar of American Sign Language (ASL)," he said. "It is also the way I interpret tone from hearing people that don't use ASL. The use of masks has instantly imposed a communication challenge. Visible provided me such a rich opportunity to bring people into my world of access."
According to Kaufman, social impact has been part of Visible's mission. They previously donated money to the Colorado Restaurant Association's Angel Relief Fund. Visible is currently cutting more commercials from that three-day shoot at New World Stages, and Kaufman sees opportunity for similar work in different cities in the future.
"We're taking a look to see how we can extend this because we think it's a really powerful format that does a lot for the brand," he said. "We're taking a look at how we can support actors in other communities because everyone's been hit hard in one way or another—whether they be the folks down in East Hollywood or Austin. So we want to take a look and see how we can move forward into that direction one way or another."