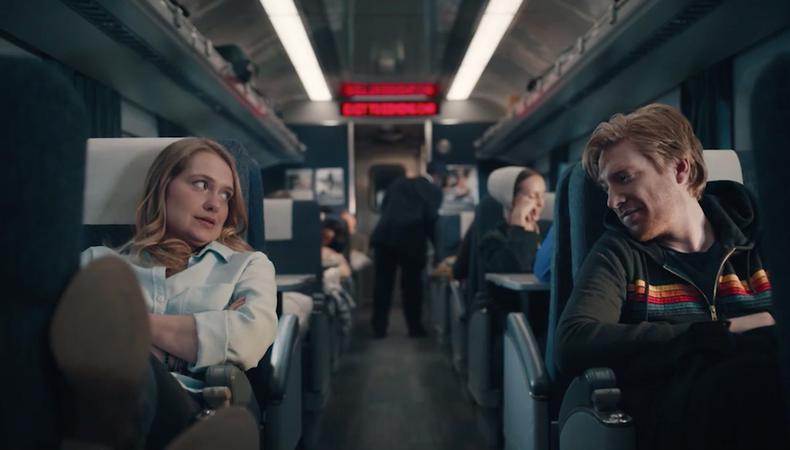 While developing her new HBO series "Run," a debate ensued early on in Vicky Jones' writing room. Should Ruby (Merritt Wever), our 30-something protagonist and failed architect who flees her husband and family for her college boyfriend, have children of her own? "There was a lot of talk about having her children be stepchildren," says Jones.
The character's conceit was easy enough: If ever Ruby or her ex-boyfriend Billy (Domhnall Gleeson) felt trapped in an adult life that didn't measure up, they'd text "RUN." If the other responded the same, they'd abandon their lives, meet in Grand Central, embark on a cross-country trip and, before its end, decide to return to their families or run away for good. That dilemma suspended Ruby at the precarious perch of any feminist character who transgresses the selflessness expected of her: Could Jones afford to make Ruby unlikeable? "I realized we were pulling our punches," she says. Ruby's children would be hers.
"I just felt like telling the story of a woman who's had enough of that—of 'give, give, give'—to see what happens to her," Jones, whose writing partnership and friendship with Phoebe Waller-Bridge previously begot "Fleabag," continues. "She doesn't have a bad marriage. She's pretty middle class. Can we look at a woman with an objective view and still get behind her? She's completely sane, and she's herself exactly. That was important to tell."
The unyielding (and subtly radical) decision to spare no casualties in Ruby's leave-taking represents all that Jones—the more shy and soft-spoken half of a deeply-forged friendship with Waller-Bridge—is out to change in television, an initiative that began with "Fleabag."
Jones met Waller-Bridge soon after the two graduated from university in England. "The two of us loved theater so much and wanted to make it ourselves, somehow," says Jones. The pair began the theater company DryWrite, a playwright's workshop of sorts, "and committed to each other that we wanted to be writers." Writing plays to challenge one another ("We always wrote for each other, to impress the other one," says Jones), Waller-Bridge turned her stand-up act into "Fleabag," which Jones directed onstage at the Soho Theatre in 2013, serving as script editor when the award-winning play was picked up by Amazon and BBC. She wrote two highly successful plays herself—"The One" (2014), which starred Waller-Bridge, and "Touch" (2017)—and worked in the writer's room of Waller-Bridge's "Killing Eve" and "Crashing."
Like its cousin "Fleabag," "Run," which also counts Waller-Bridge as an executive producer, tests the limits of romantic comedy, employing the genre's capacity for outrageous behavior and enormous self-sacrifice to examine greater demons.
"I'm wanting to look at two people who are really unafraid of each other," says Jones, positing how she crafts compelling relationships between men and women. "Fear sounds like a silly word, but I feel like we're much more afraid of each other then we let on. We're intimated by each other, particularly the guy by the girl. Misogyny—even subtle, latent misogyny—can exist because of fear and misunderstanding." Women, she says, know when they're talking to a man who isn't scared of them, "and it's the most romantic thing in the world."
Ruby is driven by frustration, a deep discontent paired with desire, and the conviction to entirely explode one's life to forge a new one—a watermark for the characters Jones and Waller-Bridge have created together.
"You have to assimilate who you are as a woman," she says. "And as a feminist, you also have to assimilate your feminism with your life and your choices. There's a sense that you mustn't blame the patriarchy for things you can control, but at the same time you need to allow for it to affect you, and it's OK if it has." Like her characters, Jones says frustration has been a defining characteristic of her life. "That sense of putting other people first, being a good or desirable or ethical woman, is a sticky one," she says. "You do want to be those things. You want to be good and helpful and appealing." That conflict is where she found Ruby. "She's done a hell of a lot, and she suddenly realized that she certainly didn't get all the things she was promised. She didn't get any glory from putting anyone else first.
"So," Jones concludes, "she snapped."
Want to hear more from the best creators in film, TV, and theater? Get it right here!