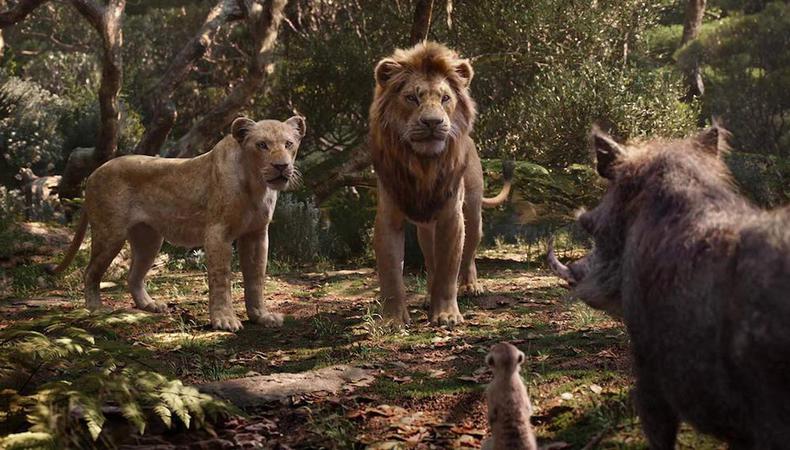 Looking for a new perspective? Here we talk to more of the top professionals in the field to bring you the latest career advice!
If you dream of bringing a new world to life through visual effects, you'll want to take note of what Rob Legato has to say about following this career path.
Even if you don′t realize it, you′re probably familiar with Legato′s work: he was the VFX supervisor on classic films like "Apollo 13" and "Titanic," as well as more recent work bringing classic Disney animated films "The Jungle Book" and "The Lion King" to live-action. (He's nominated for an Academy Award in visual effects for the latter, along with Adam Valdez, Elliot Newman, and Andrew Jones.)
Want to bring Disney films and ambitious original works to life with visual effects, too? Legato has some advice for those aspiring VFX artists.
What does a VFX supervisor do?
Traditionally, [VFX comes in when] something is too expensive, too dangerous, or too time-consuming to do. You specialize in understanding all the different ways of filming things and what things aren't currently available to a live-action crew like miniatures, puppet rigs, and animation. You become an expert in that (over a live-action crew). You talk to the producer and director and come up with how [to] actually film it. We'll do some of it real and some of it will have to be an effect, and what is that effect and what does it look like?
The supervisor basically says, "whatever you can't do, don't want to do, or is too dangerous to do, we'll find a way to actually produce it."
You′re nominated for an Oscar for "The Lion King." What was it like working on such a classic story?
It was a great deal of fun and it was also really challenging because we're remaking a movie that is well-loved by literally millions of people. Anytime you do anything where you're a little nervous doing it, you always do a much better job because it keeps you alert and awake during the entire process. You're always looking to improve it and make it better.
That part was a ball and [so was] exploring new technology to help your art. The art is everything. Technology's the secondary part, but sometimes to get that art you really need to do some technical innovations to allow you to get to that art much quicker. Disney is very good about wanting you to explore that so the films turn out better...Working with Jon Favreau was fun and Caleb Deschanel, one of the great cameramen. Our same ["Jungle Book"] team was around for ["The Lion King"] and they all got more mature and better at their tasks and jobs. The whole thing ended up being a very fun experience.
What's your process when approaching a new project?
I do a ton of research. I enjoy the research process because it allows me to get into the head of the writer, the director, and everything else. You keep on looking and searching for new things that you would not have known if you didn't have the project in front of you. That particular thing becomes interesting and it doesn't matter what it is. It could be sculpture, a piece of music, a still photograph or old movie—it doesn't matter what it is. Somehow, your intuition is excited by the challenge that you have in front of you and you start solving problems.
That's how you start a project. Figure out what it is and certain technical things like how long do you have to do it? How much money do you have to do it with? What needs to be created to actually produce something? It always starts with the story. How will I tell the story? What about it excites me? Then pluck out things I would never think I would use or want.
How did you get started in this line of work?
I went to film school and studied cinematography. My desire was always to get into the film business, and it stemmed from when I saw "The Godfather" for the first time. I realized it was an art form—not just movie-making—and maybe I could contribute to it. That was the dream.
What was your first film crew job?
That's hard to say because I started out as a live-action producer of television commercials for like McDonald's and airlines, fairly high-end and expensive commercials. I did that for a few years before I got a job at [Robert] Abel and Associates which was a commercial house that did a lot of visual effects.
My very first film job, I shot the exploding gloves in "Rocky IV." It was an assignment given to a commercial house and they hired me because I knew how to shoot these sorts of things and I was a decent cameraman. They gave me the assignment and for very little money we created that.
How do you find your jobs? Is there a team you work with regularly?
I was working on a TV show called "Star Trek: The Next Generation" and a friend of mine, Brooke Breton, who I worked with on the first season, went off with Scott Ross, Jim Cameron, and Stan Winston [who] formed Digital Domain. She basically put my name forward and asked if I wanted to join that company.
Once I did that my first film was "Interview with a Vampire," and because it turned out pretty well, Ron Howard was interested. We did "Apollo 13" and Jim Cameron liked that and I did "Titanic." Once that happened, I had a bit of a reputation and a track record that things worked out so people would come to me.
Then I also got agents, Paul Hook at ICM and Holly Jeter at WME. They were able to find out what films were coming up and negotiate deals. That's how I find jobs now. It either comes to me because of my résumé [or] they find what's happening out there and maybe steer me to a good film.
I try to work with the same people all the time. What ends up happening a lot is when you work with somebody who's quite good, they tend to want to move up and then eventually they move up to the point where they're doing what you're doing. As much as I love to work with the same people all the time and I do as much as I can, I also work with similar companies. I try to find and keep the same people I've worked with. The longer they stay in their jobs, the more I work with until they move up and do their own work.
What's the hardest part of your job?
Especially when you're dealing with new technology and deciding on style and tone, it takes a while for it to be realized and sometimes it's too late to change gears. You have to have a certain amount of confidence and research that what you're doing is going to be the right choice because sometimes you decide on a path and it might take six to eight months before you actually start seeing the results of the path you went on. By that time, it's usually too expensive and difficult to alter course completely and come up with a new plan. You have to know what you're doing and be confident that you can pull off whatever you're asking to do.
What skills would you say are essential if you want to become a VFX supervisor?
You have to have some knowledge of movie-making in general because ultimately, that's what you're doing. You're creating scenes that have to advance the story and the reason you're choosing it is because it's the appropriate depiction—it should have some function in the movie. You have to know something about that or have a tremendous amount of interest so as you start your process, you're learning and getting better.
[You also need] to have taste because you're, in essence, the taste leader for a bunch of people who are learning their craft. We've chosen a particular way we're going to do this film and it has to fit into that taste level...[The whole project] has to have a through [line] of one artistic vision and you have to supply that vision.
At some point, you also have to know how to lead people to get the job done in a particular period of time without a tremendous amount of hassle. It's very difficult to do these jobs and there are always problems that show up. The one that will hurt you, in the end, is if you can't lead people and show by example.
What do you usually look for when hiring someone?
I look for somebody who is very bright, willing to learn, will admit what they know and what they don't. Sometimes I prefer they don't have [everything I'm looking for] because usually, you're doing something that's never been done before or quite the same way. I'm looking for somebody who has the capacity and desire to do it, and the willingness to learn. I value that more than just about anything else.
What advice would you give someone looking to get into VFX?
You have to study and in that process, you have to practice. You can easily pick up your iPhone and come up with a scene. Then you start to answer your own questions. How would I edit it? How would I photograph it? How would I make it better? The only way you can actually get good at it is to do it over and over again. Solve new problems and come up with solutions. It's practice, practice, practice.