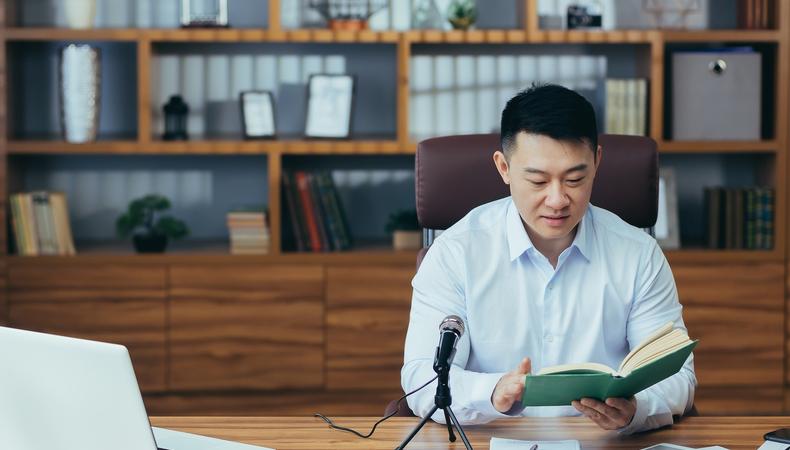 The world of voice acting can be intimidating. You have to zero in on one of your most valuable instruments, and there's a whole new career language for you to learn. What's more, you're often your own producer. Whether you're just starting out or looking to take your voiceover career to the next level, seeking advice from those who've worked on either side of the microphone can be a game changer.
Here are nine of the best books on voice acting that dive deep into all aspects of the art form, including finding your voice, finding a voiceover agent, and building your repertoire.
For Newcomers
We all have to start somewhere, so why not begin with this tried-and-true series? David and Stephanie Ciccarelli, the husband-and-wife duo behind voices.com, lend their industry expertise to this comprehensive, step-by-step guide to voice acting. The book touches on the basics of the business, finding your signature voice, procuring the proper tech tools, the audition process, and other topics. Its modular organization makes it a solid reference book, so you can easily skip to sections on the aspects of voice acting that interest you the most.
For a True Voiceover Experience
An audiobook is a natural fit for a best-of voice acting book list, so kudos to Lowenthal and Platt for narrating their own book about voiceover work. The married pair of VO vets earned a Pinnacle Book Award and a National Indie Excellence Award for the first edition of the title. They followed it up in 2018 with this updated version that covers auditioning, warmup exercises, effective copy reading, self-marketing, and finding an agent. Many of its Audible reviews praise the pair's performance in particular.
For Voice Artists Who Are Also Entrepreneurs
Performer and coach Joshua Alexander first got into voice acting while working in marketing (he recorded some of the PSAs that he helped to sell), and he returns to his business roots in this 2021 book. Alexander focuses on topics such as networking, client acquisition, and branding. He writes in a tone that toes the line between informative and waggish, just as he does in his weekly blog, The Voices in My Head.
For Doing Your Homework
Performer, writer, and coach Elaine A. Clark lays it all out in the title of this book. In addition to walking through how to land an agent and self-promote, Clark dives deep into technique with an entire chapter dedicated to melody and tempo. She also offers copywriters' perspectives, giving performers insight into what happens on the other side of the industry. Parts of this book may make you feel as if you're in business school, and Clark encourages readers to apply her teachings in various exercises.
For the Voice Actor Who's All About Technique
What happens when an acting school's head of voice and a Stanislavsky scholar join forces to write a book? You get this in-depth guide to bringing that training into the world of vocal acting; the authors cater to performers and teachers alike. Divided into four parts, "Voice Into Acting" starts with a neuroscientific approach to the art form before delving into "The Essential Vocal Six": alignment, breath, centered onset of sound, pitch range, resonance, and articulation. It also incorporates those tenets into the Stanislavsky approach. Gutekunst and Gillett tie it all together by following a piece of sample text through the entire rehearsal process. All of this—plus Dany Heck's informative illustrations—make the book a must for anyone who considers themselves technically driven.
For Advice From a Notable Voice Actor
If you don't know the late Mel Blanc by his name, you certainly know him by his voice. Blanc, nicknamed "The Man of 1,000 Voices," brought to a myriad of beloved cartoon characters to life for Warner Bros. and Hanna-Barbera, including Bugs Bunny, Daffy Duck, Sylvester the Cat, Mr. Spacely, and Barney Rubble. This memoir, co-written with Philip Bashe, provides a glimpse into Blanc's entire career, including his early days in vaudeville and radio. The ins and outs of the voice acting industry may have changed since Blanc's day, but it's more than worth reading about the experiences of a pioneer in the genre.
For the Voice Actor Who's Also a Techie
While your voice is the most important instrument when it comes to VO work, there's plenty of equipment that plays a vital role in your career success. This book encourages readers to sit down with their microphones, knobs, and faders while reading through certain sections. Dan Friedman has been an audio engineer since 1994 and later became a voiceover performer as well, and he demonstrates his proficiency in both with this guide. Friedman says that a voice artist should understand how to produce their own work—a skill set that has, since the book's 2010 release, proven all the more useful as artists have increasingly been working remotely.
For Getting Warmed Up
Say it with us: "Why in the world would a whale want water? When a whale wants water, will a well run dry?" This is the first tongue twister Rodney Saulsberry offers in his book, and while there are plenty more throughout, this title is not just a collection of wacky phonetic obstacle courses. The author offers his guidance to actors, teachers, public speakers, and anyone else who uses their voice in a professional context. "If you have the confidence and discipline to practice tongue twisters, then you have the tools to pursue success in the voiceover world," he writes.
For Learning How to Protect Your Instrument
It's a voice actor's worst nightmare: you're about to step up to the mic, but your voice is totally fried. This book seeks to quell that fear. Katti Power walks the reader through a three-step system to prevent (not cure) voice loss and fatigue. Much of the book focuses on preserving your voice for singing; but her method also applies to speaking, so that you can make sure your cords are in top-tier condition every time you hit the recording studio.