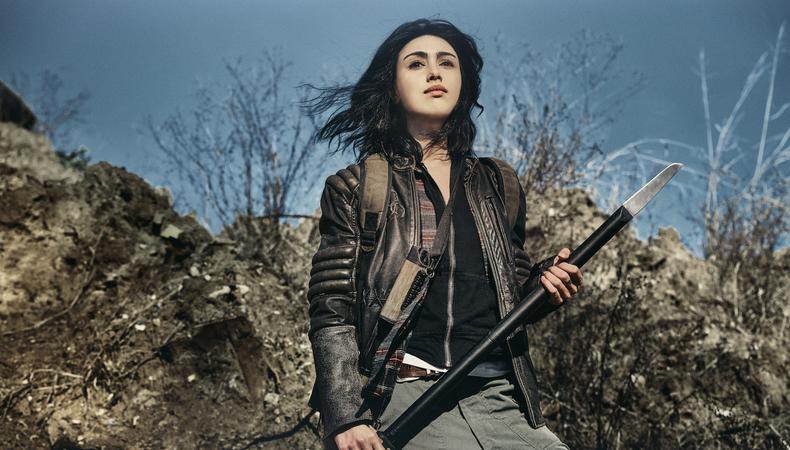 The following audience Q&A for our on-camera series Backstage Live was compiled in part by Backstage readers just like you! Follow us on Twitter (@Backstage) and Instagram (@backstagecast) to stay in the loop on upcoming takeovers and to submit your questions.
Alexa Mansour, who's known for playing Hope on "The Walking Dead: World Beyond," will soon say goodbye to the hit AMC spinoff series. Though the actor is sad to see the show go, she took over Backstage's Instagram stories to talk about what she's loved about the job. Below, check out her answers to fans' burning questions, from how she got started to where she's going from here.
What's your best advice for handling nerves?
I 100% still get nervous before an audition, or even going on set for the first day. I think the best way to handle your nerves is to change [your] mindset and say, "This isn't nerves; this is excitement." That's always helped me a little bit…. The way I turn my nerves into excitement is by thinking of it this way: If I didn't get nervous, then [it would mean] I don't care. I get nervous because I care.
What tips would you give someone trying to break into the industry?
I think one way to get started is to look at someone that you really admire that's done really well for themselves in this industry and then see where they started from, because everyone starts from zero. No one just gets it. Everyone has to work hard to get to where they are.
Is it better to start off working as an extra?
If you want to start off as an extra, I think that's a really good idea, only because it will give you a sense of how hard it is and how much effort is put into this job. And you'll be used to being on set. [But] it's very different when you're an extra compared to being a series lead.
How do you act properly on camera?
Don't look [into] the camera. I've done that many times. Don't do it. Everyone acts differently on camera, so just be yourself and portray the character [in the way] that feels best to you. You can't go wrong when you do that.
What are your tips for memorizing lines?
The way that I memorize lines is a little bit weird: I stick my lines on the wall and I tape them there, and I jump rope for, like, 40 minutes, and I read them over and over and over to the point that it's ingrained in my brain. Or I'll put them on the treadmill when I'm running, and they just stick.
What inspires you most when you're developing a character?
I really love creating a backstory for characters; so if I don't have a script or that much information, I'll just make up whatever it is I think has happened to them in the past. I just think it's so fun to make up these stories and make these people whoever you want them to be.
READ: 'World Beyond' Creator on Paying Homage While Making Something New
You say to "put the work in." What does that mean? Do you have some examples?
Anything that you want to do, you just have to work at it. It's taking classes, talking to people who are in it, asking questions. There [are] no bad questions. Anything that you ask is going to help you in some sort of way. But I think it varies for everybody, and the way that I put the work in was just hammering auditions, one after the other.
How has ["The Walking Dead: World Beyond"] changed your life?
This job has changed my life in ways that I never thought possible and opened up so many opportunities. I grew. The fan base is amazing, and that in itself has helped so much, and it's given me so much experience in this industry. I mean, my comfort zone—I've escaped that so much.
What genre of movie or TV series would you like to do next?
I would really love to do a romantic comedy.
Looking for remote work? Backstage has got you covered! Click here for auditions you can do from home!