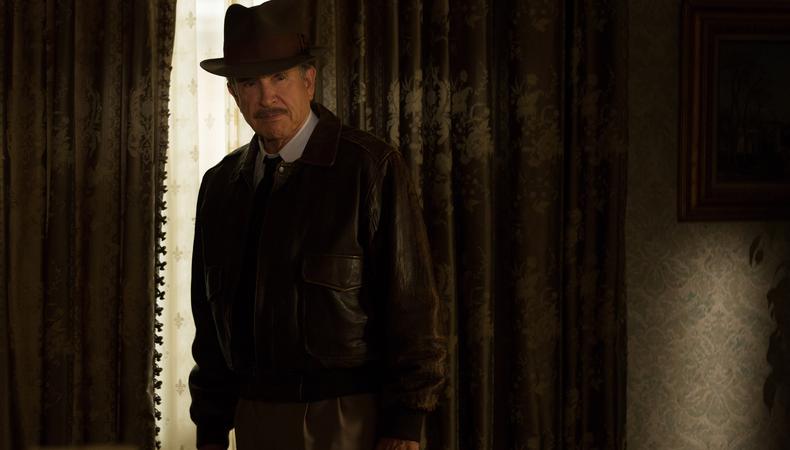 In casting his two young leads for "Rules Don't Apply," prolific actor and filmmaker Warren Beatty knew who he wanted in the blink of an eye—literally.
"I believe very strongly in the value of something called a 'blink.' Malcolm Gladwell interestingly has written about the blink: the greater intelligence of the unconscious [versus] the conscious," Beatty explains on a late-October phone call. "My blink on both Lily [Collins] and Alden [Ehrenreich] was that they shared these characteristics of intelligence, beauty, comedic talent, and a level of integrity—a highly principled, strong-willed industriousness. The qualities seem to emanate from both of them."
These traits and more were in high demand for the Oscar-winning Beatty's first feature directorial effort since 1998's "Bulworth." They lead the cast as star-crossed lovers Marla Mabrey, an aspiring actor, and Frank Forbes, the personal driver-turned-assistant to Howard Hughes. Beatty, in a turn as emotionally exacting and sincere as it is comically unhinged, plays the entrepreneurial tycoon Hughes, who employs Mabrey as one of his many contracted talents.
While Beatty has a notably gleeful time tackling Hughes in his later years, he says "Rules Don't Apply" first came to him as a film about 1950s and 1960s Hollywood. "I had always wanted to do something relating to the Hollywood that I came to," he says. He was interested in detailing "the consequences, often comical and sometimes sad, of what one could only call the American sexual puritanism that existed very much in the '50s," and specifically, how the effects of said puritanism were felt in the movie business.
As an employer at RKO, Hughes embodied some of those ideals by forbidding his employees from becoming romantically or sexually involved; he set strict rules of behavior, which come to frame Marla and Frank's affair and give the film its namesake. Ironically enough, Hughes was notorious for his own love affairs and trysts, and was a major professional player in an industry "that relied financially very much on merchandizing what you might call a terrible word: sex," says Beatty.
Though this is his first film in nearly two decades, Beatty says he's been "kicking it around" for years. One of his favorite things about getting back on set is working with a cast: "I'm addicted to actors," he exclaims. Fortunately, the ensemble behind "Rules Don't Apply" is an embarrassment of riches: Annette Bening, Matthew Broderick, Ed Harris, Taissa Farmiga, Alec Baldwin, Steve Coogan, Martin Sheen—the list goes on. Beatty says when working with such a talented group, he invites collaboration and insight.
"As the producer and director and writer and actor and so on, yes, I do have the final say, and I'm very confident of that," he says. "[But] I like to have the feeling that I'm being somewhat directed by the other actors—that it's a mutual creative process.... I always feel secure that, ultimately, I am directing the movie, but people can bring you surprising ideas."
It's not lost on Beatty, either, that Marla is very much akin to many Backstage readers: a young talent trying to make it in the big city. Recalling his own beginnings in New York City studying under Stella Adler, he says the best thing early-career actors can do is know their characters and know their intent.
"What I would suggest to the actor who's approaching it for the first time is to make sure he knows what he's doing—he being the character, he or she—make sure the character knows what they're doing more than what they're saying.
"But at the same time, learn your lines," he adds. "Have the intention or the action or the objective, and then the lines will come out of it. That's the dime's worth of advice that I have to offer."
Ready to break into film? Check out our film audition listings!