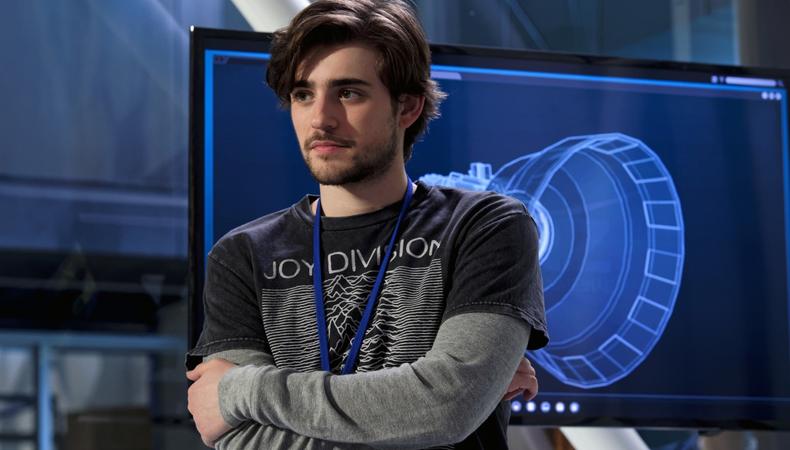 A week out from the network debut of "Salvation"—the new CBS series premiering July 12 about scientists and G-men trying to avoid a catastrophic collision between the Earth and a huge asteroid—Charlie Rowe is still filming the last two episodes in Toronto. That means he'll actually be able to see his performance before he's finished acting it. He describes the anticipation as "nerve-racking," though it's hardly a first for the British actor. Though only 21 years old, Rowe has spent more than half his life as a working actor, including his last series, "Red Band Society," which was already on the chopping block early in filming.
"We were shooting Episode 6 when the [pilot of 'Red Band'] aired, and all anyone was talking about was the ratings," Rowe recalls. "By the end of the process, we knew we were on the road to being axed. The set was very toxic." His experience with "Salvation," though, is a bit different.
"I'm excited for people to see it, though I have trouble watching myself—it makes me feel very uncomfortable," he confesses. "I feel like I'm supposed to perform it, but not to watch it. But at the same time I'm also fascinated by the idea of trying to correct my performance. So I'm stuck between the idea of avoiding [looking at] my face and studying it."
On "Salvation," Rowe plays an MIT student in astrophysics who discovers an asteroid six months away from worldwide eradication, and gets dragged into preventing human annihilation. "It is a lot for a 22-year-old—he struggles with it," Rowe says, and he easily identifies with that characteristic. Even with all his experience, he still intuits more than he plans.
"I don't have a particular audition process," he says, "I've done so many auditions, if it's something I love, I will read the lines the way my gut tells me to read them. That always feels the most natural to me. If I think about it too much, I mess it up.I just try to learn the lines and spend a few hours with the scene trying to work things out. I try to let things surprise me; if you can surprise a casting director, that's often the best thing."
READ: 14 Casting Directors on How to Impress in the Audition Room
His gut sometimes wins even when his brain tells him he screwed up. For "Salvation," he sent in an audition tape and a few weeks later CBS flew him to Los Angeles for a screentest.
"I was there for less than a day. I spent more time on planes than in L.A. And the audition went miserably. I forgot my lines and the jet-lag kicked in…and then I got the call three weeks later that I got the job."
All of which informs his best advice to young actors: Don't worry too much.
"Try not to be nervous about what people think. I spent so much of my time on sets, that at 15, I found school and house parties very nerve-racking things. Just fucking relax."
Want to find your own CBS role? Check out Backstage's TV audition listings!