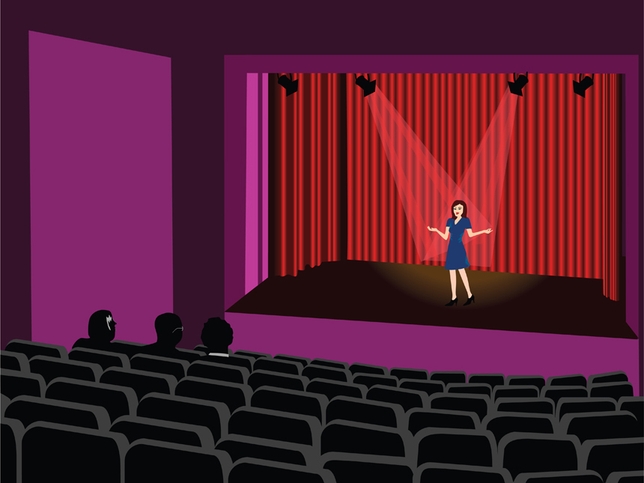 Actors work on their craft 24/7. They train with professionals, work on craft and technique, and prepare as thoroughly as possible before an audition. But when the big moment comes, what to do if sweaty palms and nerves make a guest appearance? How can actors wow casting directors in the audition room?
Fear not—Backstage spoke to 14 industry experts who gave the inside scoop on what actors should know. All were nominated for 2017 Artios Awards, the Casting Society of America's 32nd annual celebration of the top casting professionals of stage and screen. Read on for valuable advice on how to make bold choices—and a big impression—in the audition room.
READ: Will the Academy Awards Recognize Casting?
Duncan Stewart and Benton Whitley ("Grey Gardens")
Backstage Expert Benton Whitley, one of the Artios Award-winning CDs behind Stewart/Whitley, said actors that execute their skills with confidence are the ones that truly understand the definition of talent. "In New York City, we have the privilege of having an incubator of incredibly skilled people," he told Backstage. "[But] often they lack a level of confidence."
Quite simply, Whitley wants to see more actors walk into a room and share their talent. "Doing it with a sense of enthusiasm and joy and confidence actually makes it fun to watch," he said. "That is the thing we see missing day in and day out."
Stewart tends to look for actors that showcase what he refers to as "good taste." But they also need to embrace simplicity, excellence and—once again—confidence.
"If somebody comes in and lacks the confidence, those producers aren't going to put that on stage," he added.
Allison Estrin ("Billions")
Be prepared and make strong choices, advised CD Allison Estrin. "Being prepared is the most important thing," she said, adding, "and that does mean being off-book!"
Estrin, who started The Casting Collective, recommended that actors take jobs and keep in mind that there really are no small parts. "Don't pass on things because you're waiting for something bigger," she said. "Come in and do it. A job is a job and that always leads to more jobs."
David Caparelliotis and Lauren Port ("Blackbird")
Casting veteran David Caparelliotis said there's a difference between making a bold choice and making a bold choice just "for bold's sake. If it's a bold-specific choice based on the text, that is helpful.... It shows they're a really careful reader rather than just saying, 'I want to be remembered.' "
Being off-book is advisable for actors pursuing theater gigs, but Caparelliotis confirmed they should "always have the paper" in their hands. "If I've got a playwright sitting next to me and you're paraphrasing and they're mouthing the actual words because they've lived with it for five years—there's no way," he said.
Casting associate Lauren Port said there's nothing wrong with an actor holding paper, adding that nerves can show up at any time. "The trap is that if you get caught up, now everyone is nervous for you while they're watching," she said. "We're always on your side and wanting you to do well. I think that's something that's very easy to forget."
Jason Styres ("A Gentleman's Guide to Love & Murder")
CD Jason Styres said actors should not "overstay" their welcome. Come into the audition room, do your thing, and move onto the next opportunity.
He also believes actors shouldn't feel the need to get "married" to the material the first time they enter the room. "The analogy I always use is a first date situation: We come in and we don't really share everything, but you are going to tell them a little bit about you and you're going to show your best version of you," Styres said. "That way you can get a second date."
Jay Binder and Jack Bowden ("1776")
Jack Bowden of Binder Casting always advises actors to be professional and listen: "If people are asking you questions, make sure you're answering them. Don't let the nerves get in the way."
On the other hand, feelings of nervousness might serve as energy for some actors. Jay Binder believes actors can work to harness that energy; some of the art should be left to spontaneity. "I think the most important thing is that, in that 10 minutes or three minutes that you're in the room, the job is yours," he told Backstage. "You have a gift to give; it's not something to get."
Binder also values actors doing their research before going into the audition room. "Make sure you know how to pronounce every single word," he said. "If it's a play that's already been written and produced, do your research. Make sure you read the whole play."
Jeanne McCarthy ("Captain Fantastic," "Silicon Valley," "The People v. O.J. Simpson: American Crime Story")
Jeanne McCarthy, who won an Artios Award for casting FX's "People v. O.J. Simpson," believes actors shouldn't overthink the text; just trust your gut and deliver it.
The CD added that actors don't necessarily need to make a larger-than-life show out of everything. "In a way, what you end up wanting in auditions is for people to make it much more real," McCarthy said.
Meghan Rafferty and Mia Cusumano ("Margot vs Lily")
Actors should know that CDs are rooting for them from their first moment in the audition room, said Meghan Rafferty, Artios-nominated for both web series "Margot vs Lily" and "Café Society." "Go in with confidence," she said. "All we're doing is looking to help you, to guide you, and to get you the job."
Mia Cusumano agreed, adding that actors should bring themselves "fully" into each and every role. "Sometimes we don't know what we're looking for exactly," she said. "That's what will make you different."
Beth Bowling, Kim Miscia, and Michael Rios ("Mr. Robot")
"Know what it is you're coming in for," said casting associate Michael Rios, one of the Artios Award winners for USA's "Mr. Robot." Actors need to familiarize themselves with both the material and the screenwriters' previous material; Rios tells actors to use the internet to their advantage by looking up as many details as possible. "It sounds easy, but it's not."
"This is going to sound harsh, but it's important to come prepared and not have excuses," said Beth Bowling. Part of being a professional actor is respecting the time of those on the other side of the casting table. Kim Miscia added that as CDs, they want to focus on the art. They don't want to "hear all about your bad day or why you're sick."
Ready to put your audition skills to the test? Check out our TV audition listings! And for more advice, visit Backstage's YouTube channel: