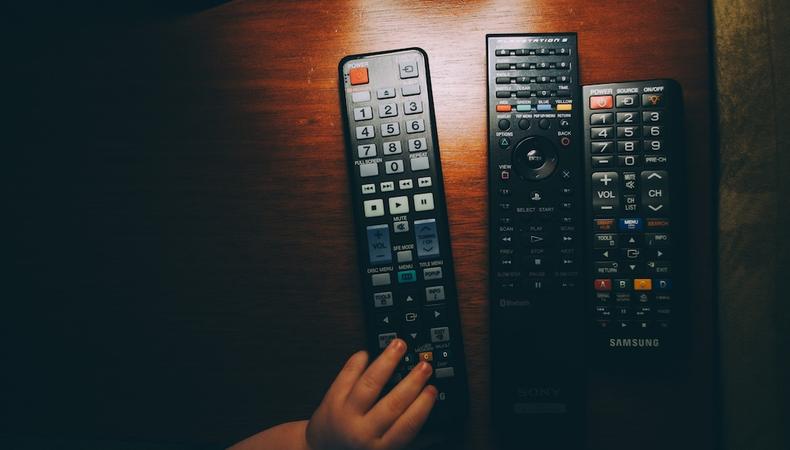 You have to study the medium you intend to work in to feed your imagination and therefore, your read during an audition. Lucky for us, today we're able to view and study television, voiceover, film, and commercial work with greater ease than ever—and from almost anywhere.
You could rent a DVR through your local cable provider for a nominal monthly fee. But if you're among the legions of cable-cutters, there's always Netflix, HULU, and Amazon to rely on.
For commercials, check out iSpot.TV. This site allows you to view current (and a few retired) commercials that define formulaic styles you'll likely audition for. This site allows you to determine which shows the commercials play as well.
First, record the shows you watch religiously. Study them, commercials and all. You're more likely to land work within your wheelhouse; styles you're familiar with and that you find entertaining.
Second, make a point to see popular shows you've heard of but haven't yet seen in order to stay on top of popular references. Do a quick web search of the top 25 shows and you'll likely discover at least 10 you've been meaning to catch.
Third, the direction you're likely to get on auditions and gigs will be based on references from network television, cable, premium channels, and various streaming services. We've never had this much content! It's really astounding. Nevertheless, if it's popular, you should watch at least six-to-eight consecutive episodes to get a feel for the style, genre, tempo, and characters. It's your job as a professional to stay on top of what's current.
Rather than attempting to watch a series you've missed from the very beginning, try starting with the second or third season when the show is likely steadier on its feet than in the first season. Commit to watching at least six consecutive seasons. Try the last three episodes of season two and the first three or four of the next season. Don't worry about getting caught up on the story and plot—you're really watching for the acting.
READ: How to Become a TV Actor
It's often too overwhelming to try to watch a series from the very start, especially if it's been on for a few years. Frankly, I rarely get hooked on a show watching it from the very beginning. At least this way you'll get the gist of what you need to feed your read and maybe even find a new fave. The objective here is to improve your frame of reference. You can't play what you don't know.
Beyond that, take note of what follows to help build your observational skills and become familiar with a variety of recorded media.
1. Is this a commercial or series? If it's a commercial, is it a product or service you'd find nationwide? Avoid concentrating on bad commercials for local products and services. Not that the job isn't worth doing, but because even small, nonunion clients want their commercials to appear national caliber. If you concentrate on the lowest common denominator, that's what you'll become. Aim higher.
2. Do you identify with the one or more of the featured on-camera or voiceover roles?
3. What's the probable age range of the roles featured: 18-25 years? 25-35 years? 35-45 years? 50+?
4. Do you use the product or service? Are you personally opposed to the product, service, or series? If so, what's the deal killer for you here?

5. Does the reality of the production seem plausible? Or is it a heightened reality?
6. Is there a great deal of narration? Is there a character affectation in one or more of the voices/characters featured, or do the performances seem conversational?
7. What is the overall emotional tone of the spot? Hopeful? Dreamy? Sarcastic? Warm? Stoic? Confident? Authoritative? Edgy? What's the attitude? Is it witty?
8. Do you recall seeing this spot for a year or more? (If so, could you carry this campaign as the Principal?)
Dedicate at least five hours a week to this form of study for a solid month. You'll become familiar with what's current and get a better idea what's needed of you on auditions.
The views expressed in this article are solely that of the individual(s) providing them,
and do not necessarily reflect the opinions of Backstage or its staff.