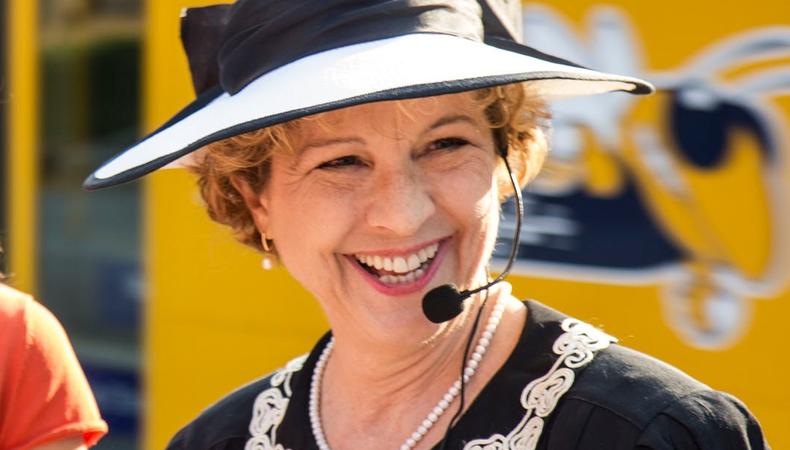 Despite the fact that it was actually filmed in California, "Gone with the Wind" was one of the first films to bring the Hollywood spotlight to Atlanta. Released only three years after the publication of Margaret Mitchell's Georgia-set novel of the same name, the film premiered in Atlanta in 1939 and remains a local attraction to this day. Atlanta Movie Tours, which offers zombie-themed tours of filming locations from "The Walking Dead" and "Zombieland," also features Margaret Mitchell's Gone with the Wind Tour—led by Miss Mitchell herself.
Considering that Mitchell now rests alongside numerous other prominent Atlantans at Oakland Cemetery, she's obviously incapable of leading this tour. But her spirit lives on, thanks to retired Atlanta-area native and Oakland volunteer Sally Smith, who portrays Mitchell on visits to historic attractions such as the Margaret Mitchell House, Atlanta's Central Library, and her final Oakland resting place. Smith provides a wealth of first-person knowledge over the course of the tour, and the ticket also offers admission to Jonesboro's Road to Tara Museum and the Marietta Gone with the Wind Museum.
"They have Halloween tours called Capturing the Spirit of Oakland and I played different characters each year," says Smith. "Then I played Margaret Mitchell one year. The following spring, Atlanta Movie Tours started and took a poll on which movies should be added to their tours. Everybody said 'Gone with the Wind'. They went over to Oakland to make sure it was OK. The lady they talked to said, 'We've got a Margaret Mitchell here that's really good.' So I started doing it two years ago."
Though she wasn't an aspiring actor when this opportunity arose, Smith discovered that she enjoys performing in front of audiences. With knowledge of Mitchell's life that you'd expect only Mitchell herself to know, Smith has become such a convincing character that the tour simply doesn't run on the rare Saturday that she's unable to do it.
"I'm just a natural ham," she says. "I love the attention, but I don't have any training. It's interesting that so many years later there's a demand for this movie. It's a wonderful opportunity and I'm very grateful for it. When I was a little girl I always wanted to be an actress. I was told only crazy people are actors. I always thought after I retired I'd join some local theater group, but the only acting I've done was at Oakland. I was Governor Slaton's wife this year; I've been a lady who drowned at sea; I've been Nellie Peters, who was a Georgia Woman of Achievement."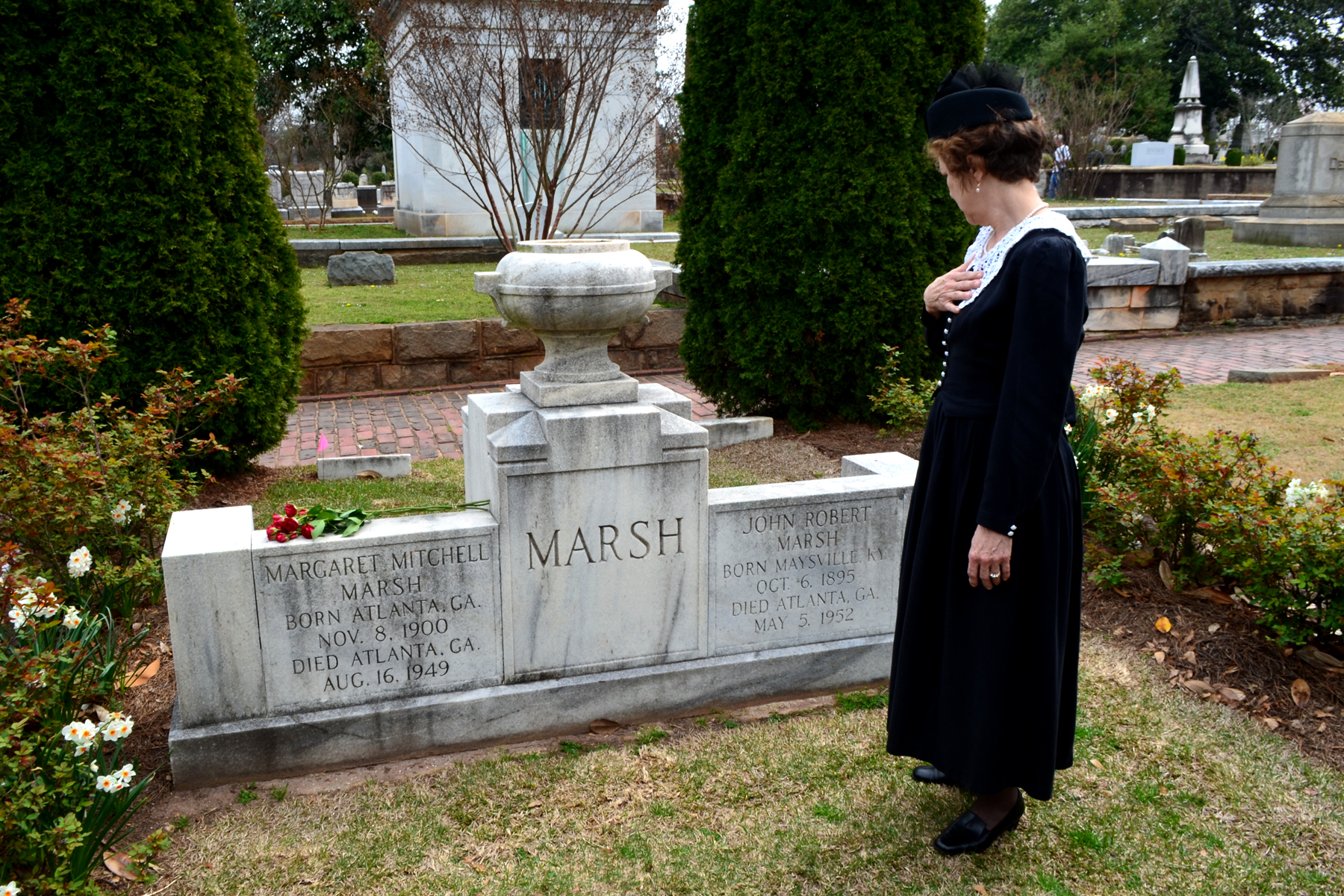 Sally Smith at Margaret Mitchell's grave. Photo by Atlanta Movie Tours.
None of those roles garner her as much attention as her depiction of Mitchell. In fact, when the Fox Theatre held a 75th anniversary screening of "Gone with the Wind" last year, Smith was asked to introduce the film as the author.
"They just called me and asked if I was interested," she says. "I went to a vintage clothing store and found a fancy dress and just came up with a little speech for five or six minutes in front of a sold-out audience of 4,500 people. I got a few laughs. It was wonderful."
Now that she has a few years of experience, Smith says she'd like to pursue other performance opportunities. Her appreciation of the craft has also grown as a result of her newfound acting career.
"Oakland is a wonderful opportunity for anyone who is a thespian at heart," she says. "What I like about this is I really interact with the guests. It's not like I'm up on a stage. I always have to stay in character and it's very ad lib. I have much more admiration for actors now, particularly those in theater. It's really a commitment and you have to really love it. I'm still gleaning information about Margaret. I've read every book I could find on her. I know so much about Margaret I can kind of relate to her in some ways."
Inspired by this post? Check out our Atlanta audition listings!