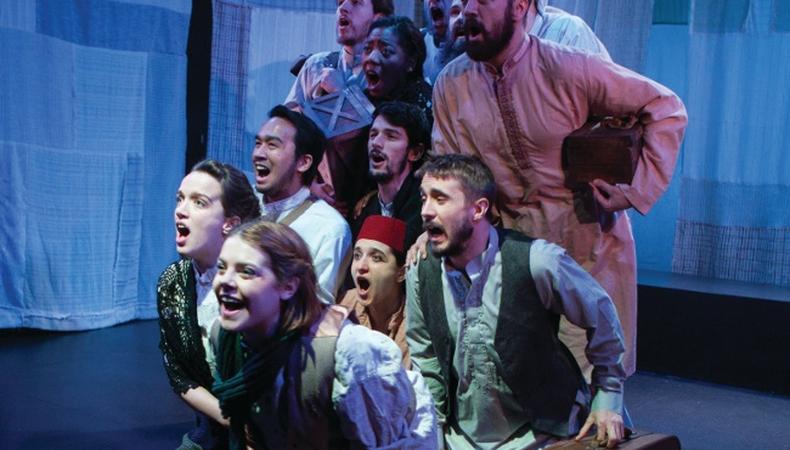 As the Flea Theater's producing director, Carol Ostrow oversees day-to-day management and fundraising, as well as soliciting, hiring, and gathering creative artists to help cultivate the Off-Off-Broadway scene. She tells Backstage about the many plays, programs, and opportunities awaiting young artists.
What's going on at the Flea right now?
We just opened a musical, which is about three times the amount of work of a play. "The Nomad" was composed by Liz Swados, written by Erin Courtney and Liz, and directed by Liz. I've brought in a new team of designers—very young, all women. We're so excited to promote the work of established artists like Liz, and midcareer artists like Erin, who are sort of at the top of their game, and bring in rising, incredibly talented female designers. It's just beautiful. We have a horse puppet in the show that's operated by eight actors that's truly magnificent. Our set and puppet and prop designer's name is Lydia Fine; I saw her work with PigPen Theatre Co. and lured her away. And our lighting designer, Daisy Long, I would have her light anything, ever. And our sound designer, Janie Bullard is just brilliant. That's one of the things I'm happy to do as producing director—the meat of producing, bringing talented artists together and putting them in a room and saying, "Go make some really good work." And then they do.
We also have a downstairs space at the Flea with three projects. One is "The Feast," a new play by Cory Finley, directed by resident director Courtney Ulrich. #serials@theflea, our late-night programming, begins again soon...and we're going into rehearsal for a play by Sam Marks called "The Old Masters," directed by one of our resident directors, Brandon Stock.
How do you collaborate with other theater companies?
Not only do we do our own work, we're very happy to provide a home for companies who don't have a physical place. Upstairs, Primary Stages is coming in with their Fordham [University] MFA writers for two weeks, bringing in professional designers and directors, the work of seven playwrights. And the Play Company comes to the Flea in May and June. I think it's really important that the Flea is a place Off-Off-Broadway that offers a time and space for homeless companies to produce, because we all know how hard that is. A huge part of our job is reaching out and talking to other companies and making sure they know that if they'd like to produce at the Flea, we will make room for them in our season.
[Artistic Director] Jim Simpson has a phrase: A dark theater is a shameful one. It is all about real estate and producing. The Flea is small and very mighty but we cannot produce 52 weeks a year. So a good 15 weeks of our season, we try to give to other companies; they get our technical staff, marketing team. We're very proud to associate ourselves with their art. But I don't get into the room and mess with them. The Flea doesn't say anything about the work, we just say, "You're the kind of company we want to be aligned with."
Who are the Bats?
The question I pose when anybody asks me about the Bats is, "How do you launch an artistic career?" So you're a graduate of a theater program from anywhere across the country or you've come to New York City to decide to be an artist; it's very difficult to start. The Flea offers an artistic home, a community. Once they're in the company, we provide them opportunities to form the artistic communities they want to make for themselves for the 21st century. We have over 1,000 auditions on a yearly basis, and from that group we choose about 30.
What efforts does the Flea take to diversify?
We screen every ethnicity we think is part of New York City in a very conscious effort to make the company as diverse as possible. Our company is 46 percent nonwhite at this point, and therefore we attract wonderful writers writing for the kind of audience we have. We think theater in New York should look like a subway car. Theater is not just for older white people who can afford it; it should look like the city we live in—we've made a concerted effort to do that. The Bats are probably the most diverse company in New York, and as such are very attractive to other companies, such as [Ensemble Studio Theatre's] Youngblood, the PIT—the founders of Partial Comfort Productions are ex-Bats. It's cool for Jim and I to think we've launched the careers of a lot of downtown theater artists who are now in their 30s, and are making their way in the downtown community and commercial arena. The community of the Bats provided their launching pad. That's the word: we want to launch their careers as artists in New York.
What's your advice for NYC actors just starting out?
I give three pieces of advice: Find a place to live that you like going home to at night, because the life you've chosen for yourself is a tough one. Find people you want to live with who can be your friends, because you need all the friends you can get. And find a job that makes you feel good about yourself. We all know being an actor, dancer, musician, you are not, in your first couple years, treading the boards, not going to make enough money to support your artistic endeavors. So find a job that embraces who you are and your other talents and make sure that you're happy in that job, because you'll need that support for a long time. It's a tough field. This is a career where you get lots of rejections. You have to find your center and hold onto who you are. A lot of people will not recognize it. Let the flame grow, keep it sacred, and keep it holy.
What about artists looking to generate their own work?
What I'm seeing more and more is what I would call hybrid; it's actor–improv artist, actor-writer, actor-producer. The smart Bats are the ones who make hybrids of themselves. We fully embrace and encourage making your own art, and as a young performer, that's part and parcel of [that] generation. It's all about self-promotion; that's what social media is. The Bats are 160 young people in the room, doing this together, which just fortifies your ability to do it. You say, "Other people are doing it—why not me?" As opposed to being an actor in this very passive-aggressive state waiting for an audition, an agent, a call. What are you waiting for? The art you want to create, you just have to get in there and do it.
Like this post? Check out more of our Inside Jobs!