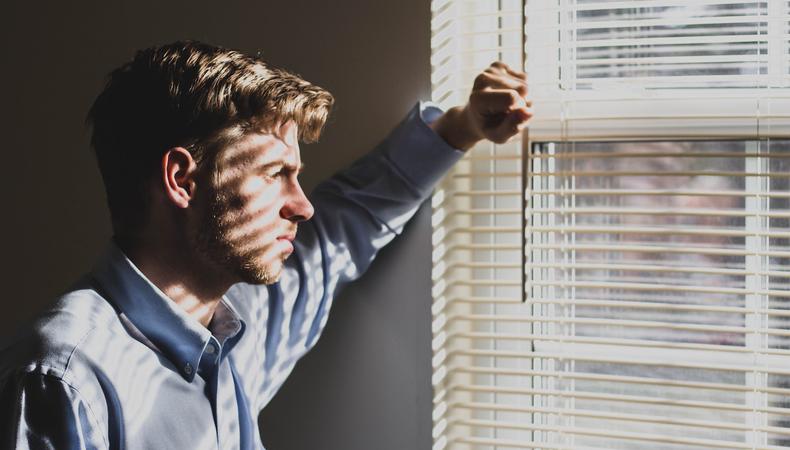 At best, an acting career or any career in the arts is a challenge. Talent and training aside, you need a lot of courage, patience, and the ability to survive during long stretches where you probably won't be employed. Add to that the stress of living in a chaotic and competitive urban environment like New York, Los Angeles, or London and it's a double whammy. Now we have a pandemic adding stress on top of stress. But there's hope and light at the end of the tunnel!
Here are seven useful steps performers can take to help cope with any crisis. It's all in your mindset and willpower to overcome. You can do this!
1. Activate
Don't sit around in anger, fear, and doubt. Instead, take action! You can do this a number of ways. It's a perfect time to better understand our business so watch the great TV series and films you haven't had time to see. Now's the time to escape into fantasies, action-adventures, comedies, and historical dramas. Get to know more good actors, directors, and writers by watching their work. Study the business in which you want to succeed by watching these. What roles could you play in any of these shows and films? Also, remember to move! By moving your physical body, you can help change your emotional state for the better.
2. Strategize
What's the best thing you can do right now to get your career moving forward? Do a quick evaluation of your four major tools: headshot, résumé, reel, and website. You can take this time to update them. Can you add some brilliant quotes to your website home page? Maybe you need to create a website to begin with? Do it now. Check your résumé to see if you can add any recent credits. Also, consider whether it's the right to create a marketing campaign. Research the casting directors or directors you want to contact and connect with. Try to build your network of industry professionals and send out announcements or a newsletter with updates. Now you can work on promoting your career. It's OK to contact those in the industry if you do it professionally and sincerely.
3. Focus
Develop a new way to handle your day through time management. Break down the hours in the day with useful tasks. I always use three columns in my daily schedule. I have one for personal tasks like exercise, cooking and eating healthy, and meditation. Another is professional with points like sending out a newsletter, talking to other professionals, working on writing, and rehearsing a monologue or a scene online with another actor. The third column is for home and household tasks like clean out closets, delete old files, and make a charity bag of old clothes you don't wear. It feels good to check off what you can accomplish in each area every day!
4. Communicate
Remember to communicate during these times. Do this in all ways, from email to phone calls. Send happy pictures, share those ridiculous cat videos, offer help, sympathize, and express your own feelings. Videotape a short positive message to other actors, writers, and performers or even perform a short monologue that's positive and post it on social media. Someone sent me a fabulous short video of musicians from the Rotterdam Orchestra playing Beethoven all from home individually and the result was so inspirational when it came together. The main thing is to stay in touch. Human beings need a sense of community to survive, with healthy people recognizing and sharing their feelings. It reminds us that we're not alone.
5. Create
Remember that idea you had for a film? Research how to write a screenplay, a play, a sitcom, or a short story. Everyone has experiences in life they can write about. There's a ton of stuff on the internet including downloadable articles and helpful webisodes that can help you if you're not sure how to start a project. Research, get free tips from professionals, and just do it!
6. Clean
Follow healthy daily habits that keep you looking good and feeling good like exercise, showering, and meditating. Keep your environment tidy by doing things like making your bed. A messy environment can create negative energy.
7. Indulge
Nothing stays the same so this and everything else in life will change. Develop resilience and keep your sense of humor. I always watch comedies on Netflix for a happy binge. Download a book on Kindle or listen to the music that always gets your energy moving in the right direction. Treat yourself to something special. I've been enjoying a daily almond croissant with my espresso. What's a few pounds? I figure when things return to some kind of normalcy I'll burn it off in exercise, walking, and biking. Do something that makes you feel good or eat something that you normally wouldn't but tastes good. Indulge! We all deserve it.
Remember, challenges in life do make you stronger but they also remind you about what's really important, teach you how to take care of yourself and those you love, and make you aware that there will always be bumps in the road. Knowing that you'll be OK will give you confidence and courage, and make you a wiser person. Coping can be educational, enlightening, and entertaining. Coping can be fun! At least, that's how I look at it.
Looking for remote work? Backstage has got you covered! Click here for auditions you can do from home!
The views expressed in this article are solely that of the individual(s) providing them,
and do not necessarily reflect the opinions of Backstage or its staff.