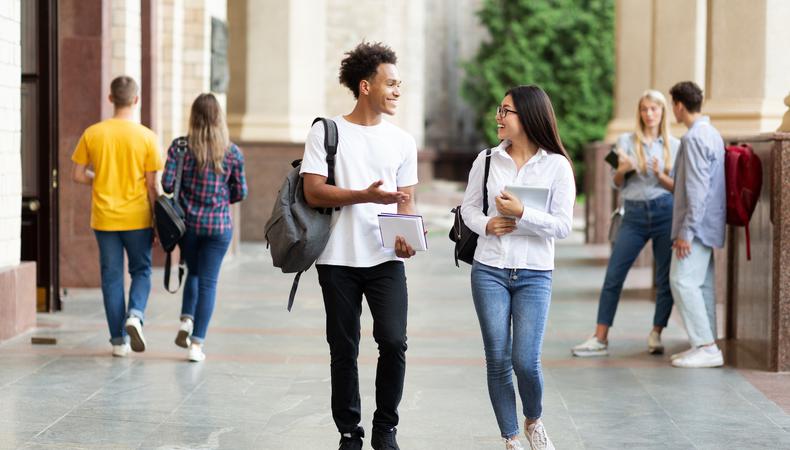 Parents regularly ask me if college websites are a reliable resource when looking into programs and universities. Obviously the colleges think so! There is much you can learn about a university. Most every site offers virtual campus tours for your convenience and the email addresses of admission representatives are made public to answer your specific questions.
The larger performing arts departments have their own pages or sites with detailed information about their department philosophy that usually includes faculty bios, their audition admission procedure, and curriculum details. Many sites tout notable alumni and include colorful photos from past productions. You can also learn about the current department's season of dance, theater, and musical productions.
All this is indeed valuable information. However, if you want to get a sense of the real campus culture and learn the inside scoop on what being a part of the performing arts department is actually like, it's best to connect with your peers. And there is no better way to do that than through social media. Use these four platforms to research schools and engage with current students and alumni.
Facebook
There are many third party Facebook groups that have been created by students who share your mutual love of performing. Each year during the audition season, new groups spring up. The Unified, the Troupe, and the Allied are some past group names. Simply search common and related tags and you will find like-minded thespians. Sometimes these groups are closed, so you will have to reach out for an invitation to be included. The group posts tend to be like bulletin boards of information about the various college auditions, different audition experiences, and group chats. Post questions or share insights. Fellow members are eager and generous about exchanging information. Keep it positive and respectful.
There are additional Facebook groups that have been originated by individual school departments that have appointed a current student rep as the admin. This is a great way to reach out to current students of a specific program. Search under the college department name, not just the name of the university. For example, search "Pace Musical Theatre" or "Pace MT Class of 2019," rather than "Pace University." Friend other members and then private message or use your messenger app to ask questions, if you feel you need individual personal attention. If your questions are more general, you might prefer to post in a thread on the group wall.
Twitter
A great way to get real-time college audition feeds is Twitter. This was especially helpful during the record snowstorm in New York during the recent Unified college auditions. The Twitter world is the world of hashtags, so use them generously to your advantage. Try #collegeauditon and #collegeauditions or #unifieds2016. Set up a TweetDeck account to track like-minded community members. Add columns by labeling the community with audition related hashtags. Then you can go back and see who else is trending in your community and follow them, even if it is later in the evening or even the next day. TweetDeck keeps you from losing valuable connections if you can't be constantly checking your Twitter feed. Engage with other thespians to share information. You are all going through this together, and it so fun when you meet each other at the auditions.
Pinterest
This is such a vibrant, visual resource for all things audition related and college-related. You can search tags for anything from dance gear, audition wardrobe options, and helpful books to online sources for college auditions. Find pins as specific as how to stay healthy during your auditions. Also, search by college department name. You can learn what is going on at the schools, master classes they are conducting with visiting alumni and Broadway professionals, and college theatrical productions. Others love to share pins of what they have discovered, and you too can share with hashtags from other related websites that offer valuable information. You can also privately message their Pinterest account with questions or to just connect.
YouTube
This video medium is the perfect way to actually see and hear what college productions are like. This way, you can judge (for yourself) the production value of the various performing arts departments, as well as the talent level of the students. Often, student names are tagged, so you can follow up on another social platform if you want to reach out to them individually. You can also comment or ask questions publicly in the comment section. I recommend you subscribe to the college YouTube channels by searching the name of the college department. Texas State Musical Theatre, for example, has a great channel, as does the University of Cincinnati. You will get email alerts when new videos are uploaded if you subscribe to the college channels. This is the next best thing to attending a live college student performance. And you can have a very special engagement with the students because you have actually seen them perform.
So get the real scoop from your own community of peers by utilizing social media. They will tell it to you straight.
The views expressed in this article are solely that of the individual(s) providing them,
and do not necessarily reflect the opinions of Backstage or its staff.