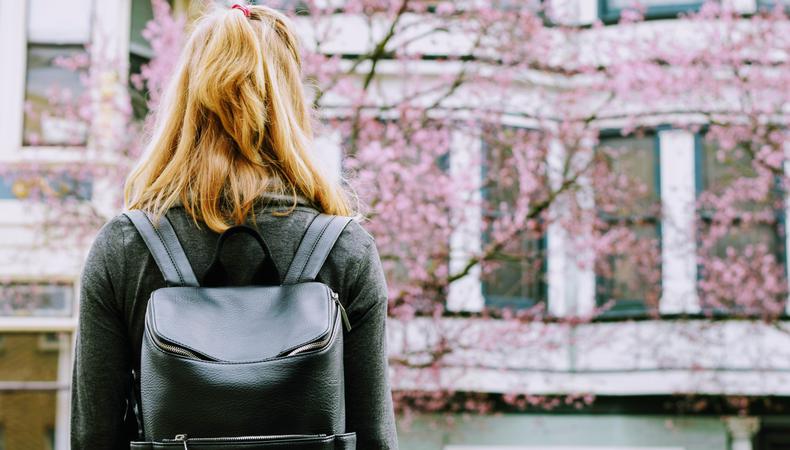 In unprecedented times, great progress can be achieved. Who better to find creative solutions to unimaginable challenges than theater artists? This is exactly what has happened this year as we embark on the college audition process. Acting and musical theater professors across the country have embraced the obstacles in this unchartered territory, and their ingenuity will have a positive impact on the college audition process this year and beyond.
1. Greater focus on getting to know you.
Students who are pursuing a BFA-track are on the search for future mentors who inspire them, believe in their potential, and will push them in ways that help them on their journey to achieving their dreams. At the end of the college process, when they're comparing their acceptances, they remember faculty who took the time to engage with them in the audition. Whether it's a question about the special skills on their résumé or a discussion of their goals or their hometowns, that feeling of "being seen" sticks with them. For students, in-person Unifieds and crammed back-to-back audition schedules can sometimes feel like cattle calls and as if they're doing their audition material on repeat.
For this year's process, BFA programs are actually dedicating the post-prescreen process to videoconference interviews as opposed to asking for students to present audition style monologue and song material via Zoom. Similar to the addition of the direct-to-camera video personal statement and wild card video optional requirements at schools, the natural evolution of the college audition process as well as the nature of the pandemic have created new opportunities for many schools to get to know prospective students on a deeper level beyond traditional audition material.
Silver Lining: Although it may seem like a virtual format feels less personal, these new additions and changes will allow students and faculty to have the time to establish a more memorable personal connection. Four years of college-level training is a huge investment. The college audition process is the potential start of a lifetime journey of mentorship and it's important that the fit is right for both faculty as well as students. Leaving space for more opportunities to get to know each other through interviews, video personal statements, and wild card videos will allow both schools as well as prospective students to find the most fulfilling mentor-mentee match.
2. A healthier senior year balance.
The amount of time spent taking off days, or even weeks of school, to travel to college auditions can take its toll on the mental health of most high school students. In a non-pandemic year, many senior year moments have to be missed to meet this grueling audition schedule. Most students have to prioritize college auditions over potential roles in high school or community shows because they conflict with on-campus or Unified audition dates throughout the school year. They have to quit their after school jobs for college audition season. Many make the difficult decision between taking a harder, more challenging class or selecting coursework that might be easier for them because they're afraid of missing too much school and not having the time to invest in their classes to keep their grades up. They lose that well-roundedness that's important to their development as artists because they become laser-focused on one goal and one goal only: auditioning for college.
By allowing students to audition from the comfort of their homes this year, it allows them to create a healthier balance. Of course, college auditions are a senior year priority for BFA-track students, but this year, students are given the space to potentially fill the time that would have been spent traveling and missing school for auditions with opportunities to explore other creative outlets, make an impact within their communities, and pursue passions that allow them to become well-rounded artists.
Silver Lining: The Class of 2021 will have the extra time to pick up new skills like learning how to play the guitar or piano, dedicating time to political activism, or even starting a new business that will become their future survival job. Our art form needs entrepreneurial, multi-skilled, engaged artists and this year's process allows students to find a healthier audition-life balance as opposed to channeling all their spare energy into perfecting their hotel warm-up routines or becoming experts at audition travel.
3. Less of an emphasis on skilled audition technique.
It's challenging to sit in an anxiety-filled waiting room with the potential competition. This is the part of the process that everyone says would create Emmy Award-winning episodes for an unscripted reality TV show. As entertaining as that sounds, it can be paralyzing for extremely talented students who have the potential to succeed enormously, but get overwhelmed or frankly are just not emotionally ready for this extreme environment. To be perfectly honest, I hold an MFA in acting and am a proud Equity member with 20+ years of audition experience and the energy in the waiting room at college auditions creates such an extreme sense of panic inside of me that I have no doubt that no matter how prepared I was, I'd be shaking like a leaf. Let's not even begin to talk about what it's like to hear someone belt into the stratosphere or sing your same audition song as you wait in the hallway before your audition.
This year's Zoom audition process is a much healthier way for students to stay grounded before the audition starts as well as focus on their personal warm-ups and getting into the right mental space to bring their authentic selves to the audition. In addition, for students who get very stressed out by dance calls, schools are handling the dance portion digitally in a way that gives students who are actor-singer first an opportunity to not get overwhelmed by their peers in a traditional dance call who are popping off quadruple pirouettes and splits around them.
Silver Lining: More students will feel comfortable sharing their truth and being themselves during the Zoom audition process, which will allow auditions to feel like true representations of their personality and potential. Also, by avoiding the back-to-back auditions either in a single weekend or week, students can spread auditions out according to what fits their schedules and truly bring their full energy and focus to each and every audition.
4. Greater accessibility = greater access.
When you add up audition travel costs (plane tickets, hotels, meals, etc.), even when students attend Unified college auditions, the cost of the physical audition process itself can add up quickly. Students often have to cut schools from their list (schools that might be excellent fits) because their only option to audition is on-campus or they cannot fit all of their schools into their schedule. Sometimes students even have to attend multiple Unifieds to fit in all of their schools. Although in a predominantly virtual audition season students still need a form of technology (iPhone, laptop) to film prescreens and attend virtual auditions as well as reliable WiFi, this year's students may experience fewer financial limitations than they have ever had in the past.
In the search for the perfect match, the lower barrier of accessibility provides artistic programs as well as students the opportunity to meet each other in a more streamlined way. In previous years, there may have been a missed connection due to financial or scheduling constraints.
Silver Lining: BFA programs, even programs in areas that might typically have a harder time getting to meet students across the country, will discover that they have a greater ability to interact, and fill their classes, with a larger range of young artists from different socio-economic, cultural, and geographic backgrounds. As a result, the BFA classroom experience and our future arts industry will be enriched enormously by the diversity of life experiences and cultural and geographic contexts that students will bring to the conversation and art form.
5. Bonus improvement for faculty: Less time traveling and recruiting = a greater work-life balance.
I can't even imagine how difficult it is to be a faculty member who's responsible for recruiting a class every year while balancing all of the classroom, administrative, and oftentimes directing or choreographing responsibilities that the position requires. Not to mention the many missed family moments that faculty experience in a college audition process that can span from October to April.
Although the pre-screen and virtual audition process will still be extraordinarily time-consuming, this year some schools have either consolidated their audition schedules or have moved their audition schedules primarily to the winter time frame.
Silver Lining: Less time spent in recruiting mode or traveling all around the country will allow faculty members to not feel like they're constantly being pulled in so many directions. The demands placed upon faculty in a growing and evolving process (that never seems to stop) cannot be ignored. As I say to my students: Remember you're auditioning for artists and human beings. Always share your gratitude because they're taking the time out of their busy lives to meet you and see your artistry. Hopefully, this year's process does not provide as many hurdles for faculty as it opens doors for work-life balance.
Although the seismic shift that arts training and the arts industry is experiencing due to COVID is overwhelming, this year's college audition process will have positive benefits for students and faculty across the country. BFA programs have discovered and will continue to find new ways to approach their individual audition processes that will undoubtedly help to make this process more equitable for students from many different backgrounds across the country and world. As the landscape and future of our art form changes, BFA programs are taking an important step this year in moving toward a much more equitable, fairer, and kinder college audition process.
This year's process leaves space for young artists to share their unique identity more than ever, what passions outside of theater awaken their inner life, and what kind of artist they hope to become someday. I hope we continue to charge forward in this direction. The future of college arts training will shine even brighter this way.
Looking for remote work? Backstage has got you covered! Click here for auditions you can do from home!
The views expressed in this article are solely that of the individual(s) providing them,
and do not necessarily reflect the opinions of Backstage or its staff.