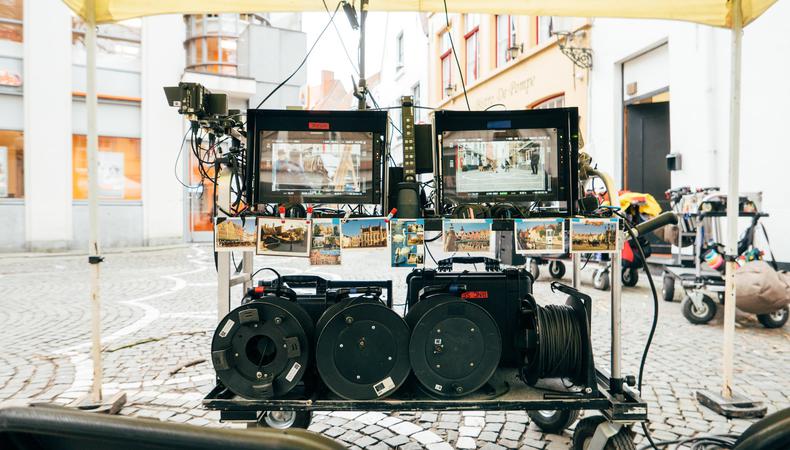 The Producers Guild of America has released its safety guidelines for independent producers looking to restart film and television production amid the COVID-19 pandemic. The 57-page document recommendations include reduced 10-hour work days, regular testing for all cast and crew members, and no set visits.
The guidelines were created in consultation with epidemiologists, the Production Safety Task Force, chaired by former PGA President and CEO of Revelations Entertainment, Lori McCreary. It is meant to be a resource for independent producers to help navigate the existing guidelines and rules set by the industry's studios, unions, and guilds.
"There has never been a time where I've seen producers and the larger industry come together around an issue with such collaboration, endurance, purpose, and, as we all need right now, hope," said McCreary in a statement. "Our colleagues and fellow PGA members, whose talent for telling stories and making sense of the world has been paused during the pandemic but never extinguished, are eager to return to doing what they love. I and the Task Force are honored that we have the opportunity to help pave the way to work safely while continuing to produce great content."
As it pertains to actors, the guidelines say that all productions must establish two different zones: members in the "main shooting company" and everyone else. Contact between the two zones should be limited. And the only people who can take off their personal protective equipment are actors when they're either on camera or getting ready to go on camera. In addition, remote work is encouraged, such as voiceover work and press junkets.
In addition, every member of a crew needs to get a COVID-19 nasal swab test taken within 48 hours before reporting for work. And every member on a shoot must maintain a six-foot distance at all times, with limited exceptions (such as when an actor is receiving hair and make-up). According to the guidelines: "If a team member tests positive, anyone who has been in close proximity (i.e., closer than 6 feet for 10 minutes or more, or for a total of 10 minutes or more on more than one occasion) must be notified, quarantined, and tested as per Contact Tracing guidelines."
There will also be a designated Health and Safety Supervisor or, on larger productions, a Health and Safety Department.
"As fellow producers, we all feel the need to get back to work while still making sure that our cast and crew are safe and protected. We hope that our guidelines will help make this new reality possible for independent producers and provide an accessible resource for the broader creative community," said PGA Presidents Lucy Fisher and Gail Berman in a statement.
PGA recommends using their safety guidelines in conjunction with "The Safe Way Forward" guideline that was released in June by the Director's Guild of America, SAG-AFTRA, International Alliance of Theatrical Stage Employees ("IATSE"), and Teamsters—alongside the "Basic Crafts and the Industry White Paper," which was developed by the Industry Wide Labor Management Safety Committee Task Force. PGA is not a union but a trade organization.
"The PGA recognizes that COVID-19 is a new disease and many of the facts surrounding COVID19 are still being determined," said the guidelines. "Ongoing discussions and collaborations between production companies, producers, and cast and crew are encouraged. As circumstances change and public health officials issue new guidance, the protocols under which production occurs may be adjusted accordingly."
In addition to the guidelines, the PGA is in the process of creating a "Tips From the Field" online resource where producers and department heads can post tips and insights from productions they're working on.