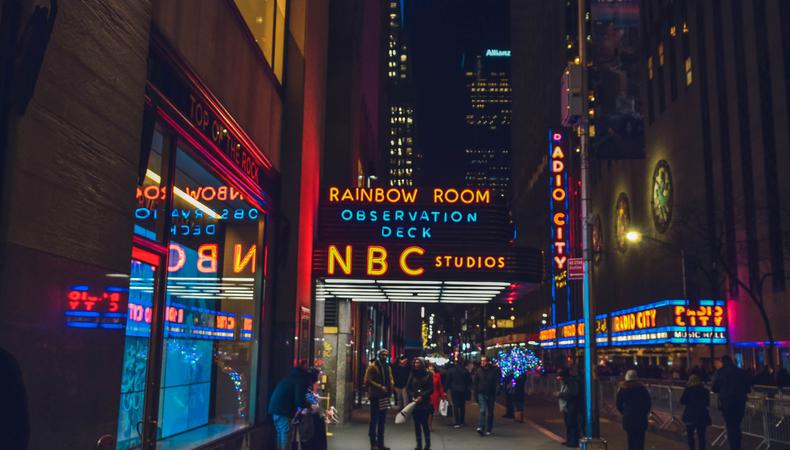 With entertainment jobs included in the record-setting unemployment of 36 million Americans due to COVID-19, one of New York City's most iconic workforces is wondering what comes next: the film and television industry.
Along with Broadway stages, sound stages and production studios in the film and television epicenter are also shuttered by public health mandates from New York state to prevent the spread of the highly contagious and deadly virus.
"When the lights went out on Broadway, that was a moment when I realized everything was going to change," said Anne del Castillo, commissioner of the New York City Mayor's Office of Media and Entertainment (MOME), which also includes nightlife, in the nation's biggest city. "I honestly did not envision my role as commissioner as a crisis manager. But, that's effectively what happened for all of our industry sectors."
Before the pandemic, New York City was on track to continue the production boom it had enjoyed in recent years. The most recent MOME-commissioned study calculated that roughly 130,000 New Yorkers were employed in the film and television industry, with television series providing consistent employment to industry workers from make-up artists to grips to caterers. NYC is one of only three cities in the world where all production-related jobs could be hired locally, the report trumpets.
After a months-long freeze on virtually all production, those usually employed by the dozens of projects shooting in the Big Apple have begun to think about what going back to work could look like.
Unions Will Play a Role in Determining Back-to-Work Guidelines
At a recent press conference with the big 10 entertainment unions, Matthew D. Loeb, president of the International Alliance of Theatrical Stage Employees (IATSE), said that his union is advocating to ensure that members are included in government protection and relief funding.
In the history-making stimulus package from Congress, the CARES Act, unemployment protections were extended to freelancers and independent contractors, a novelty in government policy. IATSE—one of the largest unions in the entertainment covering a huge tent of 150,000 professionals including grips, camera operators, electricians, editors, designers, wardrobe, hair, make-up, props, animators, construction, and stagehands—has also donated $2.5 million to charities providing social services to their members such as the Actors Fund and the Motion Picture and Television Fund. (The Actors Fund reported a record-breaking $10.5 million in financial assistance for those affected by COVID-19)
"We are working as fast as we can to get people back to work, but there are so many variables to consider in the motion picture business," said John Ford, president of IATSE Local 52, which represents studio mechanics in the tri-state area as part of one the union's 360 self-governing locals. "I believe we can adapt, but the employers will need to fundamentally change the way they operate."
Returning to work will be a "difficult and complicated process," said Loeb. "We're looking at a format where all of our local unions throughout the United States and Canada will negotiate with the major motion picture studios for a uniform set of terms and conditions so there are no differences based on where a given production may take place."
When it comes to establishing back-to-work protocols, state and local governments will also be in the mix. But, with health and economic developments unfolding daily—if not hourly—there are still many unknowns: COVID-19 is an unpredictable virus, and the United States has never seen unemployment at such high levels.
"For folks to think that there's going to be some magic rule that makes it clear for everyone is folly," said del Castillo. "Production is constantly asking me: 'Are you going to give us guidelines on how to run production?' My response is, 'Look, we're waiting for guidelines from the health experts at state and local government.' Those are probably going to be pretty broad."
When asked by Backstage for an interview, New York state representatives declined. However, Matthew Gorton, a spokesperson with the Empire State Development, the agency for attracting business, told Backstage: "The state has conducted extensive outreach to key industries and businesses, including the film production community since New York State on Pause went into effect. Film production is an important part of New York State's economy, and will play a critical role in its economic recovery."
Science, Data, and a Committee Will Determine Next Steps
Since the 1960s, representatives from film and television unions, along with studios, have operated the Industry-Wide Labor-Management Safety Committee to pen uniform on-set safety protocols, standards, and bulletins.
Loeb said that the State of New York has asked the committee for a guide with recommendations on how production craftspeople can return to work. Detailed protocols for the industry in a COVID-19 world "will be guided by the medical and scientific data that we get from professionals," said Loeb.
In the meantime, the United States government is sending mixed signals about when Americans can return to work. In New York, federal inconsistencies are juxtaposed against Governor Andrew Cuomo who has been widely praised for his articulate leadership during the crisis. However, governmental dissonance is increasing stress to an already-weary workforce.
When asked what keeps him up at night, Ford of Local 52 answered: "Donald Trump." What's bringing him hope? "Election day," Ford responded, emphasizing that he believes local and state governments "are doing the best they can."
At the local level, MOME recently hosted town halls via Zoom for freelancers and entertainment-driven small businesses in NYC. "Our office exists to help connect them to city services that can support their industries and their workers," said del Castillo. "I joined city government six years ago, I've worked in the industry for the better part of 20 years, I don't think I even realized how much is available."
However, municipal resources are only able to provide triage support until a vaccine for COVID-19 is available. "We just don't have the data and the metrics [to reopen]," said del Castillo. "I'm thrilled to see the numbers [of illnesses] going down, but we still have a lot of people in the hospital, and there are still things we're learning every day."
However, some productions are finding ways to push ahead without a vaccine. In Atlanta, Tyler Perry Studios will resume production on two BET television series in July. With Georgia's state government leading the charge to reopen business despite warnings from public health officials, Perry's precautions will include using his personal aircraft to commute actors, double-testing them and crewmembers for the virus, quarantining, and relying on the consultation of medical experts. With Georgia as the country's most robust production market outside of California and New York, other studios in the Peach State could follow Perry's lead.
David White, the executive director of SAG-AFTRA, spoke on a perceived return to normalcy at the multi-union press conference on May 6: "A vaccine is overwhelmingly viewed as the time when everything can go back to normal. And broad and reliable testing and tracing is the standard as to when we'll have some organized, sustained productions returning."
For del Castillo, the industry's return will signal the city's return. "The creative heart of New York is what makes people want to be here and come here," the production veteran told Backstage. "Our administration is keenly aware of the contributions of the creative sectors, and that is why my agency is trying to bring them back."
Looking for remote work? Backstage has got you covered! Click here for auditions you can do from home!