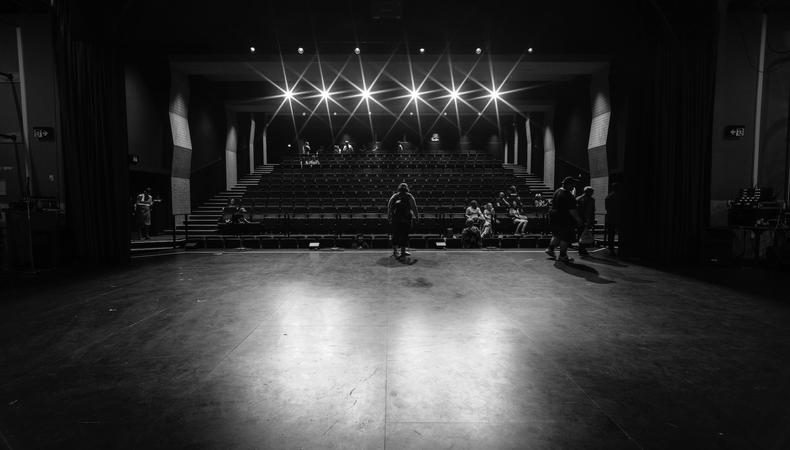 The first Actors Equity-approved musical production has begun performances. Berkshire Theatre Group in Pittsfield, Mass. is mounting the musical "Godspell," written by John-Michael Tebelak and Stephen Schwartz, in an outdoor theater for 75 patrons. This production is notable for being one of two productions in America currently using union actors; Equity has barred its 51,000 members from in-person auditions, rehearsals, and performances until the COVID-19 pandemic is under control. Massachusetts' infection rate for COVID-19 is currently under one percent.
"Godspell," about Jesus and his disciples, features 12 performers. It is currently being performed in a tent in the Colonial Theatre's parking lot; it's particularly challenging because the show requires singing and dancing. According to the CDC, COVID-19 is highly transmittable by group singing.
On stage, the performers maintain a six-feet distance, with the aid of plastic partitions that separate the front row from the back. When they pass each other on stage, they put masks on, which are kept around their necks during the show. There is no physical contact; the performers dance in place and any physical actions dictated in the script are mimed and reacted to separately. Props are limited and frequently sanitized. According to The New York Times, the cast has been quarantining together in a house owned by the theater.
Likewise, audience members are seated six feet apart from each other and wear masks the entire time (though a photo printed in the Times showed a number of patrons with their masks under their noses). Their temperature is taken at the door, tickets are scanned in contact-less stations, and traffic patterns are marked on the floor so patrons never enter and exit through the same entryway. A doctor or nurse is also present at all performances.
"The whole industry needs this," said Kate Shindle, the president of Equity, in the Times. "People are going to look to you to know that theater can happen without anybody getting sick."
Massachusetts currently doesn't allow outdoor gatherings of more than 100 people, so the theater can only sell 75 tickets to the show every night (Berkshire Theatre Group's largest space usually seats 780). "Godspell" is running until Sept. 4 and tickets are $100 each.
Meanwhile across town, another Equity-approved outdoor production has also begun performances: the one-man show "Harry Clarke" is playing in a tent erected by Barrington Stage Company.
Looking for remote work? Backstage has got you covered! Click here for auditions you can do from home!