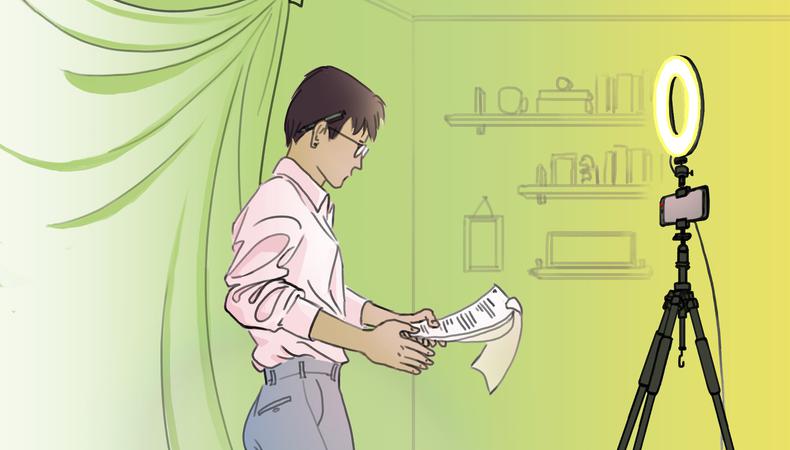 This week, I'm digging deep into questions from my Twitter followers. Many of these actors have their fingers on the pulse of what's happening right now in our community. It's no surprise that a lot of these questions have to do with self-taping. Here's one that I particularly liked:
Does the video quality of auditions subconsciously affect viewers? Are actors not filming on DSLR cameras at a disadvantage, even if casting and creatives aren't consciously thinking that way?
We live in an age when technology is progressing at a rapid pace. The minute you buy a piece of equipment or software, there is already something new about to be released. You can't spend all your money on trying to keep up with the latest video equipment. But in the age of the self-taped audition, the actor is asked to also be both a producer and director. This means that they're responsible for lighting, sound, wardrobe, hair, and makeup, plus providing a decent scene partner. It's a lot, I know. I had lunch with an actor friend of mine who complained that this is unfair. She insisted that actors are meant to act, not be responsible for producing minifilms.
This leads me back to the question. Technically speaking, I have seen all different levels of quality on self-tapes—from auditions recorded on a handheld phone by an actor who's saying their lines and waiting while their nonexistent scene partner would be saying theirs, to those professionally shot with the most up-to-date equipment.
In the middle of 2020, at the height of the pandemic, I attended a Zoom meeting with several casting colleagues to discuss this very subject. What do we expect from a self-taped audition during these times, when actors are isolated at home? The consensus was that we should cut actors lots of slack. We know that getting a scene partner can be difficult, even not during quarantine. Now, we are seeing auditions filmed on Zoom, and actors are getting series regular roles by having chemistry reads on the platform. We do not expect you to spend money and go to a professional taping facility.
At minimum, you need good lighting. That means either natural lighting, a ring light, or an inexpensive light box. Most cameras and camera phones have a built-in mic, which works fine, although an additional mic can also be purchased inexpensively. You can hang a sheet on the wall for a backdrop—we even do this in my casting office. Most newer phones have great video-recording abilities—but make sure to record horizontally! A tripod or other support is needed so that the camera remains stable. For me, the essential element for a good audition is a great reader. For my coaching clients, I've been patching myself in as the reader through Zoom. Actors will have their cameras set up to shoot, and it generally turns out very well. When it comes to quality, we're not looking for Oscarworthy cinematography. We want a good performance, which means your best take and an audition room–level reader—however you can safely make that happen. Don't worry, we don't need to see you on a soundstage to know if you're right for the part.
This story originally appeared in the Aug. 12 issue of Backstage Magazine. Subscribe here.
Looking for remote work? Backstage has got you covered! Click here for auditions you can do from home!