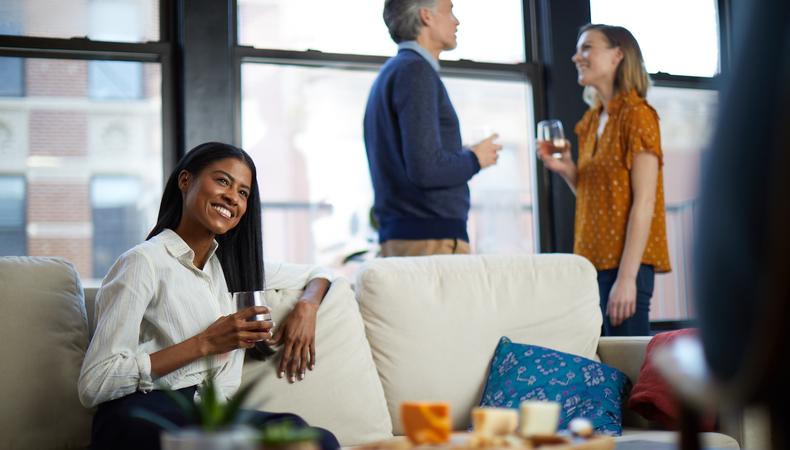 The need for models and actors in non-traditional acting jobs has grown exponentially in recent years and often you don't even need an agent, manager, or union status to get them. Nicole Cadoret, co-founder and head of design at Lively, an app that sells hearing aids and audiology care online, shares tips for casting models for digital tech companies.
Cadoret oversees what the hearing test and interface look like, what goes into marketing emails, Facebook creative, and the look and feel of the website. Since Cadoret hadn't run a photoshoot before, when it was time to design the website, she hired a photographer, who pointed her to Backstage to find the models.
Experience isn't everything.
Since the app is selling hearing aids, Cadoret was looking for very specific types to appeal to that market. "I needed someone with short hair, I needed someone with long hair. Just to make sure that people don't think, Oh, you're showing me someone who it's very obvious they don't have hearing aids because they have hair covering them up." While she notes that it could have helped to look at resumes, she based her decisions on finding the looks she needed.
For the first photo shoot, she was looking for somebody who was about 50 and "could kind of own a room." She says, "Mark [Karten] was immediate—I was like, 'That guy' and everyone agreed." The rest of the process was finding actors to pair with Mark while making sure the mix looked believable together. "I called him Mark the Lion, because he had this mane of hair and he was definitely mature, and also in the moment and active and present." For the first shoot, they cast another man and two women.
Cast your own project on Backstage now!
Know how to take direction.
Although Cadoret hired models, she notes by that hiring them from Backstage, "it felt like I got actors for free." The models she hired were able to easily adapt to direction. "We were doing a lifestyle shot of a brunch and we were in a kitchen and I told them to look like they were cooking and we took the still photographs, but were also taking b-roll video as well, just to have that in our back pocket. They were convincing and in that way, I hired models, but kind of got actors for free."
Cadoret says she also learned more about the type of direction she needed to give as she worked. "I didn't realize that when I had people looking at their phone or looking at their screen that it appeared like they were asleep because their eyes were downcast." When it came time for the second photoshoot, she knew to give more specific directions like, "Don't look at your phone, you kind of have to be looking vaguely in the direction of your phone, but open your eyes wider." Having professional models who were comfortable taking acting directions was essential for the process.
Make your availability clear (it could get you the job).
Cadoret didn't have a casting director to juggle actor schedules for her, making availability one of the hardest parts of her casting process. "We would lock down a date and then get nervous that we can't find somebody and at the last minute a new option would pop up on Backstage. Ultimately we felt really good about who we booked."
Be ready for a start-up mentality
"I liked that I was able to get a variety of different types of people," Cadoret says. She also appreciated their enthusiasm. "They were excited to come in and learn about hearing aids." She notes that was important because "We were going to make stuff up as we go along. It's very much a startup mentality. We want to get things that work really great, but we're also not going to be overly precious. There's a certain amount of time we have to get this done, and then we're going to see how the market evaluates it, and then we're going to do it again. It's much more of an ongoing process for us."
Those in front of and behind the camera must be willing to adapt.
Flexibility is important for talent, but also for casting directors. Cadoret learned a lot on her first photo shoot, and for the second shoot, she hired a cinematographer to get more of the B-roll she wanted. She has her team really visualize what shots they need, so they don't have to make decisions on the spot. "We always have a very clear shot list," she said. She also explained that having a stylist on set was important to ensure there is "someone who is looking at all the details because I can't."