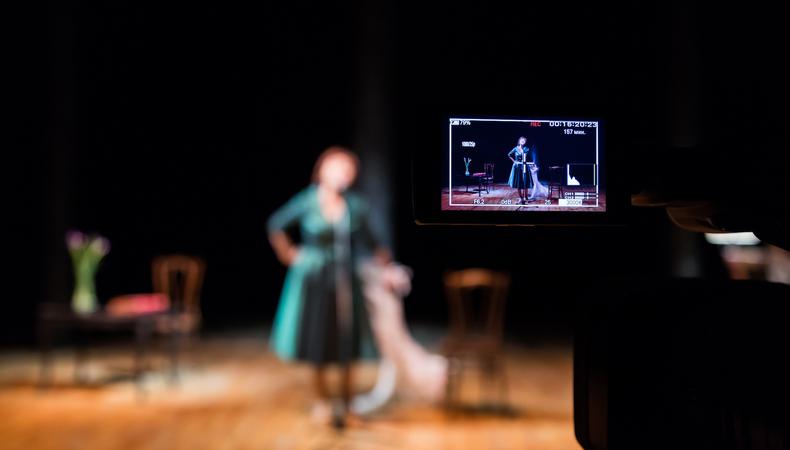 The feud between the two biggest actors' unions has finally been resolved. Actors' Equity Association and SAG-AFTRA have reached an agreement over which union can cover the contracts for recorded or streamed theater. Because of the COVID-19 pandemic, many theater producers can only present their show via recorded media or streaming, so this new agreement allows Equity to oversee those productions until Dec. 31, 2021.
"The collaborative mediation process allowed both unions to come to the table and reach a solution that serves the best interests of all members," said Kate Shindle, president of Equity. "The agreement reaffirms the historic solidarity and deep bonds between Equity and SAG-AFTRA and our members."
This new agreement, which was hammered out using mediation, states that until Dec. 31, 2021, Equity will oversee all contracts with theater producers of "live readings, staged readings, live theater, and other performances in the general nature of theater" that is recorded, and presented for a virtual audience, or both a virtual audience and a live one.
These recordings have to be minimally edited, so as not to be considered films; additionally, they can only be hosted on a platform accessible exclusively to ticket holders, such as a theater's website, not on streaming services such as Netflix.
Audience caps are in place for any production's run: for theaters with seats under 350, the number of tickets sold cannot exceed 300% of the theater's capacity over the entirety of the run (for example, if a theater has 100 seats, and presents 10 performances, the number of tickets sold cannot exceed 3,000). For theaters with seats over 350, the digital audience can not exceed 200% of the theater's capacity over the run. These digital works cannot live online for longer than three months.
Until Dec. 31, 2021, SAG-AFTRA cannot accept any request for contracts by theaters, and will refer those theaters to Equity.
This agreement comes at the end of a contentious few months between the unions, where drawn out private negotiations led to a very public battle, with SAG-AFTRA filing a complaint against its sister union, and Equity accusing SAG-AFTRA of undercutting its members.
In the past, any theater production that was then taped for broadcast, such as "Hamilton" on Disney+ or the upcoming "Diana" on Netflix, were covered by both unions. But during the pandemic, as theaters around the country were forced to close but still wanted to create shows, the question of which union should cover contracts for streamed theater was a large one. Because those shows are theater productions created in environments that required Equity safety protections, Equity considered it under their purview, while SAG-AFTRA said that anything captured by recorded media was under its jurisdiction.
This led to some theater producers signing contracts with SAG-AFTRA for their shows, which in turn led to Equity filing grievances on behalf of its members, who it said were being underpaid under SAG-AFTRA. Those grievances are still being resolved.
Said Gabrielle Carteris, SAG-AFTRA president, and David White, SAG-AFTRA national executive director, in a joint statement: "We are pleased that we are able to help create work opportunities for AEA members when it is vitally needed, while also protecting SAG-AFTRA members' work opportunities now and into the future. Existing contracts with SAG-AFTRA will be honored for their duration. Both SAG-AFTRA and AEA have agreed to refer to the other union work that is within their jurisdiction."