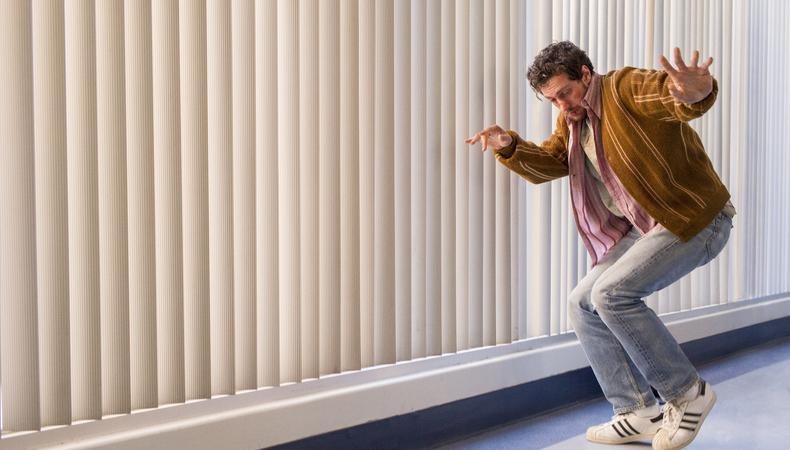 On the first day of production for "A Million Little Pieces," Aaron Taylor-Johnson was completely naked. Per the instruction of Sam Taylor-Johnson (his director, screenwriting partner, and wife), the actor began dancing for the camera, spinning wildly with vacant eyes before falling out a window.
"I wanted the audience to know, very quickly, exactly who he was, without repeating imagery we've seen before," explains Sam Taylor-Johnson of introducing the film's drug-addicted character. "I said, 'You're a broken human being, and your behavior has to be so raw and without any boundaries or sense of self. So, your nakedness, you have no sense of it being right or wrong. You have no shame. You have no anything, really.' Of course, when we shot it, it's like, 'Oh, god.' "
The film adaptation of James Frey's controversial 2003 book—initially touted as a memoir but now labeled a semifictional novel—centers on a young drug user who, after a life-threatening bender, reluctantly submits himself to a detox program in a rehabilitation center. The text is translated onscreen with genuine appreciation for Frey's writing, and only winks at the postpublication scandal with a quote card.
"I never forgot what a profound impression it had on me when I first read it, and I just felt like it deserved to be told," says Taylor-Johnson. "Over time, and despite everything that happened, that never diminished. The core of that story is that he's a millimeter away from death, but even in the worst place, at the very bottom of the gutter, there is hope for a potential comeback. To tell that story is as important today as it's ever been."
The Taylor-Johnsons, who wed in 2012, teamed up to write the script on spec in early 2017, the first time either of them had tried their hands at screenwriting. The couple found that their writing styles complemented each other; she would freeform ideas for 20 minutes or so, and he would structure them into scenes over a period of hours. "We put everything aside to focus and get it done. If you saw our desk, you'd laugh. We had every scriptwriter's book, every possible one."
Come production time, Sam—who previously directed her husband in 2009's "Nowhere Boy"—saw his process in action once again. "I know how deep and dark he goes because I've had to live with him through all the extreme characters he's been playing," she says. "When Aaron goes into character, he goes so far in that he eats like the character, he walks like the character. Sometimes it threw me, and I'd have to just carry on. But there would be times where it was like, 'Wow, you're really not there, are you, honey?' "
"A Million Little Pieces," with a cast that also includes Billy Bob Thornton, Charlie Hunnam, Giovanni Ribisi, Juliette Lewis, and Odessa Young, premiered at the 43rd annual Toronto International Film Festival in September 2018 and is hitting theaters Dec. 6, 2019. Shot in Los Angeles in lieu of the treatment center's snowy Minneapolis locale, Taylor-Johnson recalls how her process embodied "proper indie filmmaking": "We were trying to sell winter, but it was 85 degrees outside, so Aaron and Billy Bob were profusely sweating in their outfits and trying to make it look like withdrawals and cold," she says with a laugh. "We were running to 7-Eleven to buy bags of ice, crush it, and throw it around trees."
Still, Taylor-Johnson says that co-writing and directing the feature film—which was shot in 20 days and had a budget of just over $4 million—was the perfect way to cleanse her creative palate after making buzzy projects like Universal's "Fifty Shades of Grey" adaptation and Naomi Watts' Netflix series "Gypsy." "Pure creative freedom, it feels like the only way," the filmmaker says. "I've been reading a couple of scripts now, and it's hard to feel as passionate about someone else's thoughts or words than the thing that you've written."
The newly debuted screenwriter adds that she'd love to pen another film with her personal and professional partner in tow. "Aaron has got another job coming up, so I have to wait until he's done there," she muses. "But that's OK. I need at least a little break."