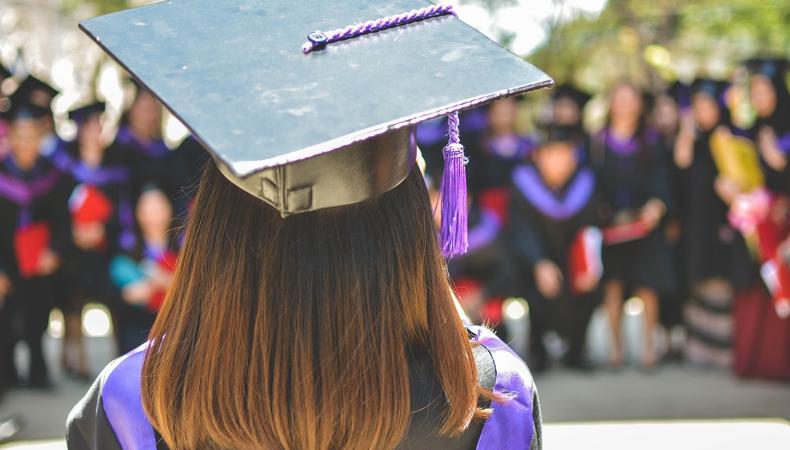 Student loans often feel like the mafia debt of the legit economy. You take the money not really understanding the consequences, rarely have the funds to pay it back as the lender demands, and the loan can be sold to another company without your knowledge. Adding insult to injury, you enter your adult life possibly hundreds of thousands of dollars in debt with no guidance from your school or the loan provider for how to pay the thing back. It's no surprise that people hate their student loans.
But I'd like to offer another perspective.
The aggravating truth is that many of us will spend up to 20 years with a student loan on our balance sheet. That's a long time to hate something. I hope there will be a legislative change, but we can't make a financial plan based on hope. So begin by fully accepting and embracing its existence in your world. Dragging the hate with you gives the loan power it doesn't deserve. And you are so much more than your student loan.
Why embrace and not just make do? Well, the money you received as a result of this loan didn't go toward playing the ponies I'm assuming. It paid for your education! That money paid for your degree and started your life as an artistic professional. You learned skills, both for your career and for life, and you made amazing connections. Some of you are only working where you are today because of where you went to college. Your student loan did that for you.
Oddly, the financial instrument that works closest to student loans is a mortgage. Think about it. You want the house. You can't really afford the house. You get a bank to loan you the money you don't have for the house. Then you spend the next 30 years of your life paying back the bank. But not many despise their mortgage. They see the tangible benefit that they live in every day. With a college degree, once you stop having to put your GPA on a résumé the tangible value vanishes from sight and we get crankier and crankier. But we can't blame student loans for our short memories.
READ: How to Make a Living as an Actor
To be clear, my personal opinion is that the approval system for student loans is morally bankrupt. It is unreasonable to expect an 18-year-old kid who has had no financial education to weigh the benefits of taking out a $50,000 loan at 6.55 percent interest rate. It's equally as unreasonable to expect a 28-year-old who still has had no personal financial education to make the same choice because we aren't taught how to accurately determine if going back to school for film editing and taking out a loan for $100,000 at 4.75 percent makes sense. Where do you start?
The first step of many is to do your research on the starting salary for the career you intend to have when you graduate. Can you make your loan payments? If not, you probably can't afford that program. The sad fact may be the most depressing of all, is that not everyone can afford the education they deserve and not because they can't pay the tuition up front. They can't make the loan payments when they graduate. Then again, many people buy homes they can't afford and are then bankrupted by their mortgage payments. The homeowners just had more information and opportunity to make a financially healthy choice while that same courtesy is not given those seeking higher education.
But student loans are like the regrettable tattoos you got on your 21st birthday. Once you have them, you have them. So it just comes down to your mindset. As humans, we are more effective at addressing issues we embrace than those we hate. The more vitriol toward your loans the more likely it is that you'll ignore them. Once embraced, they have no power. They're just another part of your financial life to be dealt with skillfully in order to maximize your wealth over time which and stay with me here, sometimes means keeping the lower interest rate ones around. But this is a strategy for you superhumans with the skill to separate your emotions about money from your decision about what to do with your money.
For now, take a moment to reflect on your recent successes and see how many you can trace back to something your student loan helped you achieve. With each checkmark, send younger you a little love for taking the chance and making the brave choice to take out a student loan. You may not have known exactly what you were doing, but you absolutely knew where you were going.
Guardian and its subsidiaries do not issue or advise with regard to student loans. Material discussed is meant for general informational purposes only and is not to be construed as tax, legal, or investment advice. Although the information has been gathered from sources believed to be reliable, please note that individual situations can vary. Therefore, the information should be relied upon only when coordinated with individual professional advice. 2019-80158 Exp 5/21
Bailie Slevin is a Registered Representative and Financial Advisor of Park Avenue Securities LLC (PAS). OSJ:52 Forest Ave., Paramus, NJ 07652. Securities products and advisory services offered through PAS, member FINRA, SIPC. Financial Representative of The Guardian Life Insurance Company of America® (Guardian), New York, NY. PAS is an indirect, wholly-owned subsidiary of Guardian. Certified Financial Services and Entertaining Finance are not an affiliate or subsidiary of PAS or Guardian.
The views expressed in this article are solely that of the individual(s) providing them,
and do not necessarily reflect the opinions of Backstage or its staff.