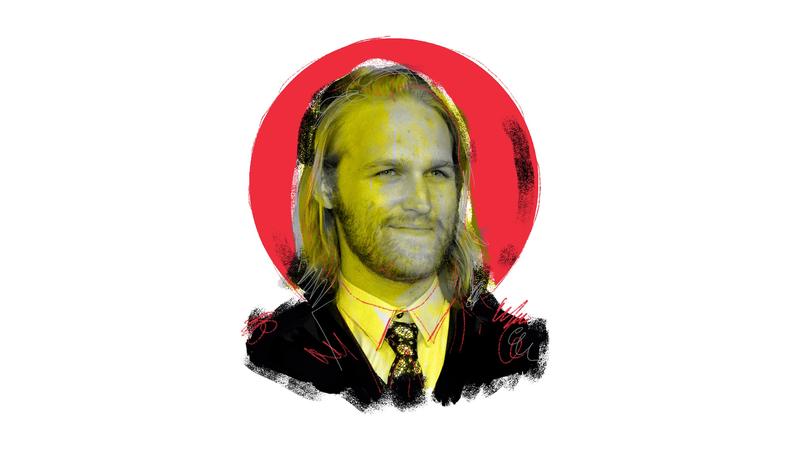 Wyatt Russell's first foray into acting was an accidental one. The son of Goldie Hawn and Kurt Russell, he spent his time growing up on set with his parents, but it wasn't until a friend needed a last-minute actor replacement that Russell, then a hockey player, got his first serious role. At that point, he wasn't sold on acting as a career. Clearly, Russell's attitude about the profession has changed; previously of "Black Mirror," "Everybody Wants Some!!," and "Ingrid Goes West," he now stars as lost ex-surfer Dud on AMC's "Lodge 49." Season 2 returns this summer Aug. 12.
How did you first get your SAG card?
It was the movie that I did when I was playing hockey. My [business] partner John Stalberg made a movie called "High School." It went to Sundance. He called me and was like, "I lost my lead actor." We made movies when we were, like, 7; he made horror films where I got murdered. He was making his first [professional] movie and he lost his actor. He called me—I was in college playing hockey—and he said "I don't have anybody, you should come and do this for me. I can't audition anybody, it's the day after tomorrow." I didn't really have any choice. I wanted to help him out. I lied to my [hockey] team—I was hurt at the time. I said I had to do something, it was an emergency. I left and I did this small part. I had no interest in being an actor at that point; I had my hockey career.
READ: How to Join SAG-AFTRA
And that was the role that landed you your first agent, who saw the film at Sundance, right?
Yeah. Darren Boghosian, my agent, he helped put the movie together for John. He saw the movie and said, "Do you want to act?" And I was like, "Well, no, thanks." He said, "If you ever want to do it, I think you could be good. Give me a call." I was thinking [about] maybe commercials in the off season when I'm not playing hockey. I called him back after I got hurt three years later and I was like, "Hey, does that offer still stand?" I couldn't play hockey, I got injured. He really believed in me. He stuck with me from the very beginning.
What's the craziest thing you ever did to get a role?
Everybody tells you you have to be yourself. I tried to be myself, but at first, I wasn't good at auditioning. What I did didn't serve an audition. I wasn't able to go into a room and wow somebody with this great audition, because the way I view things sometimes is rather subtle. Without certain things I think are requisite to acting—which are another person, a director, and talking about "how did that feel?"—it was like a test. You had to have a prepared way of doing it and you got, if you're lucky, two or three times [to do it], but mostly one. And it's a weird process. I wasn't great at it. I got a couple of jobs right away and I was like, "This is easy, this is great. Be yourself." And then I went a year and a half with nothing.
Then I met [and auditioned for] a director named Jim Mickle. I was ready to be like, "This isn't for me. I don't get it. I think I'm good, but I don't get any jobs." I just told Jim the truth. I walked in the office [thinking,] I'm going to tell the entire truth: I'm not good at auditioning; I don't think it captures anything I'm remotely good at. We talked for four hours, and he was like, "I hope you're a good actor because I like you." He ended up doing an audition in a way I thought was interesting and different. That's what got me going in acting for real. I got the job, and I went on location, and I truly understood why people love to do the job. Honestly going in and saying, "This is not going to work for me like this"—I told the truth, which is maybe not the best advice because it could probably come across as insecure and defeatist. But that's probably what turned it around for me. Being open to another person's energy and going, "They'll respond to this. I think they're going to get it. I'm going to tell him how I feel." It was luck and also the recognition of the fact that this person would understand what I was talking about.
What is your worst audition horror story?
There was one audition [where] I could not get past a line. I didn't want to bring my sides in; if I bring my sides in, I always look down. It's a crutch. I got to this line and I could not remember the line and I had to start over. They let me go four times until finally I was like, I've got to get myself out of this room. They were cool about it. The next time I came back into the room, a couple of days later (I asked to come back and do it more prepared), they had a sign up in the waiting room that said, "We know you can remember your lines, [but] bring in your sides, please." I knew I was the impetus behind putting that sign up.
What performance should every actor see and why?
One of them would be Michael Parks in "Kill Bill," if you want to see subtle blended with real character—[he's] a true character actor who should've been a megastar. To me, I look at that and go, "Wow, he has full command over that moment and that character." He's free and he's loose and he's also tight, put-together. For comedy, I'd point to Peter Sellers in "Dr. Strangelove" as the president. And I'd also point to Peter Sellers in "The Party" for physical comedy. It's hard to point to one because everyone's an amalgamation of all their artistic endeavors.