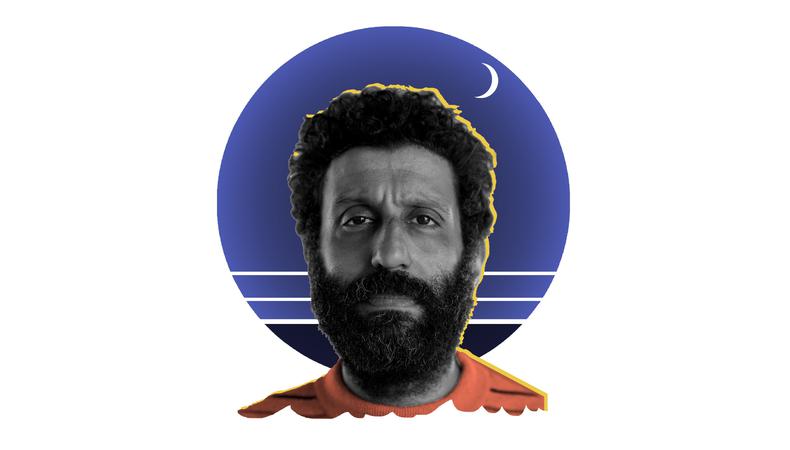 Adeel Akhtar is unpredictable. Although he nailed bumbling but lovable characters in cult films and TV shows like Four Lions and Utopia, he won his BAFTA for his powerful and sympathetic portrayal of a man doing the unthinkable in Murdered By My Father. Every role is a gear shift; from the snivelling but dangerous Thénardier in Les Misérables to the disconsolate Billy in Back to Life. He can currently be seen in Netflix fantasy series Sweet Tooth, and in the big screen adaptation of West End musical Everybody's Talking About Jamie on Amazon Prime. Meanwhile in his starring role in new film Ali & Ava, which will be screened at the London Film Festival (on 13 and 14 October), he brings depth to the story of a Bradford landlord finding forbidden love. We sat down with Adeel to find out what role he's proudest of, and the piece of acting advice he's only just understanding.
What makes you say yes to a project?
I went out with a friend of mine the other day, the old school theatre director Mike Shepherd, and we were talking about how you know when something is right and works for you. We spoke for ages but I think it comes down to having to feel there's something truthful happening in what you're reading. It could be comedy or drama or whatever but it needs to feel original and true. Beyond that it's got to be a character I feel like I can do something with, that I can add something to.
How did you prepare for your role in Ali & Ava?
The whole experience of Ali & Ava wasn't typical at all. I met the director Clio Banard at the Toronto Film Festival and I was trying so hard to impress her and make myself indispensable to anything she was doing in the future. I think she found that funny or maybe just endearing. But we met again and eventually she came back to me with these audio recordings of two people in Bradford who the characters of Ali and Ava are based on, and we fell into another part of the process where we were hot-seating and drawing the narrative out of improvising the character. It was a whole different approach to characterisation and story. We were discovering the process and character at the same time, which was really exciting.
When did you first know you wanted to be an actor?

"That's acting: sometimes you'll feel alone and not seen but it can all change. Keep hold of that when you feel like you're struggling."
It was at the National Youth Theatre when I was 16 and I just knew it then. I got a feeling. It was such great fun and I enjoyed being with other people who acted. Then I studied law. My mum and dad encouraged me to have a sensible career path. Mainly because when they arrived in the UK it was such a struggle for them and they wanted to make my life a bit easier.
What advice would you give your younger self?
I've had periods of not working. And at the height of not working, I went to see We Need To Talk About Kevin, starring Tilda Swinton. And watching her play that character was a seminal moment in my understanding of acting. Then with Ali & Ava we went to the Director's Fortnight at Cannes and Tilda was there. I was in the same place as her. That's acting, sometimes you'll feel alone and not seen but it can all change. Keep hold of that when you feel like you're struggling. I'd also say to my younger self that there's loads of other professions, you can be happy doing something else, it doesn't have to be too much of a struggle.
What's your worst audition experience?
I was at a workshop for a comedy about the Occupy London protest outside St. Paul's and I decided I would be this angry character who would come in with a watermelon he wanted to share with everyone. But I didn't have anything to cut it up with, so I thought it would be hilarious to hack apart the watermelon with a pen and give out pieces to everyone. I was taking the audition so seriously that instead of acting and pretending I actually brought in a watermelon and a pen. And of course me hacking apart a watermelon with a pen wasn't funny. But everyone was so lovely and generous that they played along, even though it took ages. A painful amount of time. The programme didn't end up getting made but even if it had, I wouldn't have been anywhere near it.
What's the best thing you've learnt from another actor?
I did a series with Stellan Skarsgård called River and I was like a puppy, I was always ready for any gems older actors could give me. Every now and then there was this bit of sage Swedish wisdom he'd drop in my lap. Like, I found line learning really hard, I still do. And he used to say that 'lines need to be in your bones', you really need to know it inside out. Some people can do it the night before but that's not me. He also said, 'We work hard to be professionals and once we're professionals we try really hard to become amateurs again'. That's another bit of Zen-like paradox that I think I'm only just understanding.