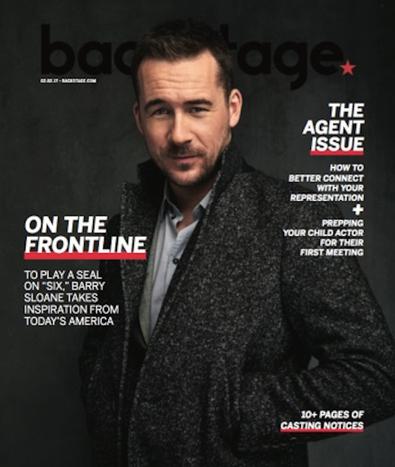 Barry Sloane believes his latest project, History's new military drama "Six," is entertainment for today's divided America.
"At a time like this, I think what's important is these guys are neither red nor blue," Sloane, who is English, says of his miniseries' SEAL Team Six heroes. "Now, they may vote one way or the other, [but] that doesn't matter. They are representing everyone. They are selflessly giving their lives to protect these shores without thanks, without fanfare. They are the best of humanity in a lot of ways."
But a leader without his demons wouldn't make for very good television. Thankfully, "Six" strikes the balance between unmitigated American pride and the dubious character it takes to play protector while putting one's life on the line—even when it means taking another's.
"I was very reluctant to be part of a propaganda piece. As an Englishman, I didn't think it my place to do that," Sloane says. But showrunners William Broyles Jr. ("Flags of our Fathers," "Jarhead") and his son David Broyles, both military veterans themselves, quickly assured the actor that their vision "couldn't be further from that." As writers, the Broyles do not hesitate when painting with wartime's ethical grays from the outset. Take the series' opening minutes from its Jan. 18 premiere: Just as we're meeting our heroes in the line of duty, Richard "Rip" Taggart (Walton Goggins) kills a surrendering American terrorist sympathizer while on a covert mission in Afghanistan.
READ: Walton Goggins Joins Tarantino's Stable in 'The Hateful Eight'
The main arc of the series picks up two years after that raid, when Rip has since quit the SEALs and estranged himself to private military work. Now, his second in command, Joe "Bear" Graves (Sloane), is at the team's helm. But when Rip is captured and held hostage by Islamic extremists in Nigeria, Bear enacts a rescue mission for their fearless-turned-fallen leader. On a recent phone call with Backstage, William Broyles Jr. describes Bear's predicament as "wanting to rescue his father figure [while] becoming a father figure himself." Over a recent lunch at the Smile in lower Manhattan, Sloane, a muscular 35-year-old of tall stature, clearly exhibits the natural brawn required to believably play a SEAL. He also offers the delicate pride, charisma, and familial loyalty required to fill the shoes of said patriarchal figure.
"There is this real sense of tenderness about him, as well as this kind of manly man that he projects," Broyles says of his series' star. "To have that charismatic leadership and to still be able to be haunted by the demons that the character is haunted by, and to be able to have the longing, as well… It's the rare actor that can bring all that off, and Barry is it."
"It's a very wonderful character," Sloane says of Bear. "His incredible depth, his incredible humanity, his incredible selflessness. And there's an openness to him, as well, that we see in the latter part of the season." In breaking down the demands of the role, Sloane says he divided Bear's life into three pillars: God, the military, and his wife. "That's keeping him functioning at this point. Whether he can keep all of those going, we'll see."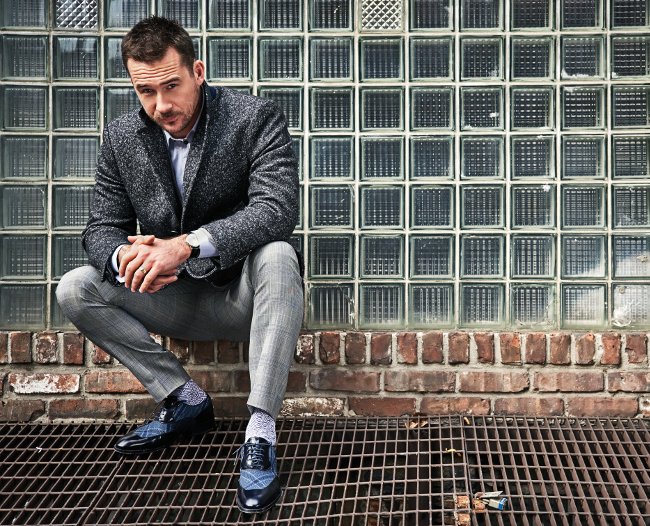 Family, in particular, is a pillar that Bear has learned to value the hard way; he and his wife, Lena (Brianne Davis), had to bury their only child at a young age and have since been unable to conceive. His nonmilitary battles on the home front act as a poignant emotional foil to his missions abroad.
"When we had this chance, I really thought that to tell the story of people who have given the absolute best of their lives to keeping America safe, this was a real chance to honor them not in a superhero way, but as they really are: as real human beings, flesh and blood," Broyles explains. For the series' dramas at home, Broyles says he also pulled from his own experience as a parent living through his son's service abroad.
Sloane, fortunately, has nearly 20 years of acting experience behind him in his native England. He's also a husband and father in real life (his wife was pregnant with his son while he was filming "Six"), so suffice to say, he was up for the challenge of Bear's many facets when presented with the role in 2015.
"I think I have always played characters who are fighting through their existence, fighting for sanity," Sloane says. "Diamonds in the rough—carrying the weight of the world on their shoulders and trying to find an answer."
American audiences will likely best know Sloane as Aiden Mathis on ABC's soapy thriller "Revenge," but it was his 2011 Broadway debut as Troy Whitworth in the London transfer of Jez Butterworth's acclaimed "Jerusalem" that first revealed his immense talents to the stateside acting market.
READ: 5 Ways To Build Career Momentum from 'Revenge' Star Barry Sloane
"['Jerusalem'] was the golden ticket. It elevated my career from where it was to where it is now," Sloane admits. That said, he says he wasn't exactly keen on picking up and moving to America; he'd worked hard to make a living where he was. Growing up in a working-class family, Sloane could only rely on himself for success in the acting business, which can be just as unforgiving overseas as it is in Los Angeles or New York.
"Some actors are fortunate to have a nest egg, or their parents can back them through college, or they can afford to choose whatever jobs they like. [But] I needed to fuckin' work," he says. "So I gigged. I'd been a working actor for a number of years, going from job to job to pay rent. I'd take jobs I didn't like. I had no fallback, so I continuously gigged and gigged and gigged, and I was very happy. I had no intention of emigrating or moving here or working in the States, particularly. The first time I came over was with 'Jerusalem.' "
Even in light of the hardships he'd already pushed through as a London actor—he recalls that period as being "kept on the breadline"—nothing, still, could quite prepare him for the demands of "Six."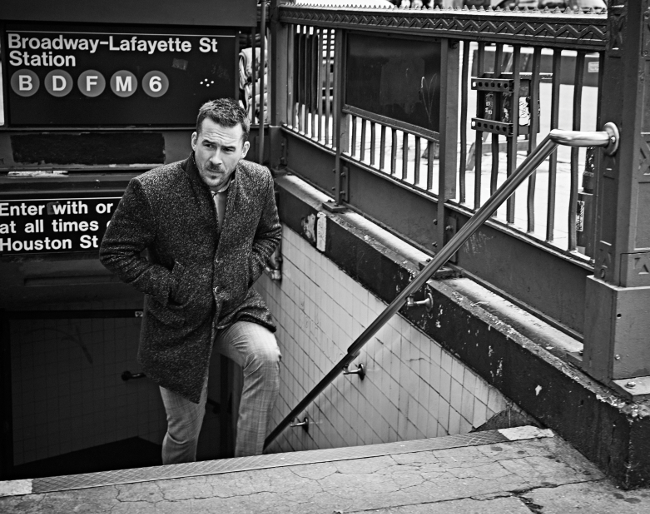 "We had to earn our way in," Sloane says, in order to "represent [the team] correctly." Besides the basics of studying the script and calling on his acting training, he and his cast mates found their characters through the "collective trauma" of arduous training. In order to bring the best American military personnel to the small screen, each player endured an intense SEAL training regimen. "They sent us away and it was the most challenging experience of my life," Sloane adds, recalling the time "after we hadn't slept for two days, we were woken up at 1 a.m., taken out in the cold in shorts, and sprayed with ice-cold water in plank position while being asked questions about who the second president of the United States was."
Sleep deprivation and physical exhaustion tested the actors' limits and bonded Sloane and his co-stars in unexpected ways. In the end, he says he's a better human being, a better team player, and a better actor for it all.
"To have your ego put right in front of your eyes and to have to look at it was breathtaking," Sloane says. "The only way you can do it is for the guy to your left and to your right. No matter how much pain you're in and how much shit you're feeling, you turn to your right and you say, 'How are you? Are you OK? You can do this. You're fine. I know how strong you are. You've got this.' That empowers you and it empowers them. [Then] the whole group moves."
---
Why Risk Failing
"I used to fear casting directors for some reason," says Sloane. "It was like [they were] this mythical beast that hated actors. Now, I'm sure there are some casting directors who despise actors, [but] on the whole, they're your champions. Understand them. Don't put that pressure on yourself when you go in the room. Don't apologize for your interpretation of a fucking character, just fucking own it. Know that they're lucky to have you. Own your confidence and own your brand and know what you're selling…. [Casting directors] love finding actors. They love watching. Be brave. They don't want to see repetition. They don't want to see the easy read. They want to see someone risk to fail."
Styling by Jeff Kim.
Want to break out on the small screen? Check out our TV audition listings!