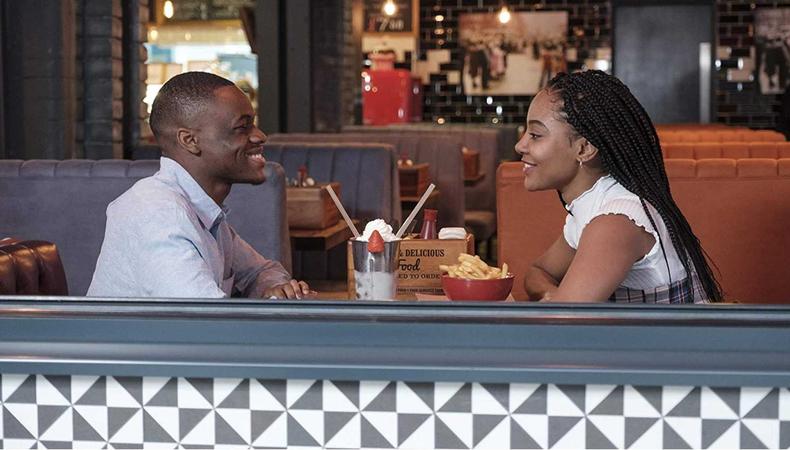 Hello, and welcome back to Week in Review, our roundup of industry-wide news. From stage to screens big and small, we've got you covered. It's everything you need to know and all you can't afford to miss.
Vue reverses decision on Blue Story
One of the UK's largest cinema chains has begun showing British film Blue Story again, after the film was dropped from more than 100 cinemas following claims of several "significant incidents" at screenings. Director Rapman's directorial debut feature can now be seen across Vue's 91 venues, as the company joins Showcase in reversing their decision to pull the film.
Centring on two real-life London gangs and the young boys caught up in the violent relationship between them, the pulling of Blue Story created a huge backlash from fans and the industry, with claims that security incidents were unrelated to the content of the film and that race may have played a role in the decision of cinema bosses. Despite the pulling of Blue Story, the opening weekend saw the film gross £1.3m at the UK box office, coming in third place behind Frozen 2 and Last Christmas.
Josh O'Connor and Renée Zellweger lead BIFAs 2019
The roles of a hopeless romantic and a star at the end of her career have won Josh O'Connor and Renée Zellweger best actor BIFAs at this year's awards, held last weekend in London. O'Connor won for his role in Harry Wootliff's debut feature Only You, making this his second BIFA win after his acclaimed role in God's Own Country in 2017. Renée Zellweger won the Best Actress gong for her performance as Judy Garland in Rupert Goold's critically-acclaimed biopic Judy, while hotly-tipped The Personal History Of David Copperfield won just two awards on the night: Best Supporting Actor for Hugh Laurie and Best Screenplay for writers Armando Iannucci and Simon Blackwell.
Newcomers Sam Adewunmi and Ruthxjiah Bellenea were named Most Promising Newcomer and Best Supporting Actress respectively, both for writer-director Shola Amoo's "profoundly moving" feature The Last Tree. Meanwhile, Best Film was given to a documentary for the first time in BIFA's history. Telling the story of Syrians in the bombarded city of Aleppo, For Sama by Waad Al-Kateab and Edward Watts unexpectedly swept the awards, taking home the top prize, Best British Independent Film, as well as Best Documentary and Best Director.
READ: 2019 British Independent Film Awards Winners
Spotlight's joining criteria labelled 'discriminatory'
Performers and agents have called Spotlight "discriminatory," arguing the casting site's criteria is thwarting new or returning actors aged 25 and over from building careers. Spotlight's rules require performers over the age threshold to be graduates from a year or more of full-time professional training at an accredited drama school or university, or have four or more professional credits as featured, named speaking roles. Credits must be in feature-length film, TV or theatre and do not include commercials, short films or roles as a background artist.
Spotlight argues the criteria maintains professional standards, but actors and agents claim late starters to acting are being blocked from accessing opportunities and are calling on the casting site to overhaul eligibility to broaden access. Actor Stacey Pomeroy told The Stage: "Once you hit 25 they're expecting you to have brushed shoulders with [Martin] Scorsese or something."
READ: Spotlight Accused of 'Discriminatory' Joining Rules
Sky to launch Elstree studios in 2022
Broadcaster Sky has revealed plans to launch a major new TV and film studio in Elstree, alongside established independent studios and the BBC's Elstree Centre. Sky's studio will boast 14 stages, hosting productions from Universal Pictures and Working Title, with the company claiming it will create more than 2,000 jobs when it opens in 2022. The studios come as Netflix and Disney occupy two major studios for at least the next decade and Sky focus on creating more original content to be made in-house.
READ: Sky to Create Huge New Film + TV Studios at Elstree
Stage production news
Kully Thiarai has announced her final season as artistic director of National Theatre Wales (NTW), featuring a new multimedia musical and a large-scale outdoor show. The 2020 season marks the 10th anniversary of NTW and will be the final programme from Thirari, who leaves as artistic director next year following controversy over not employing enough Welsh talent. Jon Tregenna's new musical Hail Cremation! will open the season and is described as a psychedelic musical about a Welsh doctor who pioneered cremation. Directed by Adele Thomas and starring Lee Mengo, Hail Cremation! opens in March and is followed by outdoor show Balloon Girl, new show Frank, which tours forests in Wales, and a performance co-created with communities called Go Tell the Bees. Lorne Campbell, currently artistic director of Northern Stage, takes over from Thiarai in spring 2020. Read more here.
Looking to get cast on stage or screen? See our UK auditions listings
Screen production news
US channel Starz has given the green light on new British drama Becoming Elizabeth, created by playwright Anya Reiss and featuring an all-female writing team. Following the young Elizabeth I, the eight-part series will tell the story of the orphaned teenager who becomes embroiled in the political and sexual politics of the English court on her journey to secure the crown. Produced by London outfit The Forge, best known for Channel 4 series Kiri and Ackley Bridge and BBC thrillers Collateral and Dark Money, it becomes the next royal drama commissioned by Starz after adaptations of Phillipa Gregory's The Spanish Princess, The White Princess and The White Queen. Find out who's casting this and other UK projects in our Greenlit series.
More for UK actors? Check out the magazine.