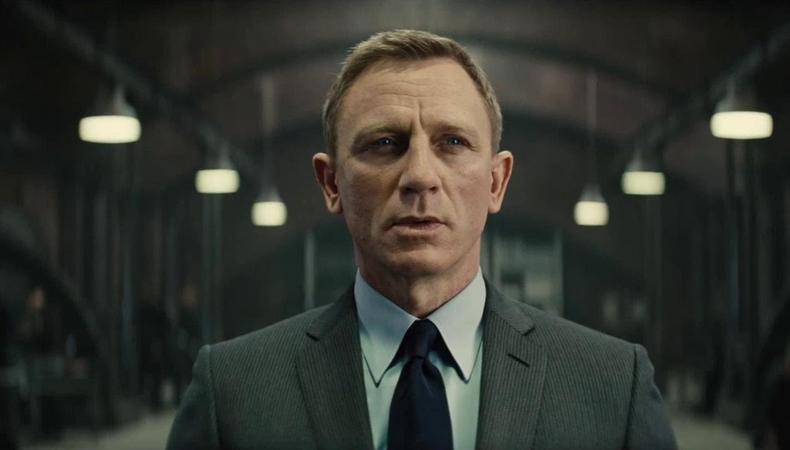 Hello, and welcome back to Week in Review, our roundup of industry-wide news. From stage to screens big and small, we've got you covered. It's everything you need to know and all you can't afford to miss.
License to limp: Craig surgery will not change Bond release date
Bond 25 has been back in the news this week. Daniel Craig's much-reported injury will not delay the 25th Bond film, according to official reports. The actor is to undergo ankle surgery after suffering an injury from running. An announcement from the official Bond twitter says Craig will have "minor" surgery after "an injury sustained during filming in Jamaica" but that production will continue and the film "remains on track for the same release date in April 2020."
Meanwhile, speculation that Christopher Nolan might be in the frame for Bond 26 increased this week after the Interstellar and Inception director was revealed to be working on a "spy film" called Tenet, slated for release in 2020, which Warner Bros says is "being filmed on location across seven countries [and] is an action epic evolving from the world of international espionage." This very Bond-like scenario is being talked up as a calling card for rebooting Bond, which Nolan has long expressed an interest in, telling Playboy last year: "Maybe one day that would work out." He went further in an interview with BBC's Desert Island Discs: I'd love to make a Bond film at some point…I've always been inspired by the films and would love to do one someday."
READ: Bond 25 Reveals New Casting With Rami Malek as Its Villain
Students occupy drama school offices
Students have occupied offices at Guildford School of Acting to protest the axing of courses and "misinformation" from staff. Earlier this month it was announced that applications for new students on both GSA's BA Dance and BA Theatre and Performance courses at GSA were suspended, with some claiming that students due to start this September had their offers revoked.
Now a group called Surrey Protect Our Arts Collective have vowed to remain in the offices of the University of Surrey (of which GSA is a part) until their demands are met. These include an end to alleged staff layoffs and assurances for the future of the Theatre and Performance department.
When asked to comment, Sean McNamara, head of the GSA said: "There are a number of inaccuracies at present with this situation which are being distorted and misrepresented. We have not closed any programmes, we have suspended recruitment due to significant declines in applications of up to 45% on the 2018 applications."
Read our full length interview with Sean McNamara published this week and the students' response.
Lyric pledges to develop large-scale plays by women
The Lyric Hammersmith is to develop and produce large-scale work by female playwrights as part of a new set of priorities from artistic director Rachel O'Riordan. Launching her first season at the Lyric last week, O'Riordan announced a long-term partnership with renowned theatre company Headlong to develop and commission work by women for the main stage and on tour, with the first taking place in January 2020. The pledge comes after severe criticism of the National Theatre for not giving female writers and directors opportunities and calls from major playwrights to improve opportunities for women.
Across her first season, O'Riordan will direct revivals of Martin McDonagh's The Beauty Queen of Leenane and Love, Love, Love by Mike Bartlett as well as a new version of A Doll's House by Tanika Gupta. The Lyric also announced a new group of artistic associates: playwright Simon Stephens, directors Phillip McMahon and Tinuke Craig, casting director Stuart Burt, and dramaturg Nina Steiger. Read more here.
West End performer 'slept under bridge' for lack of affordable accommodation
Equity's annual representative conference has heard the "shocking" story of a West End performer forced to sleep under a bridge because they were unable to find affordable accommodation. Actor and union representative Elise Harris told members that performers are having an increasingly tough time finding affordable accommodation in London and that "there were several members in the room who had experienced homelessness of one sort or another." Harris said: "We had a member who was working in the West End and despite being in employment could not find accommodation within his means and he ended up sleeping under a bridge"
The Stage described the story as "genuinely shocking," arguing that "the idea that a performer working in the West End – supposedly the peak of the profession – has been forced to sleep rough because their wages did not support them sufficiently to find somewhere to sleep…should shame the entire industry."
Concerns for safety of immersive performers prompts inquiry
Immersive theatre is to come under increased scrutiny by Equity over concerns that performers are being "exposed to many forms of abuse." Building on the union's Professionally Made, Professionally Paid campaign, the union is to move from tackling low and no pay to looking into "the real issues of the fringe," including harassment of actors and performers by audiences. The pledge comes after it was revealed that two incidents of sexual assault occurred during an immersive production of The Great Gatsby in London last year.
Equity's low pay no pay industrial organiser Charlotte Bence told The Stage that of the many issues reported about immersive theatre, half were concerning health and safety and the other half reporting "bad contracts." Bence said: "There is a real need to tackle this and do something about raising member awareness, in terms of their rights and what they are entitled to. But it's also about working with employers to remind them what their obligations are."
The return of Nan
Catherine Tate is to don her character Nan for an origins film This Nan's Life, based on her TV series. Mathew Horne reprises his role from the Catherine Tate Show, joined by Katherine Parkinson. Tate's much-loved Nan character began life in her 2004 sketch series, featuring alongside a host of creations and spawning a series of spin-offs. Now Josie Rourke (Mary Queen of Scots) directs a screenplay by Tate and Brett Goldstein that begins shooting later this year.
Stage production news
The complete cast has been confirmed for the world premiere of Bitter Wheat by David Mamet, the Glengarry Glen Ross writer's play inspired by the Weinstein scandal and #MeToo movement. Starring John Malkovich in his return to the West End after three decades, the story follows the fictitious Hollywood producer Barney Fein as he falls from grace and is tarnished by allegations. The cast includes Alexander Arnold, Teddy Kempner, Matthew Pidgeon, and Zephryn Taitte joining the previously announced cast members Ioanna Kimbook and Doon Mackichan. Bitter Wheat opens 7 June at The Garrick and is directed by Mamet.
For more from Backstage UK, check out the magazine.