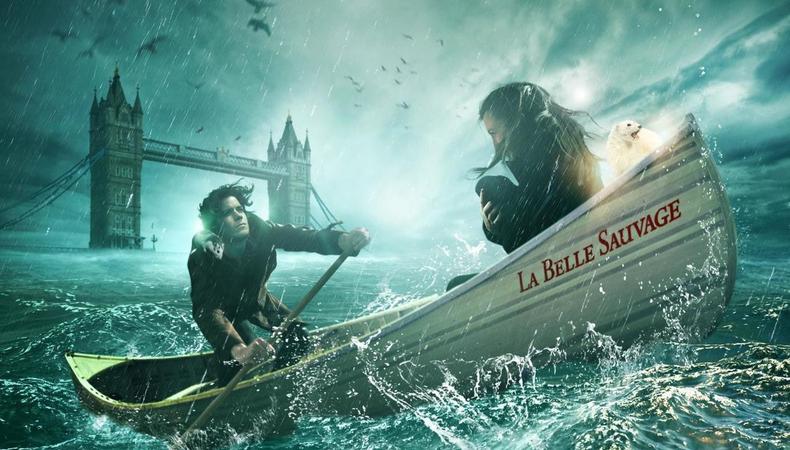 Hello, and welcome back to Week in Review, our roundup of industry-wide news. From stage to screens big and small, we've got you covered. It's everything you need to know and all you can't afford to miss.
Book of Dust to lead four new Bridge productions from female writers
London's Bridge Theatre has launched their upcoming season by announcing four new productions written by women, including an adaptation of Philip Pullman's The Book of Dust – La Belle Sauvage by Bryony Lavery. A prequel to Pullman's acclaimed trilogy of books known as His Dark Materials (now airing on BBC One), La Belle Sauvage is set 12 years before the start of Pullman's first novel Northern Lights. The story sees characters Malcolm and Alice pursued across a flooded England as they deliver baby Lyra to safety. The Bridge's artistic director Nicholas Hytner directs La Belle Sauvage, returning to Pullman's parallel universe 17 years after his production of His Dark Materials at the National Theatre (NT). Casting is yet to be announced.
Elsewhere in the female-led season is a new production of Caryl Churchill's A Number, directed by Polly Findlay and starring Roger Allam and Colin Morgan. Later, Marianne Elliott will direct They Shoot Horses, Don't They?, a new play by Paula Vogel based on the novel by Horace McCoy and inspired by the dance marathons of Depression-era America. Finally, Lucinda Coxon (Alys, Always) will adapt Henrik Ibsen's John Gabriel Borkman, opening in 2021 and starring Simon Russell Beale in the title role.
The Bridge's season announcement comes as the NT launch their award for new female directors and the industry focuses on practical opportunities for women in theatre. Called the Women of Tomorrow Directors Award and sponsored by fashion brand Chanel, it will see one female director given a three-week run in partner theatre The Yard.
READ: London's New Theatre Boom: What You Need to Know
Kristin Scott Thomas to receive honorary award at the BIFAs
The British Independent Film Awards (BIFAs) are to honour Kristin Scott Thomas this year, with the Four Weddings and a Funeral actor receiving the Richard Harris Award for her outstanding contribution to British film. The award is named after the late actor, best known to younger audiences as Albus Dumbledore in the first two instalments of the Harry Potter film franchise. Previous winners include Judi Dench, Daniel Day-Lewis, Chiwetel Ejiofor, and Emma Thompson.
Scott Thomas told Variety that "to be recognised in memory of the great and unequalled Richard Harris is very special, and a true honour." Harris' son Jared said the award was "richly deserved," adding: "Kristin Scott Thomas has created many memorable characters in iconic British films. Whether she is making us laugh, cry, or shake in our shoes, it is always in that inimitable Kristin Scott Thomas way."
READ: 10 Film Schools in the UK You Need to Know
Ceiling collapse prompts 'magic' scratch performances of play
A water leak which caused part of the Piccadilly Theatre's ceiling to collapse last week did not stop the show from going on, as actors held three scratch performances of Death of a Salesman at the Young Vic. On 6 November, part of the West End theatre's ceiling collapsed just 25 minutes into a performance of Arthur Miller's classic American tragedy, injuring five people and leading to the cancellation of four further performances.
But within just 24 hours, the Young Vic's empty main house turned from a construction site into an auditorium in order to house scratch performances from the Death of a Salesman company for ticket holders of the cancelled West End run. Led by actors Wendell Pierce and Sharon D Clarke, the performances saw minimal costumes and props rushed from the Piccadilly Theatre to aid the unusual performances that according to co-director Marianne Elliott were full of "magic that nobody will ever see again."
Death of a Salesman is now safely back at the Piccadilly, although the grand circle remains closed. Shortly after the collapse, Equity's Assistant General Secretary Matt Hood said on Twitter that actors should not have to work in "unsafe venues," stating the union would "meet with theatre managers as a priority to ensure our members' welfare."
READ: How to Get an Acting Job in the West End
Trust to help young actors in Yorkshire gets million-pound boost
Just weeks after it launched, a trust to help young people in Hull and East Yorkshire access drama training has been given a major boost thanks to a local's will worth more than £1 million. Set up by actor Michael Jibson to support young actors in the area who want to train professionally, the Hull and East Yorkshire Arts and Culture Trust (HEYACT) was launched last month to offer support to young performers, ranging from travel expenses for auditions at London drama schools to assistance with fees. The trust was due to begin fundraising from local businesses but have now announced they will be involved in the distribution of £1.3 million left for good causes by a local resident Audrey Mosey in her will.
Although it's not confirmed how much of the fund will go to HEYACT, co-founder Andrew Pearson said he understood it would be a "heavy portion" of the total. Jibson said: "We're thrilled, because we were looking to start with £500 from somebody to pay for audition fees, and we potentially might be able to hit the ground running and start sorting people out more significantly, which would be incredible". Read more here.
Screen production news
The BBC are rebooting award-winning drama State of Play for 2020. The 2003 political thriller series from Shameless creator Paul Abbott starred David Morrissey, John Simm, Bill Nighy, and James McAvoy, and went on to become a 2009 film with Russell Crowe and Ben Affleck. Now, the BBC have begun pre-production for a new version of the noughties drama, which sees a politician's researcher murdered on the tube and an investigative journalist uncover a complex link between government and big business. The original series was critically acclaimed, launched Abbott's career as a solo writer and secured a best-actor BAFTA for Bill Nighy. Production begins in London from 2020 with the cast yet to be announced.
Looking to get cast? Check out our auditions listings.
Stage production news
The world premiere of new musical Back to the Future has announced its full cast ahead of opening in Manchester next February and a planned West End transfer. Aidan Cutler will play Biff Tannen, Courtney-Mae Briggs plays Jennifer Parker, Will Haswell plays Dave McFly, and Emma Lloyd is to play Linda McFly. Based on the 1985 film, Back to the Future tells the story of a teenager transported back in time, having to rescue himself by making his parents fall in love again. The musical production features iconic songs from the movie, such as The Power of Love and Johnny B. Goode, alongside original numbers. The cast joins previously announced Roger Bart as Doctor Emmett Brown, Olly Dobson as Marty McFly, Hugh Coles as George McFly, Rosanna Hyland as Lorraine Baines, and Cedric Neal as Goldie Wilson.
More for UK actors? Check out the magazine.