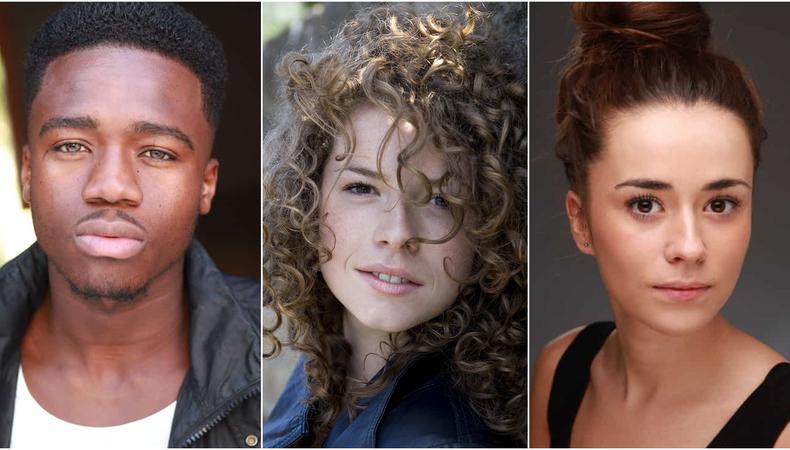 It's possible you might recognise Vincenzo Squillino from his acting career (Mamma Mia, Paddington 2) but if not, you'll definitely recognise the subjects of his portraiture. Since setting up his headshot business, Vincenzo Photography, he's taken photos of big acting names such as Laurence Olivier, Ken Stott, and Jessie Buckley, and clearly knows how to get the very best from his clients. Here Vincenzo talks about his favourite headshot ever and why glamour is actually the jobbing actor's worst enemy.
How did you start in the industry?
I always had a fascination with photography and film since I can remember and it was my uncle that encouraged me to take it up. He taught me how to develop film negatives and taught me how to use manual cameras, lenses and the light meter. As a teenager, I took my camera with me at all times – it kept me out of trouble! But I officially started taking portraits in 2007 when I finished shooting on Mamma Mia. I invested the money wisely, built a photographic studio, and my wife encouraged me to turn my photography passion into a business.
Describe your client list?
My headshot client list includes Laurence Olivier and BAFTA-winning actors such as Ken Stott, Jessie Buckley, Mary Elizabeth Mastrantonio and Hayley Atwell, as well as incredible new and up-and-coming talent that needs to be nurtured and guided.
READ: 10 London Headshot Photographers You Should Know
What do you think makes a great headshot?
Some of the most exceptional headshots are ones that keep it simple. An exact likeness that shows a real moment in time makes a great headshot – a moment of pure connection with your sitter. Technically, the photo shouldn't be over-glamourised! It should be a real likeness to be a great headshot.
How has the business changed since you started?
It has changed enormously. Casting directors (CDs) aren't using the hard copy 10x8 headshots any longer, so it's essential to have an easy-to perceive photograph that sells your Spotlight or Backstage profile. The photos are smaller, too, online, so it's critical to be brand-aware. You have to make an impact and grab the CD's attention. It's all well and good looking pretty in your headshot, but we need to see your personality, too. Also, the whole business has changed with actors' self-tapes. You can be filming on location and still audition. Embrace the power of the self-tape!
READ: The UK Actor's Guide to Successful Self-Taping
What should actors have prepared for their first headshot shoot?
Concentrate on your casting type, which means being sure you understand what your casting type is. Prepare clothes that make you feel good. What colours are suitable for your skin and colour type? Be clear about choices and make sure they are clean and appropriate to photograph. Look in the mirror and practice if you don't like having your photo taken. The fact is, this is your job, and you'll be having your pictures taken until you retire, so get used to it. Good headshots mean more meetings!
What is the most common mistake actors make during or preparing for a shoot?
Bringing in clothes for the shoot that they don't like, and not being organised with travel. If you are going to a casting, don't be late! The same applies to a photoshoot. Be as prepared as if you are going to an audition. You get to be your best if you've had a few weeks' sleep and you know where you are going. Photoshoots aren't relaxed if you're not in control. Prep is vital for any performer.
READ: The UK Actor's Headshots Guide
How do you set the right mood for a headshot shoot?
Getting the right mood in my studio for a headshot session is crucial. It changes from client to client. But, I do love talking and finding out about people during the headshot shoot. I find people fascinating. I don't have rules, and I don't rush. Every client is different. It isn't about the number of photos I take – it's about quality. I feel that making an effort with people and making it fun and relaxed works best for me. People usually say: "Wow, that went quick. I had such a fun shoot."
What are your top five tips for a better headshot?
Firstly, talk to your photographer before you book the shoot and make sure you get on. Secondly, make sure you hire a professional photographer – photography is technical. Then when it comes to your shots, don't over glamourise yourself. Casting directors want to see the real you! That means doing your own makeup so that when you turn up for an audition, you are able to look like your photo. There really is no point in hiring a makeup artist. Finally, enjoy yourself at the shoot – when you enjoy the experience, magic happens!
Do you have any funny headshot-related stories you can share with us?
A while back, I took photos of a well know pop singer-songwriter from a band who has had several hits. However, I had no idea who they were until I saw a picture of them in the press a few weeks later! Performers that don't make a BIG fuss about their star status: that is star-quality I admire.
What is the shot you are most proud of?
I have so many photos that I have taken over the years that I love, but I'm especially proud of the shot I took of Ken Stott. Ken asked me to take his headshots, and we got some fantastic cinematic shots. He's a charismatic screen and theatre actor and I loved taking his photos. We get on well, and that comes across in the images. He loves to look away from the camera, which suits someone of Ken's star quality exceptionally well. I have worked with Ken on the West End stage as well. What a treat! What a joy!
More for UK actors? Check out the magazine.