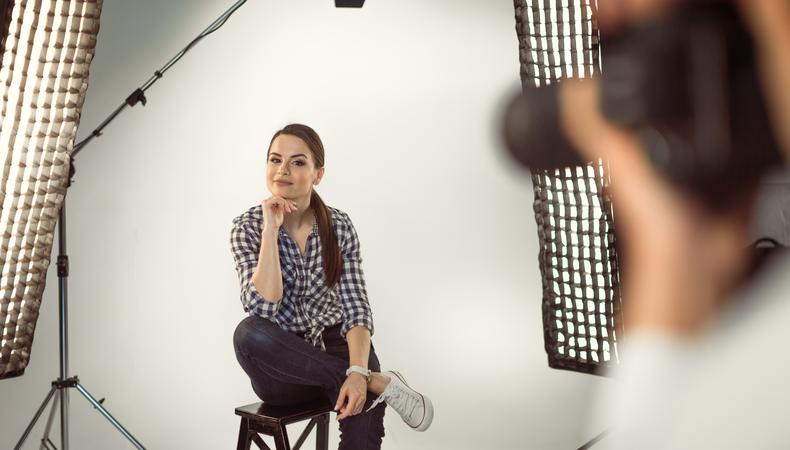 Your headshot is one of the most important investments you'll make in your career as an actor, and your relationship with the photographer who takes them is crucial. Here are ten British snappers who'll help you make the best of this important photographic calling card…
Nick James
He might not be the cheapest out there but he has quite the rollcall of clients including Sheridan Smith and Suranne Jones. Also, his shots look great. He's a former actor, so he knows the drill and is keen on making you comfortable. He offers a three hour "standard session" for £400 or two hours for £295. Based in East London.
Fatimah Namdar
Fatimah's clients include Bill Paterson, Lindsay Duncan and Amelia Bullmore. She's an agents' favourite and likes to photograph actors outside. Shoots last around two to four hours and, brilliantly, she promises not to book sessions back to back to give clients time to relax.
Michael Wharley Photography
Michael is an award-winning photographer and former actor who works mainly in the entertainment industry. His images appear on film posters and he's worked with a host of famous names. He offers a package costing £390 but will allow session-sharing if you'd like.
Read: The UK Actors' Headshot Guide
Vincenzo Photography
When BAFTA-winning actor Ken Stott says his photos "combine the highest of technical standards with an actor's intuition to reveal the spirit of his subject" it's time to pay attention. Vincenzo is a top London headshot photographer with a great portfolio of top names. He charges £240 for two hours and offers biscuits between shoots.
David Price
Price splits his time between LA and London so is well aware of what both markets are looking for in a headshot. He's also an actor, so he knows what you're going through! His London studio is in Hackney and he offers a range of packages – from five hours with hair and makeup for £500 to the much cheaper £200 option, where you'll get shot outside but only have two hours to bag the perfect shot.
Shelia Burnett
Shelia has an impressive list of past clients: Damian Lewis, Simon Pegg, Caroline Quentin, Imelda Staunton, Nick Frost and many more. She's got 25 years' experience and starts every session with a "chat and a cuppa". Packages start at £190 and go up to £280, and she also offers shared sessions for £150 each.
Read: How to Pick the Right Headshot for Your Backstage Profile
Claire Newman Williams
A well-established headshot photographer who also does editorial work, Claire's clients include Tom Hiddleston, Stephen Fry and Penelope Wilton. She charges £290 per shoot but treats men and women differently. Men get three hours, women get four but have to pay £110 on top for a makeup artist during the shoot. Claire is based in Chippenham – an hour outside London, but many consider her reputation worth the journey.
Kirill Kozlov
Kozlov has a good reputation and a few moments looking at his gallery backs it up. Based in east London overlooking London Fields, he's got two packages aimed at actors: the Spotlight package for £260, and Spotlight plus with more costume changes and pictures for £300. He says his aim is for the headshot to bring out the "most bookable you".
Read: The 1 Quality That Guarantees Great, Effective Headshots
M.A.D. Photography
Photographer Mark Davis is a talented headshot shooter with a great set of deals for his services. Not only does he offer a headshot shoot for actors at £300 but he does the same deal for students for £250. Plus, if you can find a mate who is also a student he'll shoot the two of you in a shared session for £120 each. Bargain!
Studios4U
If money is an issue – and let's face it, when is it not? – then this might be one to consider. Based in Camden, the studio's been going for 15 years and they say they get 95% from referrals. Their prices start at £25 for a one-hour session – and there are £50 deals if you want a makeup artist.