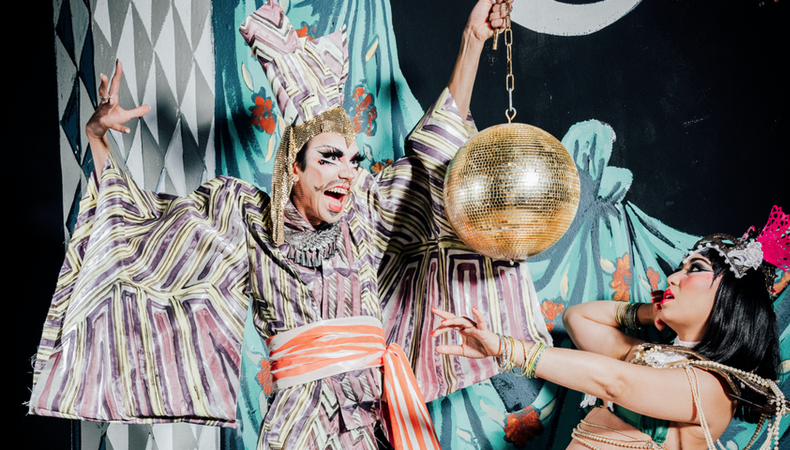 There's so much to fit into the last of half of December, we're not sure you're going to have time for turkey or plant-based alternative. Not only is it Panto season but there are New Year and Christmas budgie-smugglers to deal with. Good luck, people – you're going to need it.
He's behind you…
Pantomime is a uniquely British affair – aka thoroughly weird – but it also pays a lot of jobbing actors' bills at this time of year, so what's not to love! Why not catch one of the many productions hitting the capital, from the starry Goldilocks and the Three Bears at the Palladium starring Paul O'Grady and Matt Baker to adult panto Aladdin and the Feast of Wonders down in the Waterloo Vaults, or Hackney Empire's classic take on Dick Whittington and his Cat. (Prices vary)
READ: 5 Reasons We Should Hate Panto + Why We Actually Love It
Chris Morris returns!
Finally, an event without a sprig of holly or tinsel in sight. On 18 December, writer, director, and all-round comedy god Chris Morris will be at the Curzon Soho to talk about his career and his latest film, the satirical drama The Day Shall Come. The film features a man hallucinating about a talking horse – happy Christmas one and all! (£18)
The End is Nigh
If you've never heard Brett Goldstein's brilliant podcast Films to Be Buried With then what have you been doing with your life? Here's the premise: a top guest is told they've died and they have to talk about the films that have meant the most to them during their sadly-cut-short lives. Brilliant! On 19 December it's live (ironically) at the BFI with an End of the Decade Christmas Special with comedian Nish Kumar. Book now! (£15)
READ: 10 Podcasts Every UK Actor Should Be Listening To
Watch people get hypothermia in the name of Christmas
Being adaptable is a crucial skill in the actors' arsenal, so on Christmas Day why not eschew comfort and instead stand in the middle of Hyde Park and watch mad people do some swimming? Every year, the hardy members of the Serpentine Swimming Club jump into the icy lake in the name of… actually we have no idea why. (Free)
Christmas Actually
For many people, Love Actually is THE Christmas film. If that sounds like you then why not get down to Kensington Palace (!) where the film is screening on December 21. If that really, really doesn't sound like you then why not head to the Phoenix Club on the 22nd for Drag Actually: The Christmas Drag Rom-Com. Alternatively, do both! (£18.50/£12)
More for UK actors? Check out the magazine.