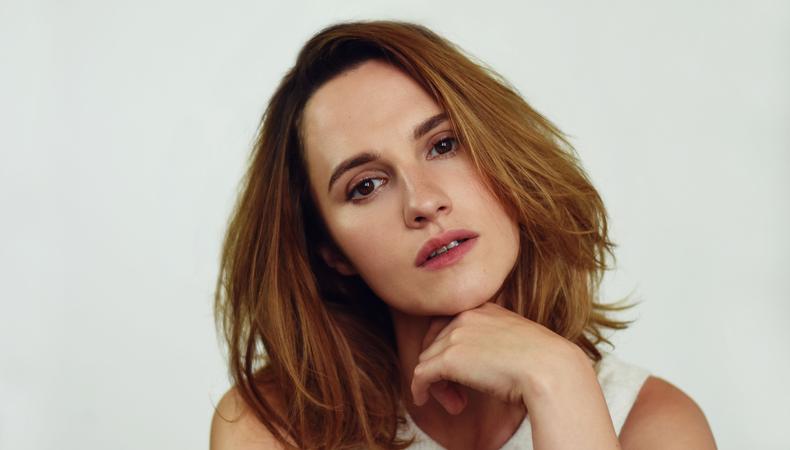 The following Career Dispatches essay was written by actor Ruth Bradley, who can currently be seen in the BBC2 black comedy mini-series "Guilt."
What advice would I give my younger self?
Be kinder to yourself. I spent a lot of time worrying when I first moved to London. I didn't go to drama school so arrived fresh off the boat with not much more than a dream of a career. I was 18 and had recently got a UK agent on the back of the work I had done in Dublin. I knew nobody and the city felt huge and extremely intimidating. I spent all of my waking hours thinking about acting, when my next audition would come in, and when it did, prepping it for days. I remember getting an audition through on a Friday evening and spending the whole weekend doing nothing but prepping. I barely left my bedroom all weekend. By the time the audition came around on Monday, I couldn't speak to the director. My voice literally wouldn't work as I hadn't spoken to a human being in 72 hours. Human contact and real life are very important parts – if not the bedrock – of acting so I eventually learned that shutting myself away from it didn't work.
That first year in London was incredibly lonely. Going straight from the institution of second-level education into the self-employed, out-of-work actor's life was a huge adjustment. I would tell my younger self that it's okay to wake up in the morning with no place to go to, no deadlines and no set plan. It's okay that you don't know what you're doing yet because in order to learn you have to first experience.
READ: How to Survive In London as an Actor
I would also tell my younger self to stop comparing herself to others. It took me a while to get the hang of that. Comparisons keep us small. This business is a varied one and each career is completely different. I used to look at my contemporaries and chastise myself for not being at such and such a level of success at 18 or 19. It felt as if I was on a constant timer and my life was a ticking bomb. Every day that didn't bring me closer to my goal was, to me, a wasted one. I equated my self-worth to whether I got a job or not. And not just any job, but the "right" job.
When is the 'right' job actually right?
This all came to a head when I was 19. I remember having rounds of auditions for a remake of an old classic film. The audition process spanned four months and the role was particularly coveted by unknown and established actors alike. Eventually, the casting team whittled it down to three of us. We were all flown to Prague to screen test with the lead actor in costume on set. I had always been a huge fan of the Oscar-winning director and was beyond excited to work with him. This was exactly the job I had been waiting for. It justified all the loneliness, isolation, insecurity, and graft of that first year spent in London.
The day came, I flew out, was dressed in full period costume, and met the director. He was instantly furious that I had recently dyed my hair blonde. My school-level French meant I could understand some of the expletives and ranting, and I felt chastised and frazzled. Eventually, he stormed out of the room. An hour later I was summoned and shook myself to the studio building where there were upwards of 80 people watching, waiting for me. I could hear the director's voice from the shadows directing me towards the set where the lead actor was waiting. The plan was to shoot one scene over one hour. It was a highly charged, emotional scene between my character and her much older boyfriend. She is desperately trying to escape from this room to save a child but cannot tell this to her abusive boyfriend. She is scared, strong, terrified, driven, and desperate. It was a fantastic scene and under more relaxed circumstances would have been a dream to play. I had a very tricky, emotional speech towards the end of the scene and each time I completed it the director would shout "AGAIN" from his chair behind the monitor in the dark, and so I would repeat the speech.
READ: How to Become an Actor in the UK
Each time he shouted it, I could feel myself getting in my own way, my nerves, my desire to get it right, my head chastising me for getting it wrong. After what seemed like a lifetime, the director called cut. He appeared from the shadows, came on set and took me aside. His entire demeanour changed. He spoke very softly to me: "The camera sees everything. The camera knows. If you lie, the camera sees you lie. So just tell the truth."
He went back to his chair, called action and everything was transformed. I forgot where I was, who I was and what was happening. There was nothing left except that strong, terrified, desperate girl trying to escape and save that child. And when the hour ended I came back into my body and back into the room. That evening, they sent the three of us back to London.
Two days later I heard that I had not got the part. That was the toughest rejection I've had in my career because it had all felt so completely right. It had fitted so perfectly into my plan. It took me a long time to lick my wounds but soon after I got a TV series and so began my UK career. It wasn't the "right" job I had been waiting for but it was, in fact, the right job for me. I have never forgotten that note from the director at the screen test. I use it to this day.
So, I would tell my younger self to let go of the reins a bit because you aren't really holding them, anyway. That film was not for me but that note most definitely was. This career is a marathon, not a sprint. I will be taking notes and learning about my craft until the very end. And that is the joy; the journey, not the destination.
And don't forget to live while you're at it.
Ruth Bradley is a multi-award-winning actress best known for her roles in Channel 4's most successful drama in 20 years, Humans, BAFTA award-winning The Fall for BBC2 and Netflix, and in Philip K. Dick's Electric Dreams, alongside Bryan Cranston for Channel 4 and Amazon.
More for UK actors? Check out the magazine.