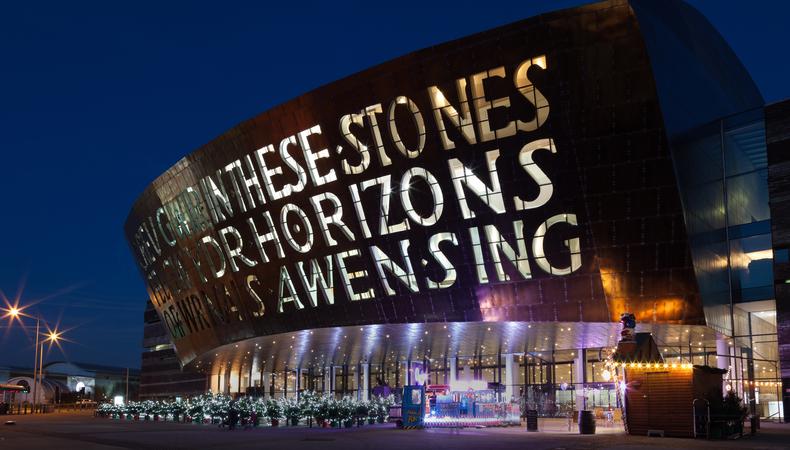 Developments in the business of acting are not always front-of-mind for time-pressed creatives, yet can have a major impact on how their careers develop. That's why we've created The Business, a series to help UK actors and performers stay updated on the key stories that will affect the nuts and bolts of their professional lives.
Arts Council Wales demands minimum pay requirements
The Arts Council of Wales (ACW) has introduced stricter minimum pay requirements for projects it funds in an effort to stop low pay in the creative industries. Following a consultation, ACW have become the first national funding body to move from guidance to a minimum pay requirement for projects, putting pressure on the UK's other funding organisations Arts Council England and Creative Scotland to step up. ACW's National Lottery funding will now not be awarded to companies who cannot demonstrate they are "at very least" paying artists and staff in line with daily or weekly rates set by professional associations and unions, such as ITC or Equity.
Although Arts Council England and Creative Scotland have pushed for the National Minimum Wage and used industry-standard fees for benchmarks, ACW's newly published guidelines make clear to employers that National Lottery money "won't fund applications where you aren't paying yourself or your co-workers at all, or are only paying a low/nominal fee" and sets Equity and ITC's weekly minimum of £483 for performers as a benchmark for actors. The guidance argues: "If we are really serious about the eradication of privilege and ensuring that everyone can work in the arts on a sustainable basis, the minimum rates will be an important tool to help achieve real equity." Read more here.
Collapsed Shakespeare company disputes pay claims with Equity
Shakespeare's Rose Theatre, a pop-up in York and Blenheim that went into liquidation after an unsuccessful season this year, have hit back at claims by Equity that more than 70 actors and crew have been left out-of-pocket. In a statement, Equity reported that 76 performers and backstage staff are without pay and pension contributions amounting to £15,000 after the theatre company went into administration. The union said it was organising with members, scrutinising the company's accounts, and would be submitting outstanding payments to the liquidators.
Lunchbox Theatrical Productions, the international touring company behind the pop-up, has now hit back at Equity, calling their statement "misleading" and claiming that a "very small number of actors who opted to invoice the company rather than be on the payroll" are owed money for a cancelled tour of the Philippines. They argue that this amounts to £13,000, and that they are working with liquidators to resolve this.
The company claim "unsustainable losses" forced the project into liquidation and blamed Brexit for poor ticket sales and the cancellation of a tour to the Philippines. However, Equity regional organiser Dominic Bascombe claimed they were using Brexit as an excuse for poor sales, adding that "there must be an element of blame on the company trying to extend too far, too quickly." Equity is inviting members who worked for Shakespeare's Rose Theatre this summer to check their payments and get in touch.
READ: What Is Equity + Why Should You Care?
Designer sparks unpaid work row at the National Theatre
A freelance designer on a production at the National Theatre (NT) has sparked a row over unpaid work and exploitation across the industry. Last week, designer Samuel Wyer posted on Facebook that he was looking for a volunteer to assist him with work on The Ocean at the End of the Lane, the NT's adaptation of Neil Gaiman's 2013 novel. Wyer, who is costume and puppet designer on the production, advertised for "volunteer support" and "an extra pair of hands" but was met with criticism, with one response saying the term was "an elaborate way to say 'exploitation.'"
Talking to The Stage, Wyer said he made the post in "good faith" and stressed that "skilled artists should be paid for their work." He argued that the post was meant to offer "the chance to experience the creative process" and said he has now withdrawn the offer, despite many positive responses. He confirmed he had offered the placement without "prior discussion with the National Theatre."
Welsh National Opera to hold open auditions
Welsh National Opera (WNO) is to hold open auditions as part of a newly launched associate artist programme. The Cardiff-based company is opening up their associate scheme for new singers by widening access and holding castings across Wales and England. What was once an informal recruitment process from conservatoires and opera schools will now become an open audition for two 18–32-year-olds to join a year-long full-time traineeship. Alongside mentoring from acclaimed soprano Rebecca Evans, WNO's scheme offers audition coaching, language training and career workshops. Singers will need a minimum of one year's vocal training alongside relevant professional or student experience, and auditions take place from November. Find out more here.
Find your voice as an artist
Ambreen Razia, creator and star of BBC sitcom Hounslow Diaries, is holding a workshop for artists and performers looking to find their voice. Exploring the importance of creating your own work and "becoming one of the industry's future trailblazers," the workshop is at London's Oval House on 16 November. Find out more here.
Be inspired by a workshop with the makers of Little Baby Jesus
The team behind Arinzé Kene's acclaimed new production Little Baby Jesus is holding workshops as part of the Orange Tree Theatre's Young People's Takeover. Workshops take place on 29–30 October and are free with a £15 under 30s ticket. Find out more here.
Soho running comedy directing workshop for people of colour
Soho Theatre is hosting a comedy workshop with director Saima Ferdows and performer Sophie Duker (Venus). Taking participants through the process of directing comedians, the workshop is being run exclusively for people of colour. Soho says: "There are only a handful of live comedy directors of colour" working in the industry and hopes the workshop "is a first step to re-address this imbalance." Find out more here.
Scholarship for drama school students open now
Just Add Milk Theatre Company's scholarship is open for applications until 1 November. Designed to support a second-year drama school student as they approach their final year of training, it covers practical expenses like headshots and memberships and offers career development and support. Find out more here.
More for UK actors? Check out the magazine.