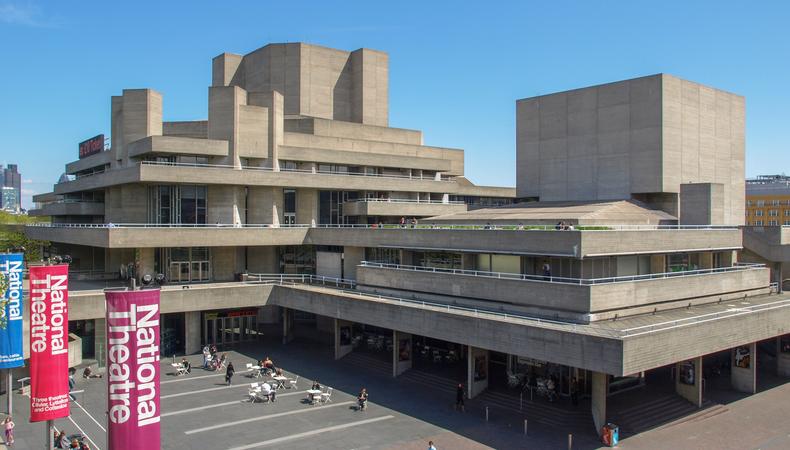 This week, Backstage examines that goliath of British stagecraft, the National Theatre. It's a major cultural institution with a global reputation for excellence. We look at why that is and how you can get involved.
Don't Say: "Is that an underground car park?"
Do Say: "There's a reason why A-list talent like Bryan Cranston, Cate Blanchett, and Ralph Fiennes all want to work at the National. It's the best."
What is it?
The Royal National Theatre in London aka the National Theatre aka NT is one of the UK's leading performance spaces. It opened in 1963 with a production of Hamlet starring Peter O'Toole and directed by NT founder Laurence Olivier. Since then, it has produced over 800 plays and launched the careers of many famous names. It has three London theatres and puts on over 1,000 productions every year.
The National is known for its varied programme, taking on everything from musicals to Shakespeare to brand new plays by brand new writers. Recent notable productions have included Angels in America, Follies, Network, The History Boys, Antony & Cleopatra, and War Horse – all of which were commercial as well as critical hits. The National also gets a substantial government subsidy, which enables it to keep seat prices low and take creative risks.
The National's current Artistic Director Rufus Norris took over from Sir Nicholas Hytner in 2015 and has recently signed up to another five-year term on the Southbank. A former actor-turned-director, Norris is keen to stress the National part of the National Theatre by touring productions away from their iconic brutalist home on the Southbank, as well as simulcasting NT plays into cinemas with National Theatre Live.
Looking for your next stage role? Check out our UK castings
Why should I care?
You should care (or at least pretend to care) because they might give you a job! Actors as diverse as Chiwetel Ejiofor, Vanessa Kirby, Bryan Cranston, James Corden, Cush Jumbo, Cate Blanchett, and Imelda Staunton have all graced the National's stages, and most British actors aspire to join them. Having the National on your CV looks great and usually means you've been part of ambitious, creative work.
The National is committed to nurturing new talent and creating "classics of the future." Their New Work Department runs regular workshops where actors and artists of all kinds can "play" and experiment with new ideas. Last year, they put 200 projects into development, with over 1,000 people just like you getting involved. They also have an open submission policy for scripts – so if you're a writer, they promise to read your work.
How do I get involved?
The National has a relatively new head of casting in Alastair Coomer. He joined last year after five years heading up casting at the Donmar Warehouse, and has said he wants to find the "next generation of great actors for the National's three stages." Coomer is also the co-chair of the Casting Directors' Guild, so he knows his stuff.
The National's Casting Department say they see around 500 productions a year to scope out new talent, and they're open to invites. If you want them to see your performance, the best way is to email them the details on casting@nationaltheatre.org.uk – they'll be in touch if they can make it. Their phone number is 0207 452 3336 and they've got plenty of information on their website. It's worth a shot as they meet over 2,500 actors a year, casting 350 performers for around 25 annual productions. Get involved!
More in our Decoded series: