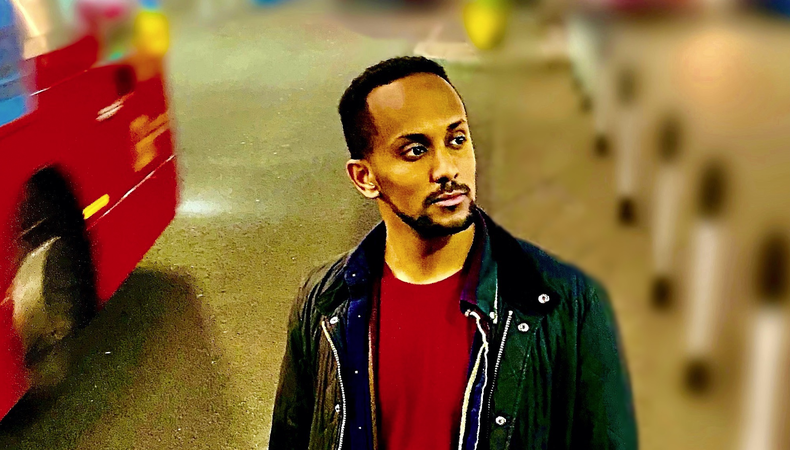 It's a difficult time for new shows and especially musicals, with most stuck in development as producers take news of a vaccine cautiously. Not so for plucky one-man musical Stay Awake, Jake, which has been turned into an album in lockdown and will be streamed live from the Southwark Playhouse later this month. It's a moving and intricate story, taking audiences inside the mind of a man driving through the night to be back with his girlfriend as he squares the person he was with the person he needs to be. Ahead of opening night, we spoke to star Ahmed Hamad and casting director/producer James Pearson to find out how this small show with big ambition is going on against the odds.
The story begins the day theatres shut. Casting directors (CDs) and producers James and Rosie Pearson were meeting writer-composer Tim Gilvin and director Grace Taylor for what they did not know would be their "last meeting before lockdown"; they were excited about finding their Jake for a concert of the show in London. Obviously, Coronavirus had different plans. But, where some might have put the musical on ice, James Pearson evolved the project into an album recording, complete with a superstar team and full orchestration. Via Zoom, Pearson tells us how he pushed ahead not just because of his love for the show, but for his love of new work in general: "Because it's new! It's never been done, you've got freedom to create" – which contrasts to the misery of "uncasting shows" as the pandemic unfolded.
Actor-singer Ahmed Hamad shares Pearson's passion for new work. Cast as part of new musical taster series MT Fest while a student at Arts Ed, Hamad went on to originate a role in The Boy in the Dress with the Royal Shakespeare Company (RSC), and is still drawn to characters he can make his own. Even with a screen between us, his eyes visibly light up when he talks of the "buzz in the room" at Stratford: "I got a taste of how exciting it is not knowing where something is going and not being told exactly how something's done."
Looking for your next stage or screen role? Check out our UK castings
Like attracts like, and Pearson and Hamad's spirit of discovery were matched by director Grace Taylor and MD Tamara Saringer's collaborative rehearsal process for Stay Awake, Jake. Songs changed keys and riffs connected in new and exciting ways. Pearson even thinks that collaboration is built into the form of a solo show: "You can't do it without the actor adding their own thing, if someone else played Jake it would have to be completely different. It's so rare to have that opportunity as an actor and it's what's beautiful about this role."
But it's no small order finding an actor who can throw themselves into this kind of process and also deliver on the night. "The role needs somebody with the ability to captivate and hold an audience," James says. "We saw that in Ahmed. We cast him in Rent [at Hope Mill] and there was something special, it's even evident if you watch it online." There was another strength that helped win Hamad the role. Before coming to casting, Pearson was a musical theatre performer. So he knows that being a swing, understudying several roles and performing them at a moment's notice "takes a brain." And Hamad had been a swing at the RSC and in the West End. "Whenever I see that on a CV, I'm like: 'Brilliant, there's someone you can definitely trust.' "
With all this expectation, was Hamad worried about taking the role? He offers a diplomatic smile.
"Back in the summer, doing the album recording, just me in my bedroom with a mic, I didn't imagine we'd get where we are now, actually doing a live version. Of course it's exciting to be the only focus, but it's also a big responsibility. Jake has a huge emotional arc, and the songs move from present to past tense. On the album, that wasn't too much of a struggle – I was starting a new song on a new day. But in a live setting, you've got to shift from right now to four weeks ago – from someone who thinks he's always right to the person who's realised he was wrong. That's been the biggest challenge. And there's no costume change, set change, no anything. Just you, going 'okay, now I'm here.' "
Listening to the album, it's clear Stay Awake, Jake has been in development for years. It's sharp, funny, and unexpected. Ambitious but taut, complex but not overwhelming. What's also clear is just how technically relentless the show is for Ahmed. While there are shifts of tone and pace, there's nothing like a break or a straightforward song.
"Yeah," says Hamad. "In terms of stamina, this show is really difficult. Even during rehearsals, if you're having a bad day, you can't just take a step back because it's just all you, telling the story by yourself. But, honestly, I find that challenge exciting."
To heap adversity onto the challenge of this show, the team are tasked with making it work through a screen. It's another task Ahmed is embracing with what I'm now seeing as characteristic focus. He recorded Rent for streaming earlier this year but is quick to point out that doing Stay Awake, Jake live will be a different experience. "With Rent, we wanted to capture the show as it would have been in the theatre. But I'm glad Stay Awake, Jake isn't recorded – I get to live in the moment. I can't think about watching myself back because I'll end up second-guessing things!"
For now, living in the moment is Pearson's approach, too. He's learnt to "only plan a couple of weeks ahead" as the situation keeps on changing, although there are exciting things down the road. But he keeps on adapting and is glad he nabbed the opportunity to live-stream Stay Awake, Jake, even if it is "terrifying and exciting" in equal measure. Then again, what better way to finish 2020, a year that has otherwise just been terrifying.
Stay Awake, Jake live-streams on 18–19 December 2020. Tickets are available here.