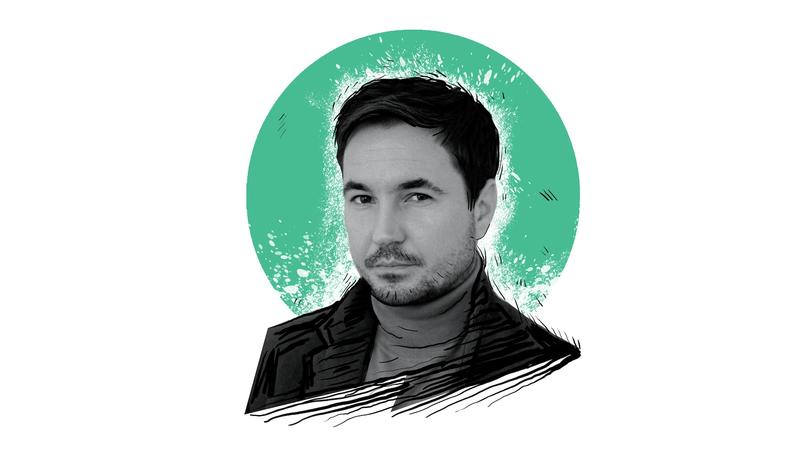 Not only has Martin Compston's role as Steve Arnott on BBC's Line of Duty made him a household name – it's also established him as one of television's most respected actors. Ahead of the hotly anticipated fifth series, Backstage chats with Compston to discover how his journey to primetime entailed getting married with the hair of a serial killer, learning on the job, and realising there's no "right way" to act.
How did you approach your character on Line of Duty?
I saw that Steve loves his job but he's arrogant, pigheaded. There're times he thinks he's the only one doing the right thing. His doggedness is an asset but it can rub people up the wrong way, and he has this ridiculous way with women that nobody can quite understand, not even me. The cockiness that comes with that is one of the reasons I put him in waistcoats. In my head, he's the guy who works in a call centre but is overdressed, is having office affairs. There was also a nod with the waistcoats, as all the great detectives have them, from Sherlock onwards.
The phenomenal thing with Jed [Mercurio, the writer], and why I love playing Steve, is that he's not an easy guy to like. Sometimes, you're actually rooting for the bad guys. When I went over the stairs in Series 4, I didn't know how viewers would react. I thought people might want my character to die, but Jed said: "Wait and see the reaction – people don't know what they've got until it's gone." And there really was an outpouring of love for Steve that changed my relationship to him and with the audience. That's the genius of Jed.
READ: How to Speak Like a TV Actor
When did you know you wanted to be an actor?
It was all very bizarre. Peter Mullan is now a hero of mine but the reason I started acting was that I saw a film by accident. I went on a date to see whatever blockbuster at the local cinema, but we missed the showing. The only thing we could go and see was My Name Is Joe. It completely changed my idea of what cinema could be. There were these people on a big screen who spoke like me and who I could relate to. Then I heard that the guy who directed it was holding open auditions at my school. That's how I auditioned for Ken Loach. I've said this before but it bears repeating that if I owe my career to two people it's Ken Loach for Sweet Sixteen and Jed Mercurio for Line of Duty.
Learn how to get your acting career started in the UK here!
What job taught you the most?
I think it would have to be Monarch of the Glen. With Sweet Sixteen, I was pretty fearless – and lucky, because the way Ken works is different to everyone else. The film is shot in sequence and there's no such thing as marks. Nobody calls action. You've got so much freedom on set. So, it was a bit of a shock filming the ending first and having to stand exactly on a point without even looking at it! With Ken, I'd learn a page at a time, whereas in Monarch, I was learning three episodes at a time. That was my drama school.
How do you deal with rejection?
It's brutal. I love going to the movies, it's one of my favourite things, but it's just walls of rejection seeing all the posters and going: "Yep, went up for that and didn't get it, and the next one, and the next one." It's a massive part of the job. You get an offer through, spend four days trying to learn a Kentucky accent and be off-book for 12 pages. Then you go in and do it, people stare at you as if you're nothing, and then you don't hear about it again. It really is tough to take. There's been a couple of times when I've thought, I can't do this anymore. There's been jobs I thought I had to get, and missing out really knocked my confidence. Even now, I'm terrified of auditioning.
What role are you proudest of?
I did In Plain Sight about the serial killer Peter Manuel and started filming it the day after I got married. He had such iconic bouffant hair, so I had to get married with that. I thought the role was going to put me in a dark place, but the more I read about psychopaths, the more I realised they're not really aware of their feelings – there's no empathy. I discovered it wasn't about going dark because this guy was so casual with it. The best thing I could do was just not give a fuck. There were only one or two moments where he really switched and you see the evil in him. I know this sounds wanky, but from a technical point of view I felt I really came of age there. Hopefully, I pulled it off; but still, that was a big moment for me.
What's the best thing you've learned from a co-star?
I did a film with Peter Mullan called True North and it was just a few of us on this set of a boat for months. I thought I was going to find out all these acting secrets, why this guy is so incredible. But then I discovered that Peter doesn't shut up until someone shouts action. He's an incredible man, I love him dearly, and could listen to him all day; but we would be on set, just about to do a really dark scene, and he's talking and talking until the moment the director shouts action. Peter can do a breakdown without any lead-in. He's so naturally great. That was a massive learning curve for me to realise I can't do that, to learn that it doesn't matter how you get there, it's just getting there. There's many different ways but no right way.