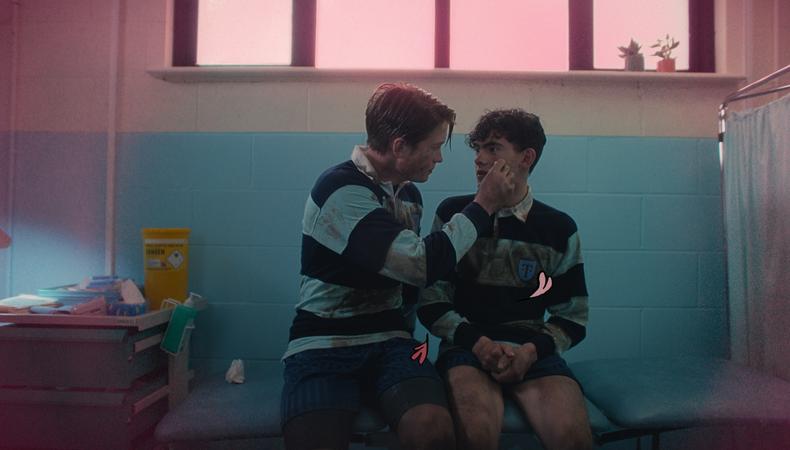 Want to get cast on one of 2022's hottest shows? Like the idea of being part of a series hailed as groundbreaking and heartwarming by critics and audiences alike? If you're not already swept up by the hype surrounding Netflix's Heartstopper, then it's time to get with the programme—and get cast on it, too. We have the inside track on how to become part of this much-loved drama, which has just been recommissioned for not one but two new seasons.
Heartstopper is a coming-of-age love story that follows the blossoming romance between schoolboys Charlie and Nick. Charlie (played by Joe Locke) is a sweet, neurotic, openly gay high school student who develops a crush on popular boy and rugby jock Nick (Kit Connor). He assumes that Nick is straight, but over the course of the show, he learns otherwise. Add to this mix a fabulous friend group, the voice of Stephen Fry, and an unapologetically optimistic outlook, and Heartstopper has "hit" written all over it.
Based on Alice Oseman's web comic and graphic novel of the same name, the series debuted on Netflix in April 2022. Oseman is also the creator of the series. Heartstopper earned critical and fan adoration alike with its light but heartfelt tone, its portrayal of LGBTQ+ issues, and its take on what it's like to be a modern teen.
As well as romance, friendship is also crucial to the Heartstopper universe. Characters receive love and support regardless of what the story might throw at them. Some of the show's most heartwarming moments feature Charlie's 'found family' of Tao (William Gao), Isaac (Tobie Donovan), and Elle (Yasmin Finney), played by newcomers who have been lauded for their performances. In fact, trans actress Finney impressed incoming Doctor Who showrunner Russell T. Davies so much that he recently cast her as the Doctor's new companion.
Speaking to the Guardian about Heartstopper, Finney said, "It's such a breath of fresh air. Elle's isn't like any other trans story we've seen before, because it's not focused on gender dysphoria or bullying. It's something the little Yasmins can watch and think, If Elle can do it, I can do it."
All this, and the show also boasts Oscar winner Olivia Colman as Nick's mother Sarah. There had been no pre-publicity about her role, and Oseman told Hello! that she was surprised but delighted that Colman actually said yes.
"When we were discussing trying to get a big name to be Nick's mum, I was shocked when the actress wanted to do it," Oseman said. "She's such an incredible performer, and she brings so much to the character. She really connected with Kit, who plays Nick; and when they were rehearsing the coming out scene, she just cried, because she thought Kit was so adorable!"
The young cast had no idea Colman was on board for most of the shoot; her name was kept off the call sheets until the last minute. Connor said it was nerve-wracking trying to keep his end up in their shared scenes. "I remember so distinctly sitting on the other side of the table—we were just stumbling through [the scene], and then suddenly a tear rolled down her cheek. And I just thought, I need to step up my game right now!" he said.
Seasoned TV director Euros Lyn, who helped persuade Colman to join the cast, said Kit needn't have worried. He told The Gamer, "Kit more than matches her, which is astonishing, given his youth and comparative inexperience."
To get a role on Heartstopper, it's important to know who its key creatives are. Writer and creator Alice Oseman is at the top of the list. She created the web comic the show is based on and wrote the TV show. She identifies as aromantic and asexual, and has called Heartstopper a 'passion project' inspired by her own school experiences.
She told Buzzfeed that she wanted the show to mainly appealed to a teenage audience. "There are a lot of teen shows that are for adults, but Heartstopper is primarily for a younger audience. I think people of all ages can enjoy it, but teens and tweens were who we wanted to cater to and make it accessible for," she said.
That focus on teen life also meant casting teenagers as teenagers—no 33-year-old Stockard Channing playing 17 in Grease here—but more of that later. UK producers See-Saw Films and executive producer Patrick Walters helped Oseman develop the script.
Walters read the web comic and fell for it instantly, telling Variety, "I told everyone in an internal meeting that I've read this beautiful queer graphic novel that was unlike anything I'd read before and that it would really plug a gap in the market, which was, like, a sort of uplifting, joyful slice of queer representation for younger viewers."
After first-time screenwriter Oseman nailed the script, director Euros Lyn joined the team. He already has loads of TV experience behind him (Sherlock, His Dark Materials, Doctor Who), as well as Colman's number in his contacts. Lyn asked that as many crew members as possible, from designers to makeup artists to camera team members, be LGBTQ+, "so they could bring their experiences and identify the bits of the story that can only be from an LGBTQ perspective."
Top UK casting director Daniel Edwards stepped in to put together the ensemble. His team's initial casting timeframe of six months was cut down to just eight weeks because of COVID-19; but they still managed to find the right actors.
Edwards told Spotlight that the creative team took a hands-on approach to casting. "What's incredible about Alice and Patrick is that they were across every single detail. Alice did not lose sight of anything. She was a proper showrunner," he said. "For me as a casting director to be able to defer to them, to ask them questions like, 'What's not working for these particular actors I've just shown to you? What am I missing here for the character of Isaac?' was incredible."
From the first season of Heartstopper, the casting team threw a wide net, and it's likely they'll do the same for the next two seasons. Edwards put out an open casting call for the entire ensemble, asking potential actors to forward a self taped audition. You can see one of the casting flyers here.
The team watched over 10,000 audition tapes. Edwards told Spotlight that he used "social media to reach the many hundreds of thousands of young, queer teenagers that may not have explored acting yet and who would want to be part of this project."
Walters also told Spotlight about the casting process. "We watched all the tapes that Daniel sent to us, and we worked out who we thought really could inhabit those roles," he said. "We met them on Zoom, Daniel read with them, Euros gave them direction, and we were all witness to that. It's a very intense thing for them to do—but when we found that right person, it really sang, even across the Zoom connection and us all being in different places."
"I was on board from the first moment when we decided how we were going to go about finding them," Euros Lyn told The Gamer. "It was really important to me and the whole team that we found actors who are genuinely in their teens to play these teenagers. But actors in their teens often don't have agents because they haven't been to acting school, they haven't had jobs that allowed them to do so—which meant we needed a new way of finding them."
Just one example of that was how the team found Finney, who makes her TV debut as Elle in the show. She found out about the role through her thousands of TikTok followers. She told the Guardian, "I just knew I would get it; it was a calling. There was no way anybody else could play this character…. Elle literally is me."
In a word, no. Most of the young cast were new to acting when they got the gig. Both of its stars, Connor and newcomer Locke, are just 18 years old.
"Seeing Joe's tape was one of those bolts from the blue moments," Lyn said of casting Locke. "It was instantly obvious to all of us, to me and to Alice and to Daniel, that there was something special in Joe's performance. I guess his inexperience was a bit scary, because you only see them do a couple of scenes. We recalled them, but it was through Zoom in the middle of lockdown. By that time, we had found Kit, so he and Kit did an audition together. And we were like, 'Oh, yeah. Do they have chemistry?' It's hard to tell because it's on a screen, and we were all separated in different parts of the country watching.
"It wasn't until we did a recall with both of them together in the same room that it was obvious we'd found our Nick and Charlie; and the chemistry between them really is electric," Lyn continued. "The source material is amazing, and Alice's scripts are a fantastic interpretation of that; but the two of them have got so much chemistry and charge, and you can't help but root for them—which is the essential dramatic motor for the entire story. What we want is for these two characters to be together, and we're so lucky. I'm so thrilled we found them."
Edwards and his team not only found the cast but supported them, helping them to get agents if they didn't have one already so they'd get representation through the filming. They found talent through unconventional routes, and were rewarded with brilliant actors.
It is encouraging how open and accessible the casting process has been. Daniels has a website which you can find here, and he's on Twitter. When he was casting, he asked for potential Heartstopper actors to contact the team directly via email.
As ever, to get a great job, you have to be prepared, so make sure your headshots, CV, and show reel are up to date, and keep your eye on Backstage for the latest news on Seasons Two and Three. Now that Heartstopper is such a hot property, landing an audition will be a bit harder—but not impossible.
Heartstopper has quickly become one of Netflix's most acclaimed shows and is basically a TV and cultural phenomenon. Lead actors Connor and Locke had 100,000 Instagram followers before the show; now Connor has 3.9 million, and Locke has 2.8 million. On TikTok, #heartstopper has amassed over 4.3 billion views.
The talents Daniels found are now going on to bigger projects while also staying with the show that made them. Not bad for a kids' show, eh?