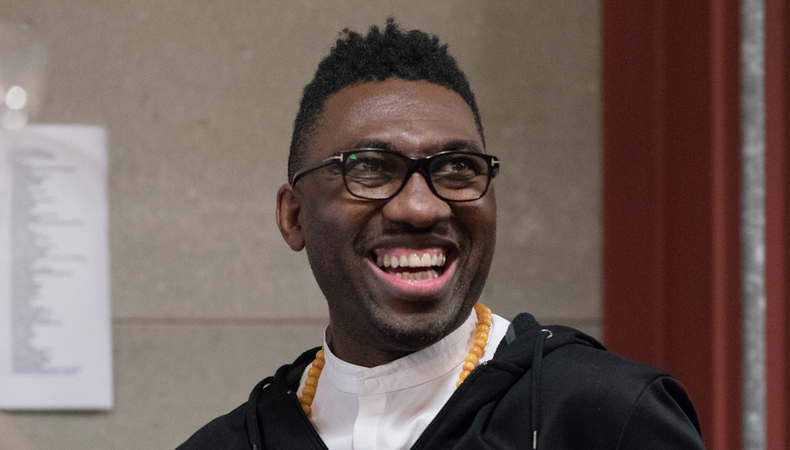 Developments in the business of acting are not always front-of-mind for time-pressed creatives, yet can have a major impact on how their careers develop. That's why we've created The Business, a series to help UK actors and performers stay updated on the key stories that will affect the nuts and bolts of their professional lives.
Kwame Kwei-Armah: 'Best time ever' to be black in theatre
The Young Vic's Kwame Kwei-Armah has claimed it is "one of the best times ever" to be a black creative in British theatre's history. The artistic director was speaking at an event marking Methuen Drama modern play series' 60th anniversary when he said: "I sincerely believe in my heart that this is one of the best times ever to be a black creative. It's one of the most exciting times…People are listening in a way they didn't 10 years ago, 20 years ago and history has taught us that they certainly didn't listen any time before that."
Kwei-Armah stressed that all parts of the theatre industry still needed to improve access for people from lower-income backgrounds and ethnic minorities, urging industry professionals to "advocate on every platform that we can find, to say that everything in this country belongs to you."
He said: "We all have to be ambassadors for the thing we love…We have to evangelise for this form, we have to say there are so many young brilliant black women writers talking about things that we didn't even think white people would allow us to talk about on their stages."
READ: Why Is the Young Vic Theatre So Influential?
Three London drama schools extend single audition scheme
Three drama schools in the capital have rolled out a scheme offering performers the chance to audition for all of them in one day for just £30. ALRA, Italia Conti, and Drama Studio London trialled the scheme in Newcastle and Doncaster this year, with 2020 auditions seeing the schools add Norwich as an audition base. The cost of auditioning has been a hot topic in the last few years, with drama schools accused of failing to remove barriers for people from lower-income backgrounds and LAMDA cutting first-round fees to just £12 earlier this month.
The three schools running joint auditions hope that by making auditions more accessible, students will be more "reflective of society." Drama Studio London's Kit Thacker said that reaching beyond the capital was "vital for students, the schools, the profession, and audiences". He added that auditionees should be chosen on "talent, passion, and the ability to work with others; never on income or any other irrelevant distinction." Joint auditions take place at Newcastle College on 29 February, Doncaster Little Theatre on 1 March, and Theatre Royal Norwich on 4 April.
Want to audition for screen + stage roles? Check out our UK audition listings
Trust to help young actors in Yorkshire gets a million-pound boost
Just weeks after launching, a trust to help young people in Hull and East Yorkshire access drama training has been given a major boost thanks to a local's generosity. Founded by actor Michael Jibson to support young actors in the area to train professionally, the Hull and East Yorkshire Arts and Culture Trust (HEYACT) was launched last month to help with everything from travel expenses to assistance with fees. HEYACT was due to begin fundraising from local businesses but last week announced they will be involved in the distribution of £1.3 million left for good causes by local resident Audrey Mosey.
Although it's not confirmed how much of the fund will go to HEYACT, co-founder Andrew Pearson said he understood it would be a "heavy portion" of the total. Jibson said: "We're thrilled, because we were looking to start with £500 from somebody to pay for audition fees, and we potentially might be able to hit the ground running and start sorting people out more significantly, which would be incredible."
Ticketing company to fund theatre with booking fees
A company taking on the industry "one ticket at a time" has launched £4,000 worth of grants for users, paid for by booking fees which normally go into producers' pockets. In operation since in 2017, Tickets Ignite is running a funding round for any artist or organisation that has used their event and ticketing system since its launch. The founders say they hope to disrupt how the multi-billion-pound ticketing industry relies on artists but does not serve them financially, with Tickets Ignite aiming to double funding each year and offer £120,000 in grants by 2024.
Grant applications are open until 31 January 2020.
New grants to support parents acting away from home
Actors working away from home will now be eligible for financial support to visit their children after the Actors' Children's Trust (ACT) launched a new grant scheme last week. ACT, which supports actors who are parents as well as the children of actors, are now offering up to £450 a month to visit children back home or for family visits to a working actor. Grants are offered on a rolling basis and join ACT's other funds for childcare, apprenticeships for actor's children and support services.
To apply for a grant, contact ACT by email or phone. Qualifying actors must have a household income under £40,000 in the last year and should have had paid acting jobs for more than half their working life so far. Find out more here.
Producers owed £5 million after presenter goes bust
Producers of some of the world's biggest theatre shows claim a company that presents British musicals abroad owes more than £5 million. James Cundall, who runs outfits across the world under the brand Lunchbox Theatrical Productions, reportedly owes millions after decades of presenting well-known British shows like Les Misérables, Phantom of the Opera, and Matilda across East Asia, and is accused by one theatre boss of "exploiting developing markets."
Earlier this year Cundall's pop-up Shakespeare venues in York and Blenheim Palace went into liquidation, with Equity supporting around 70 people who have been left without pay. Now, companies run by Lunchbox Theatrical Productions around the world are also going bust, with Cundall apparently looking to dodge more debts. Really Useful Group's Jessica Koravos accused James Cundall of "exploitation," arguing: "The scale of what he has done shows such huge disregard for the livelihoods of thousands of people who were employed on these productions in good faith, often in places very far from home." Read more here.
ArtsEd auditions in Ireland for the first time
London's ArtsEd drama school is hoping to "break down barriers" for prospective students by holding auditions in Ireland for the first time, giving applicants a taste of their BA Acting and Musical Theatre courses without the cost of travelling to London. Seeking "young people who have great talent but limited financial means," the auditions will be held in Dublin's Phoenix Performing Arts College on 18 December. Find out more here.
READ: The Best Musical Theatre + Dance Schools in the UK
Programme to support northern filmmakers with disabilities
The BFI Network, Film Hub North, and Newcastle-based Beacon Films have launched a programme for filmmakers with a disability based in the north of England. Film Routes will support up to three filmmakers to develop five-minute shorts and attend skills and career workshops. Applications close 17 January 2020. Find out more here.
National Film and TV School (NFTS) launches five craft training courses
NFTS and Screen Yorkshire are launching five training courses focusing on the craft of screen production. Running from 2020, courses in construction, lighting, hair and makeup, costume, and training for scripted production assistants will be delivered through local colleges and the University of Leeds. Find out more here.
More for UK actors? Check out the magazine.