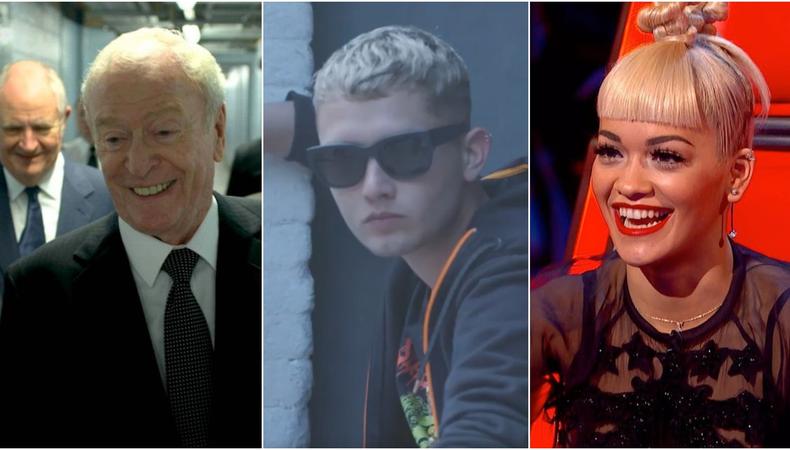 Hello, and welcome back to Week in Review, our roundup of industry-wide news. From stage to screens big and small, we've got you covered. It's everything you need to know and all you can't afford to miss.
Jude Law's son Raff joins Michael Caine, Rita Ora, and Lena Headey in Oliver Twist remake
Michael Caine and Game of Thrones' Lena Headey are to star in a "gender-bending" remake of Charles Dickens' classic story Oliver Twist. Sky's modern-day re-interpretation of the novel stars Jude Law's son Raff Law in the title role which repositions Oliver as an artist living on the streets of contemporary London. The film follows Oliver's life-changing encounter with gang leader Dodge, played by pop star Rita Ora, and the artist being drawn into a heist plot to steal a priceless painting. Two-time Oscar-winner Michael Caine is to play master thief Fagin and Bill Sikes is reimagined as Sikes, Fagin's psychopathic business partner, played by Headey.
Twist has already collected a raft of guest stars, including Franz Drameh (Edge of Tomorrow), Sophie Simnett (Daybreak) and David Walliams. Metro said: "The cast is already wild and the only way to make it any wilder is to drag in Snoop Dogg." The film goes into production in London soon and will be released on Sky's subscription service on the same day as a theatrical release.
READ: What Is Sky TV + Why Does it Matter to Actors?
Alice Walker speaks out over The Color Purple controversy
Author Alice Walker has spoken publicly for the first time about the battle between producers and a former cast member from the musical of her novel The Color Purple. Actor Seyi Omooba was due to star as Celie, a character who has relationships with both men and women, but was removed from the production following the discovery of homophobic posts on Facebook. Omooba has since stated that she stands by her beliefs and announced her intentions to sue the producers for "religious discrimination."
In a letter, Walker addressed Omooba directly and said the actor playing Celie "not believing in [the character's] right to be loved, or to express her love in any way she chooses, would be a betrayal of women's right to be free." The author also calls for a "questioning and reconsideration" of holy books, including the Bible, and argues that "love, however it may be expressed, is to be honoured and welcomed into the light of our common survival." Published on Facebook by one of the musical's original producers, Walker asks Omooba to "think carefully" about her decision to sue former employers Leicester Curve.
BIFA announces 2019 New Talent long list
The British Independent Film Awards (BIFA) are a body that awards "the best, most innovative and creative independent filmmaking and filmmakers in the UK," and this week they announced their New Talent long list, with categories for actors, new writers, directors, and producers. Acting nominations include Stephen Odubola for Blue Story and Roxanne Scrimshaw for Lynn + Lucy, while actor Chiwetel Ejiofor gets a Debut Director nomination for The Boy Who Harnessed the Wind. See the full list of nominations here.
Drama Centre advisories resign in protest
All 11 members of Drama Centre's advisory council have resigned en-masse, including actor Helen McCrory and artistic director Nikolai Foster. The move is a protest against the suspension and review of one of the UK's top drama schools by parent bodies Central Saint Martins (CMS) and University of the Arts London (UAL). In an open letter, the Drama Centre advisories said they had "lost confidence" in CSM and their commitment to the "values and craft that make Drama Centre training so distinctive." The group praised the now-suspended acting course as being the "heart" of the drama school and warned a review could "threaten the course's conservatoire status." They also questioned whether it would be appropriate for CSM to continue using the Drama Centre name once the BA acting course "is significantly weakened." Read more here.
Manchester's newest theatre wins council approval
Manchester's newest theatre space will be built inside the city's railway arches. A planning application for the space below Manchester Central railway station was approved by the council this week, allowing for a 150-seat theatre and community space to become the new home for 53two, a charity championing new writers and accessible theatre spaces. Artistic director Simon Naylor said the company is "beyond excited" and hopes to open the theatre as early as May 2020.
READ: London's New Theatre Boom: What You Need to Know
Pub theatres to be recognised in dedicated award
London's many pub theatres are competing for a new award celebrating their contribution to the industry. The first London Pub Theatre of the Year Award is to be announced this month, with venues in the running including Theatre503 and the Finborough. Awarded by London Pub Theatres Magazine, patron Susan Penhaligon described pub theatres as "fantastic, innovative, creative spaces" which feed back into the wider industry, adding that they "can put on forgotten gems of plays [and] new writing which often commercial theatres won't touch. They are keeping alive our theatrical heritage." The inaugural award will be presented on 27 October at the Lion and Unicorn Theatre. Read more here.
Dagenham Studios 'exploring different options' after backer pulls out
Plans for a new multi-million-pound studio in Dagenham are still in place despite losing their backer due to Brexit. The company overseeing what could be London's largest new film facility confirmed that American backer Pacifica Ventures pulled out over the uncertainty around Britain leaving the EU but stressed that "the viability and demand for studio space in the UK" is not in doubt. Studio space is in high demand across the UK, with Netflix and Disney having signed long leases at major studios while tax relief for films meaning the ongoing production boom shows no sign of slowing. A representative said that even if negotiations with Pacifica meant a delay in development, the studio was "bombarded" with requests from other companies to back the site. Read more here.
RELATED:
Screen production news
Netflix's hit Call My Agent! is getting an English language remake with the help of Twenty Twelve and W1A creator John Morton. Call My Agent! follows Parisian talent agents as they work day and night to keep the agency afloat and its clients happy following the sudden death of the agency's founder. Featuring guest stars and meta plotlines with echoes of Ricky Gervais' Extras, the remake will transfer the story to London but casting is yet to be confirmed. Production set to begin in June 2020.
READ: 21 London Casting Directors You Should Know
Stage production news
Theatr Clwyd has announced its new season, headlined by world premieres from Seiriol Davies and Alan Harris. Davies presents new musical Milky Peaks, opening the season in March 2020 and telling the story of a fictional town nominated by a politically dubious "Britain's Best Town" award. Harris' new comedy For The Grace Of You Go I opens 27 April and sees a character hire a contract killer to put a hit on himself. Other highlights include a stage adaptation of Khaled Hosseini's The Kite Runner, a new production of Alan Bennett's The Habit of Art starring Matthew Kelly and a visit from hit new musical Six. Read more here.
More for UK actors? Check out the magazine.