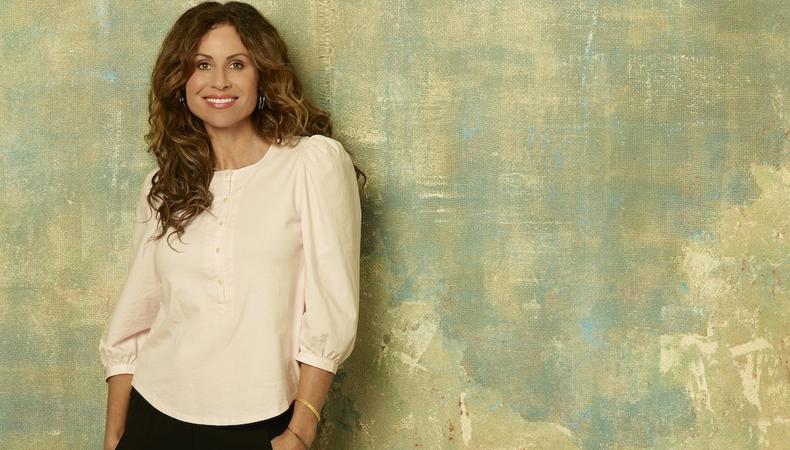 Minnie Driver is back as Maya DiMeo, the matriarch of the ABC comedy "Speechless," which is settling into its new Friday-night timeslot for its third season. She has also joined the cast of Sony Crackle's stop-motion animated comedy series "SuperMansion" for Season 3, now streaming. She voices Debbie Devizo, a former League of Freedom team member and the ex-wife of Dr. Devizo (Chris Pine). Driver recently spoke with us about voice acting strategies, educational survival jobs, and a particularly traumatizing audition.
What are your top tips for effective voice acting?
[Acting is] always about connecting the emotion with your words, but when people can't see your face, you have to be aware of that even more. And being nervous will almost always make your voice go higher because you're tense. Everything gets squeakier, so it's very important to get yourself properly relaxed.
What do you do to relax before going into the "SuperMansion" sound booth?
I usually sing on the drive from my house to the studio. My go-to is classic country: a lot of Woody Guthrie, a lot of Carter Family and June Carter Cash. Those are my go-tos.
What do you love about being part of the "Speechless" cast?
It's taking on a subject manner that people find difficult to talk about, [and] it's giving people words for conversations that needs to be had. It's such good writing, and the show is so much tighter and funnier and leaner and more in its groove than our first season. I'm hoping people are gonna find it in the Friday night [timeslot]. It's a real drag when your numbers are good and they move your night.
What advice would you give your younger self?
Take it easy; relax a little; enjoy things and don't worry so much. The stuff that doesn't work out is not meant to be. There's always a good reason, and you might not know it for a few years, but it's all all right.
What was your most memorable survival job?
I sang in a dinner jazz club. It's how I learned to perform as a singer. I could make a lot of mistakes, and it was a great place to fail because no one was listening, everyone was eating dinner. And afterward, the combo I played with would teach me what I got wrong. It's a perfect example of a survival job that helped me for the rest of my life, even though it sucked—I wanted to yell at people to shut up! But it was so good to just do a good job, no matter what, even if no one is paying attention, because it will only make you better.
How do you typically prepare for an audition?
I love auditioning. It's when you're at your most powerful; there's no one editing you, and it's just you. But you've gotta know the text absolutely backwards, forwards, and sideways. You can't be looking down at that piece of paper; you've got to be free to commit emotionally. If you know it inside and out, you can really be in the moment and play when you're in the room. They'll tell you if they don't like it, so you might as well do what you want first!
What is your worst audition story?
I would categorically put this in some version of the #MeToo world I grew up in. The audition was for a chocolate bar commercial. These ad guys never show up to an audition (it's usually just a casting director), but I went in, and there were 10 guys with their jackets off, one female casting director, a stool, and broken-up bits of candy. The premise of the ad was the orgasm scene of "When Harry Met Sally," and basically she was supposed to take one bite of the chocolate and have an orgasm. I fucking did it. I knew it was wrong, and I still did it. I was embarrassed and mortified, and I didn't understand it until years later. That feeling didn't leave me for a long time. And to this day, I wish someone in that room had stood up and said, "This is outrageous," because these guys were getting their jollies off, watching woman after woman pretend to have an orgasm. I don't think it would happen today, thank goodness, which is some kind of progress.
READ: 3 Powerful Resources for Actors in the Era of #MeToo
What's your go-to audition song?
If I'm allowed to play piano or guitar, I'll do "Angel From Montgomery." The original version is beautiful but controlled, but there's a rock-country version that you can really wail on. Otherwise, I'll do one of my own songs because I feel very comfortable with those.
How did you first get your Equity card?
I did a play for five months in a town outside of Manchester. I was the only kid in my class to graduate from drama school without an agent. I used to go out dancing with this girl who worked with a casting director. A few months later, she said to me, "What are you doing with your life?" and I told her, "I can't get a job without an agent." This casting director [she worked with] got me the audition for that play, and I got my Equity card.
What movie should every actor see?
In no particular order, passionately, I feel every young actor should see "The Last Detail" by Hal Ashby, "Network" by Sidney Lumet, and "Tootsie" by Sydney Pollack. Those are all acting masterclasses.
What special skills did you have listed on your résumé?
Water skiing. I was training for the Junior Olympics, and I was really good.
What was your first headshot like?
I posted it on social media recently. I'm not wearing a stitch of makeup. I was going for Jaclyn Smith with no money. I do remember I was just happy someone was taking my picture!
Ready to get to work? Check out Backstage's TV audition listings!