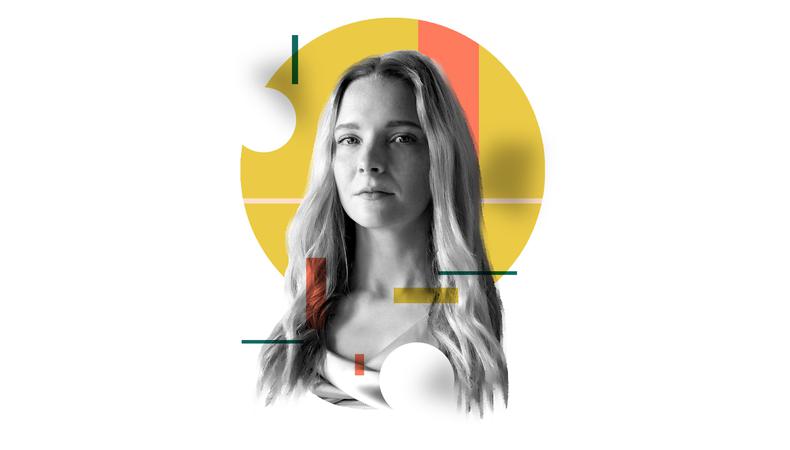 Morfydd Clark makes such an impression it's hard to believe that stylish psychological horror Saint Maud is her first leading role in a feature. Whether she's popping up as the terrifyingly calm Sister Clara in His Dark Materials, or as two different characters in the same film (David Copperfield), she's able to bring an already trademark mercurial presence. A master of straight and comic roles (and an EE Rising Star nominee – vote for her here!), she's just as formidable on stage, having proven herself opposite giants like Glenda Jackson's King Lear and in Les Liaisons Dangereuses with Janet McTeer and Dominic West. And she'll have no problem stepping into Cate Blanchett's elven shoes as she takes up the role of Galadriel in Amazon's new Lord of the Rings series, filming now in New Zealand. Ahead of that and the release of Saint Maud, Backstage caught up with Clark to find out why Welsh culture is a great training ground for actors, how she found her inner child, and why she treats jobs like a holiday.
What drew you to your latest role?
I loved the script for Saint Maud, I found it funny, despite the subject matter. There are moments where Maud is accidentally hilarious. I also found her conviction kind of admirable. Terrifying and funny all at the same time! She's fascinating; she has this force of belief and this loss. I recognise aspects of myself and of friends in her, this capacity we all have to slip through the cracks and be terribly lonely. I still think about that and I hope it makes me conduct myself better in the world.
How do you approach building a character?
I've come to the conclusion it's just the same as when I was little and played imaginary games. I did go through lots of different ideas about what "my process" was and even tried to make some of it unpleasant, because as an actor you can feel like work should be really hard or you have to be miserable in order to be able to play certain parts. But now I see that I do my best work when I'm enjoying myself and have that feeling of freedom I did when I was little, playing games about a time machine in the cupboard. It's just finding the freedom of a child playing a character.
When did you know you wanted to act?
Going to Welsh language school was a big part of it because performance was very normalised. We have the Eisteddfod every St David's Day where people sing and perform, and a national one that's a big deal. I was always around performance. Also, the Eisteddfod definitely helped me deal with rejection because everyone competed and obviously most people didn't win. It was so much more about being part of it. And having that access to music and performance has meant I've loved watching something as much as being in it. But in terms of me actually acting, it feels like a series of flukes. To be honest, I kind of ended up in drama school. I was like: "I'm going to try and audition for this" and then was very surprised when it actually happened.
What do you look for in a role and a project?
It's things that I feel I can do well. I often get scripts that are wonderful but I picture somebody else doing it much better than me. And doing those projects wouldn't be me having a good time or necessarily even giving a good performance. I think I go for the ones that just kind of click. When I read Saint Maud, I was like: "Ah, I get it and I could do a good job." And then I met [director] Rose Glass and we had lots of similarities. So, I guess it's projects where there's the joy of working with like-minded people and a role I connect with.
Looking for your next film role? Check out our UK castings
You've had an equally impressive screen and stage career. What is it that keeps you coming back to stage roles?
I feel really lucky that I've done lots of stage work because I think I have a tendency to be quite lazy, which you can't really do on stage! There's nowhere to hide, no very clever editor to fix what you're doing. Being on stage has helped me realise I have to do everything, I have to ensure there's a whole story that makes sense. Also, only recently have I been able to pick jobs. So, it wasn't me "going back to the stage" but more like: "Thank God the stage wants me back!"
What advice would you give to your younger self?
I would tell her to chill out. Particularly when I did National Youth Theatre Wales. That was so much fun but I wish I hadn't taken it all so seriously. Maybe it was necessary, in a way. I would try and tell her not to be so nervous. I was very nervous but drama school helped me build confidence, being in this mostly safe little bubble which could also be kind of terrifying. But to be honest, the older I get, the more I want to be really kind to my former self. That Morfydd was quite all over the place and youth theatre was really good for her. I think even if I hadn't gone on to act, it would have been a wonderful experience for me.
How do you typically prepare for an audition?
I try to not let the audition live in my mind rent-free for too long. If I think about it too much, I start to imagine what it would actually be like on the job, where it's filming and stuff like that. And I don't find that very useful. So, I try not to take in any of the practical details because that makes it unmanageable. Instead, just focus on the audition, the actual text. I also try to do no more than about two hours of prep before an audition because there's a fine balance between putting enough effort in and still being able to cast it aside. You don't get 95% of auditions, so it's useful to keep them as transitory things. I think compartmentalising like that has kept me sane. I give it a reasonable amount of time but don't allow it to take over my life.
What is your worst audition story?
I've got lots. I think sometimes I go into an audition and find myself being incredibly weird. And those are just very unpleasant – I come out like: "Why must you be so strange?" I think it's if I'm nervous or don't feel that confident about what I'm doing. But I've also misread emails or not realised everyone else has read the entire script. I've done a scene one way and then everyone's looked at me funny and said: "OK, so obviously Johnny's just died," and I have to be like: "Yes, yes, yes, of course, yes – he just died." Which is quite mortifying. In fact, I'd say that my mortifying audition experiences have been from me taking my advice of "don't let auditions take up too much of your time" too seriously and being woefully unprepared!
What's the best advice you've got from a fellow actor?
There's an actor called Rawiri Jobe, who's from New Zealand, who said: "The parts between acting are the work." When you're auditioning and feeling all over the place, that's work. And every time you get a job, you've got to treat it as a holiday. I think that's been good for me, in terms of kind of learning to just enjoy it. Once I've got a job, it's allowed me to be in it, like: "Relax, you've earned it."
Saint Maud is out now and available to stream from Amazon Prime. Public voting for the EE Rising Star Award is now open at ee.co.uk/BAFTA and the winner will be announced at the EE British Academy Film Awards on Sunday 11 April 2021. Voting closes at midday on 9 April.