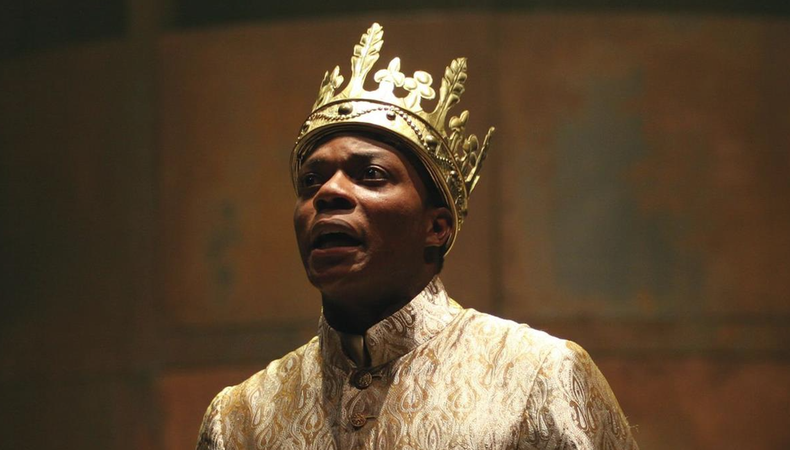 We all know how crucial rehearsal, preparation, and planning is for staging any show, and these private moments are often cherished by the company and creative team. But in a novel turn of events, The Royal Shakespeare Company (RSC) has launched the Open Rehearsal Project, where you can watch the rehearsals for Henry VI: Part One from home, anywhere in the world. We caught up with the RSC's artistic director Greg Doran and his co-director Owen Horsley to learn more about the project and to discover how this might influence the way we approach theatre-making post-pandemic.
What is the Open Rehearsal Project?
Owen Horsley: "This is the first time the RSC has opened the door to rehearsal rooms in such an honest way. Greg and I have talked a lot about the best way to give the audience the most accurate and interesting way into the room – to demystify it for everyone. We wanted to curate the experience for the audience while still keeping it extensive and spontaneous, so we're opening up to the public from day one for three whole weeks to see the progression of rehearsals and any problems or challenges we might face. Then in the fourth week, the production will be streamed live.
"We are doing this in a time of social distancing so this process will also capture a moment in time with a company who will have to keep a two-metre distance. We want to tell the whole story with no contact whatsoever. We've done things before where we have created content footage, but this is a big deal – we are doing this for the first time, so we don't know what it is yet, and there are still negotiations to be made, but we will learn as we go with the audience."
How could this process change the model of theatre-making post-pandemic?
Greg Doran: "We hope the Open Rehearsal Project will start a conversation about how we involve and engage audiences in the process of theatre-making. It is exciting to consider the prospect of audiences being engaged at an earlier point to deepen their understanding and investment into the theatre experience.
"We hope the Open Rehearsal Project will start a conversation about how we involve and engage audiences in the process of theatre-making."
We will not be taking Henry VI: Part One into a theatre for a live audience, but who knows – maybe one day will be able to offer both: an open rehearsal and then an opportunity to step into the theatre to see the production that you witnessed being made. We obviously respect the need for the rehearsal being a private and exploratory space for the actors and creative team, but with this experiment, we are keen to discover how this new streaming element may enrich the experience for both the company and the audience."
OH: "There will come a time when we can have contact again, but going back into that will change the way we look at distance and what it means to tell a story in a space. It is exciting that after this pause, we can go and rethink some of the models of making theatre. We should start being more inclusive from an earlier period, I feel. It's important that we are less sacred and precious with our process, allowing audiences into the world that we inhabit before they see the bells and whistles polished production. If someone is offered an invitation into the room, it might mean that when they're watching a scene, they see it had a journey to get to that point. They get to know the play and company in a controlled and intimate way. We are using this as an opportunity to redefine the RSC and redefine the company going forward into the future."
Why Henry VI: Part One, and what will the experience consist of?
OH: "The play itself, by a young Shakespeare, is immediate and very fast-paced, which I think will really help us in this short process. It is witty, with a tongue-in-cheek, satirical feel to it. It also lends itself to an ensemble telling of the story – each actor will be playing at least two or three parts, so there will be lots of doubling and lots of fun, theatrically.
"If someone is offered an invitation into the room, it might mean that when they're watching a scene, they see it had a journey to get to that point. "
Every day we will stream the warm-up – 10 am to 10:30 am – and we will invite people at home to join in with it. In the later part of morning – noon to 1:30pm – we might take look at a scene or the fights in the play or host an extended workshop on verse. The audience might see actors working on a particular point in the play, grappling with a scene or working with the fight or movement directors. After the rehearsal day, we will do our Green Room Sessions, which will be a half-hour conversation about the day and an opportunity for people to send in questions we can answer."
What does the RSC aim to achieve by running this project?
GD: "We are offering an exciting possibility for a connection – one that acknowledges a desire to engage through technology, but also respects the process and promotes Shakespeare in a new way. When the audience tunes into the rough-streamed version of Henry VI: Part One after engaging with the process, our hope is they will have a whole new connection to the process, the company and the play. They witnessed the choices that were made and unmade, the discoveries and the difficulties and will genuinely feel part of something. After this experience, the hope is they will visit the theatre with more curiosity, more knowledge, and an ease of engagement that comes from genuine inclusion. One thing is for certain: this is a side to the RSC that will be new for the audience and we hope that can create other similar opportunities to establish new ways of making and seeing theatre in the future."
The Open Rehearsal Project is streaming now until 25th June: click here for details.